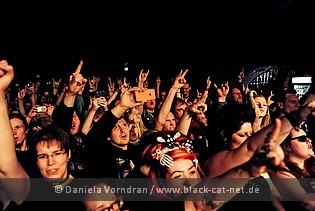 Matrix, Bochum, Germany
19th February 2015
Lordi, Palace & Sinheresy

The monsters are back in town. In support of their most recent album 'Scare Force One', the Finnish monster rockers LORDI travel through the countries to put the fear of god into the humans attending their shows. You can read a lot about LORDI and what a show they're laying down on stage, but those texts can't prepare you for what's in store for you when wanting to experience a show yourself. As support acts the monsters brought symphonic heavy metal band SINHERESY and Teutonic metal act PALACE.
Sinheresy

The Italian Symphonic Metal band SINHERESY was born in 2009 and started its live activity in Italy and Slovenia in 2010. Their official debut EP 'The Spiders And The Butterfly' was out in 2011. The following year, the band entered the studio again to record new songs. At the end of the pre-production phase, in January 2013 the band started a mini-tour as headliners across the Baltic nations, where the new songs, presented for the first time. The new album 'Paint the World' was finally released in autumn 2013 via Bakerteam Records. Heavy touring followed the release, i.e. as support for AMARANTHE, and besides that, the band is also working on new material, planned to be out end of 2015. SINHERESY consists of Cecilia Petrini (vocals), Stefano Sain (vocals), Davide Sportiello (bass guitar), Lorenzo Pasutto (guitar), Alex Vescovi (drums) and Daniele Girardelli (keyboards).
http://www.sinheresy.com
/
https://www.facebook.com/sinheresy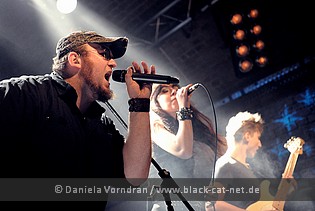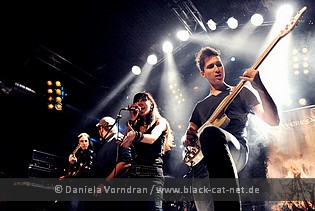 Music & Performance

During their tour with LORDI, SINHERESY and PALACE are alternating the opening slot. Today it was the Italian band to open up the night. Speaking of Italian, some comparisons to LACUNA COIL have to be made since SINHERESY are also combining clear female vocals with grunting male chant. Musically, the riffs are convincing and a solid base, the weak point is the chant, sounding too much alike before mentioned band. There is not really much variance, but good potential. The show received only weak response from the audience and also the announcements from stage sounded kind of clumsy and rehearsed. As I learned later, really any single words was read from the setlist paper. I think if the band would act much more spontaneous on stage, the live performance would improve a lot.
Setlist

01. The Gambler
02. Made for Sin
03. Last Fall
04. Paint the World
05. Break Point
06. Temptation Flame
Rating

Music: 6
Performance: 5
Sound: 7
Light: 7
Total: 6 / 10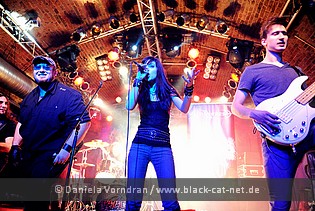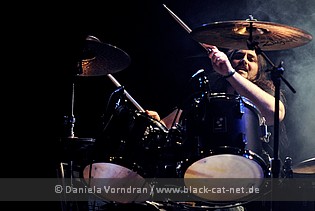 Palace

PALACE are already around since 1990, founded from the ruins of SAINTS ANGER by HP Piller and Harald Reiter. The German band from Speyer plays Hard Rock / Heavy Metal, or as they call it themselves, Teutonic Heavy Metal. The first album, 'Toy of Rage', was released in 1996. Up to date, the band released seven studio albums and one live album. The sixth CD, 'Dreamevilizer', was out in autumn 2011. Besides several releases, the band was very active on stages, i.e. as support for GRAVE DIGGER, DORO, SABATON or POWERWOLF. The newest album is called 'The 7th Steel' and was out in September 2014. PALACE is Harald 'HP' Piller (vocals, guitar), Jason Mathias (guitar), Tom Mayer (dass) and Harald Reiter (drums).
http://www.palace-music.de
/
https://www.facebook.com/palace.metal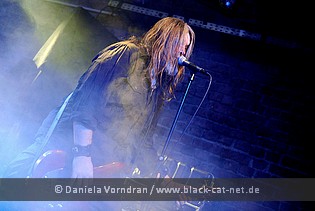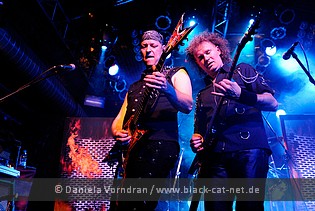 Music & Performance

Shame on me I did not hear of this band ever before, despite their long history. So they came as a complete surprise and yes, they were able to electrify the audience much more than SINHERESY. With every song they managed to make the crowd move a bit more. Musically, the band reminds a bit of RUNNING WILD or GRAVE DIGGER. Maybe this is because HP sounds a little like Rock'n'Rolf and Chris Boltendahl. And also visually, some comparison with Rock'n'Rolf are acceptable. The sound was really good and underlined the great musical qualities of the aging guys. HP is definitely a good front man, able to wake up the audience who was clapping on his command or joining in his screams and chants. Overall, the mood in the hall was really good during the PALACE gig and 30 minutes playing time were passing fast.
Setlist

01. Intro (Jason Sampler)
02. Rot in Hell
03. Bloodshed of Gods
04. Between heaven and Hell
05. Dark Prophecies (Jason Sampler)
06. Iron Horde (Jason Sampler)
07. Women in Leather
08. The Healer
09. Machine Evolution
Rating

Music: 7
Performance: 7
Sound: 7
Light: 7
Total: 7 / 10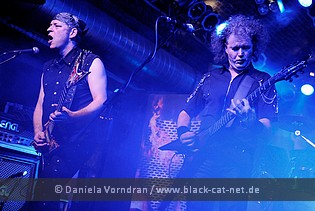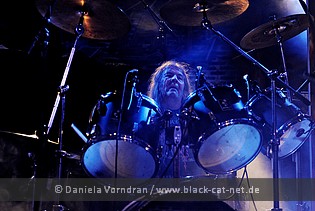 Lordi

Ever since they won the Eurovision Song Contest in 2006, Finnish Hard Rock band LORDI are talked about everywhere, however the concept of LORDI was already devised in 1992 while the band wasn't formed until 1996. Their first single 'Would you Love a Monsterman', became a hit in Finland, followed by the debut 'Get Heavy'. One more album, 'The Monsterican Dream' (2004), followed before their performance at the Eurovision Song Contest changed everything. Their third coup 'The Arockalypse', released that same year, went straight to the top of the Finnish albums charts and into the Top 10 in Germany (#7). LORDI enjoyed a growing popularity. Following that, they played a lot of acclaimed concerts i.e. at Ozzfest 2007 or as support of TYPE O NEGATIVE. Currently, the band is signed to AFM Records and released their latest album 'Scare Force One' in October 2014. LORDI is Mr. Lordi (vocals), Mr. Amen (guitar), Mr. Ox (bass), Ms. Hella (keyboards), and Mr. Mana (drums).
http://www.lordi.fi
/
https://www.facebook.com/LordiOfficial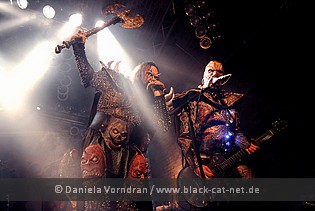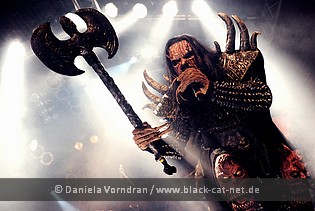 Music & Performance

It is a strange thing with LORDI. Some years ago, they were playing in big venues, like the Turbinenhalle in Oberhausen, in front of some thousands of people. Today, they were playing at the Matrix in Bochum and I would say barely 400 people were attending. Seems finally the fame of the Eurovision song is fading. Nevertheless they were on good mood and the monsters delivered a fantastic show. After the two supporting acts, the monsters finally entered the stage at ten. But wait… first there were no monsters. First, obviously the captain of Scare Force One, supported by his stewardess, welcomed the audience. Finally, the monsters entered the stage and you could see happy faces everywhere. With bombastic sound (I really was surprised how good it was sounding in the Tube that is not really famous for good sound) and great light, Mr. Lordi and his horde opened the evening with 'Nailed by the Hammer of Frankenstein'. From the beginning to the end, the band spread a lot of joy in playing and the show never got boring, even though the pyro effects from past tours were missing.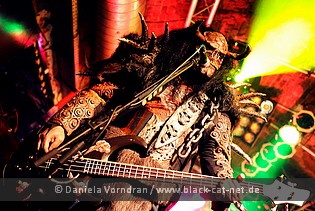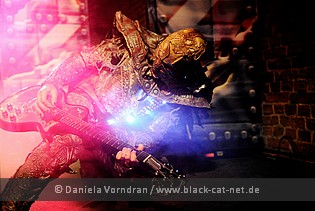 It was really amazing how spry the band members were acting on stage, never minding their heavy costumes. But it seemed to get hot for them though, since Mr. Lordi mentioned this fact during the show. And on that day, the temperatures at the Matrix were much lower than I am used to in that venue. I wonder how he must have felt when it was hot like usually in the Tube. With nearly twenty songs, the band presented a good overview of their career and of course, the big hits 'Hard Rock Hallelujah' and 'Would You Love a Monsterman' were not missing. The show was supported by the new stewardesses and some supernumeraries in different costumes, and of course by many show extras, like the CO2 guns, operation table, a little "baby" being murdered, and of course the confetti canon at the end. The interludes were never cruel, instead there was kind of comedic aspect to it. Besides that, any instrumentalist had his little solo part. But they were never getting too long or boring.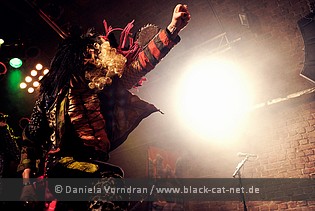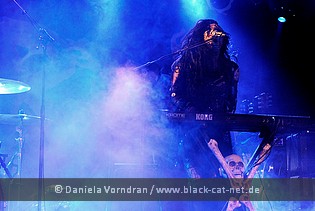 After around hundred minutes playing time, the band asked 'Would you love a Monsterman?', and we say yes, for that show we do! It was really a solid show where you find nothing to moan about. Not many surprises, but a big entertainment factor.
Setlist

00. Intro: God of Thunder (KISS cover)
01. Nailed by the Hammer of Frankenstein (Stewardess Service Jack'And Coke)
02. This Is Heavy Metal (Heavy Metal Dude)
03. Hard Rock Hallelujah
04. Deadache (Granny) + Hella's Kitchen (Hella keyboard solo)
05. Hell sent in the Clowns (Clowns)
06. Blood Red Sandman (Sandman Outfit) + Mana drum Solo
07. Give Your Life for Rock and Roll
08. Don't Let My Mother Know + Ox bass solo (Priests Neck Thingy)
09. How to Slice a Whore (Operation table)
10. It Snows in Hell (Smoky Skull)
11. The Riff (Hiphop devil)
12. Sincerely With Love
13. Amen's Lament to Ra II (guitar solo)
14. Not the Nicest Guy (Leatherface, Chainsaw)
15. Sir, Mr. Presideath, Sir (Mother and Baby, President)
16. Devil Is a Loser (Wings)
---
- SCG7: Arm Your Doors and Cross Check -
17. Scare Force One (SF1 Hat & Pilot Glasses)
18. Who's Your Daddy? (CO2 Gun)
19. Would You Love a Monsterman? (Babydoll)
Confetti Gun
Rating

Music: 8
Performance: 9
Sound: 8
Light: 9
Total: 8.5 / 10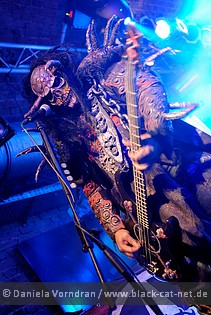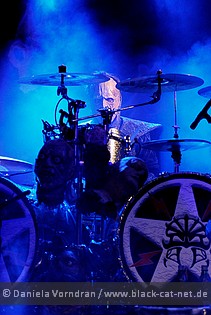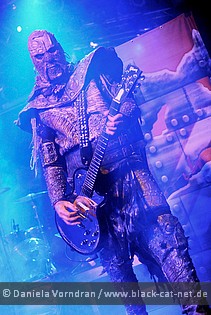 All pictures by Daniela Vorndran (
http://www.vorndranphotography.com
/
http://www.facebook.com/blackcatnet
)
See also (all categories):