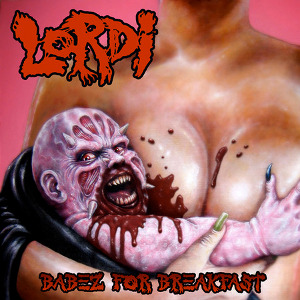 Artist: Lordi
Title: Babez For Breakfast
Genre: Hard Rock
Release Date: 10th September 2010
Label: Sony/BMG




Album Review
LORDI is Finland's GWAR. After their breakthrough album 'Arockalypse', LORDI gained lots of attention from the world-wide victory from Eurovision in 2006. The band since then has become extremely popular with their catchy hard rock / heavy metal anthems and theatrics to sport monster costumes and themes. The music is melodic metal at its best, but what really makes LORDI a good band is their innovation to go out in costume and show plenty of fireworks during their live shows, which seem to always have plenty of gusto, unlike their studio albums, that since 'Arockalypse' have tended to all sound the same. Their latest album, 'Babez for Breakfast', continues in the raunchy humour vein with plenty of heavy metal flavour, but once fans boil it down it isn't really anything new.
The album begins with the usual short introduction. This time it's a screaming demon baby. That's typical of LORDI in their fun way. Then the title track 'Babez for Breakfast' hits and features pounding drums, chugging guitars, and the usual melodic growls from the vocals. There's still that twisted humour to LORDI's lyrics and the operatic feeling that the keyboards give off in the background. 'This Is Heavy Metal' pays tribute to eighties bands like JUDAS PRIEST, combined with the keyboards for a bit of a progressive feeling. 'Call off the Wedding' is slow and groovy with a ballad tempo but still the monster flavour that makes LORDI an enigmatic band. 'ZombieRawkMachine' is one of the band's more experimental tracks as far as keyboards are used along with samples and guitars. 'Midnight Lover' sounds like the soundtrack to a horror film, mixed with heavy metal and is just perfect for LORDI's musical collection. 'Give Your Life for Rock And Roll' is a hard and heavy anthem that will probably become as popular as 'Hard Rock Hallelujah' from 'Arockalypse'.
'Amen's Lament to Ra' is a short instrumental that is very different from LORDI's usual style. It is all acoustic guitar with little "heavy metal" involved at all. Of course, this is a brief intermission before 'Loud and Loaded', which crunches along with gruff vocals and a few well-placed solos. 'Granny's Gone Crazy' is a strange and wild track. It starts off as an experimental, progressive sound but soon falls into the typical LORDI hard rock and roll. They could have done a lot more with this if they had kept the introductory sound. Finally there's 'Devil's Lullaby' which isn't a lullaby at all, but instead a melodic rock tune. Of course, this would suit the Prince of Darkness perfectly. And yes, there are some music box clinks that can be heard in the background at times. It's not insanity taking over.
Of course, since 'Babez for Breakfast' is so similar to 'Arockalypse' and their last album, 'Deadache', fans may go a bit insane over the musical style of the album. It was awesome and revolutionary for 'Arockalypse'; two albums later the charm has burned out a bit. There isn't anything heard on 'Babez' that wasn't heard on 'Deadache'. For those who loved that album then this one should be fine. For those that were expecting something new, don't be too disappointed. The live shows are always innovative and entertaining with more than enough enticement to make the deadite girl and guys go wild. Perhaps if they showed as much effort with their studio work, compared to their live work, LORDI would still be at the top of the list amongst Finnish theatrical metal.
Tracklist

01. SCG5: It's a Boy! - 1:21
02. Babez for Breakfast - 3:30
03. This Is Heavy Metal - 3:01
04. Rock Police - 3:58
05. Discoevil - 3:49
06. Call Off the Wedding - 3:31
07. I Am Bigger Than You - 3:04
08. ZombieRawkMachine - 3:42
09. Midnite Live - 3:21
10. Give Your Life for Rock and Roll - 3:54
11. Nonstop Nite - 3:56
12. Amen's Lament to Ra - 0:32
13. Loud and Loaded - 3:15
14. Granny's Gone Crazy - 3:56
15. Devil's Lullaby -3:43
Line-Up


Mr. Lordi (Tomi Putaansuu) - Vocals
Amen (Jussi Sydänmaa) - Guitar
OX (Samer el Nahhal) - Bass
Awa (Lady Awa de Paysant) - Keyboards
Kita (Sampsa Astala) - Drums
Website


http://lordi.fi/
/
http://www.myspace.com/lordi
Cover Picture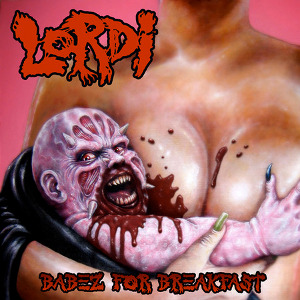 Rating


Music: 7
Sound: 6
Extras: -
Total: 6.5 / 10
{jos_sb_discuss:19}
See also (all categories):