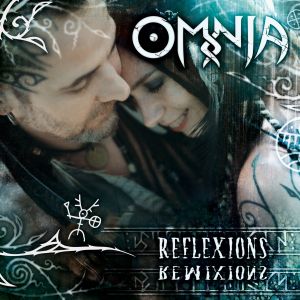 Artist: Omnia
Title: Reflexions
Genre: Pagan Folk
Release Date: 30th March 2018
Label: Omnia Music / PaganScum Records
Album Review

OMNIA are officially on their creative break and working on other than just music related projects at the moment. Nevertheless Steve and Jenny worked together with Christopher Juul (producer of EUZEN, HEILUNG, VALRAVN) and so OMNIA released 'Reflexions' in March 2018 as a remix album of some of their most popular songs.
'Reflexions' starts with the shamanic and atmospheric sounds and vocals of 'Shaman Of Chaos' and puts the listener directly in the centre of a shamanic ceremony. 'Niiv's Cauldron' starts with fairy, folk vocal intro and turns into a more electronic and clear song creating a new atmosphere to the "classical" pagan sounds. Than 'JabberMoon' slows the rhythm down again and tells the listener a story accompanied by atmospheric sounds and drums. 'Alive Until We Die' combines crystal clear sounds, hip-hop elements and Jenny's beautiful voice along with pagan chorus. 'Caveman' again creates a very atmospheric atmosphere with the sounds and vocals that fit perfectly to an ancient ritual or just right back into the cave while watching the sun go down. The vocals are partly slower than in the original version of the song and so it gets a more spiritual vibe.
The change over to the dreamy and sweet melody of 'Toys In The Attic' is flowing, the vocals cute and soft developing to the striking laughter and atmosphere of madness without losing the dreamy sound. 'Luna's Coracle' seems to pick up the soft and dreamy, clear melody of the previous song and continues its enchanted atmosphere. It gets a bit more exotic with the instrumental 'Suck My Flute', before more traditional sounds flow in with 'Musick' and mix in with more electronic vibes. 'Auguries of Love' starts with another storytelling and creates a cold atmosphere of a winter long, long time ago. The shamanic ritual of 'Reflexions' is closed by the spiritual, impulsive 'A World Of OMNIA'.
'Reflexions' as a remix album is not meant to bring new music, but some more details to the already popular songs. Also it is not meant to surprise, so some versions might not feel "different enough". So are reflections not about huge surprises, but more about the small details that appear in a different light if you take a look closer and change the perspective just a little bit.
Tracklist

01. Shaman Of Chaos
02. Niiv's Cauldron
03. JabberMoon
04. Alive Until We Die
05. Caveman
06. Toys In The Attic
07. Luna's Coracle
08. Suck My Flute
09. Musick
10. Auguries Of Love
11. A World Of OMNIA
Line-up


Steve "Sic" Evans-van der Harten – Vocals, various instruments
Jennifer "Jenny" Evans-van der Harten – Vocals, various instruments
Daphyd "Crow" Sens – Didgeridoo, Slideridoo (until May 2018)
Rob van Barschot – Drums, Percussions (until May 2018)
Website

https://www.worldofomnia.com / https://www.facebook.com/worldofomnia
Cover Picture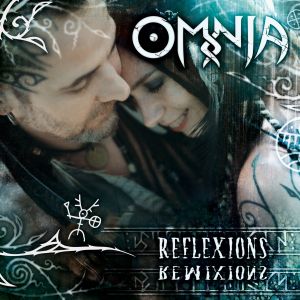 Rating

Music: 7
Sound: 8
Total: 7.5 / 10
See also (all categories):