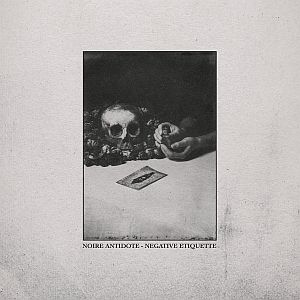 Artist: Noire Antidote
Title: Negative Etiquette
Genre: Post Industrial / Experimental / Witch House
Release Date: 22nd September 2018
Label: Audiotrauma
Album Review

Dark and mysterious, full of suspense taking your mind to other realms. And at the same electrifying and crushing, making your bones move to the whiplashing beats and the droning sounds - Benjamin Schoones' new sinister Witch House inspired soundscapes offer an amazing place to escape to. Under the name of NOIRE ANTIDOTE the 25-year-old artist from the Netherlands offers us the perfect remedy against bleak days and a wicked world. Similar to his debut album, 'I Know Where the Wolf Sleeps', the second piece, 'Negative Etiquette', presents an atmospheric opus thanks to cinematic vibes and various sound effects. On top of that, Benjamin's melodic Neo-classical piano melodies are winding their way through the electronic tempest.
'Negative Etiquette' came out on September 22nd, 2018, via French label Audiotrauma offering twelve new instrumental tunes that instantly manage to transport the listener into the characteristic and unique world of NOIRE ANTIDOTE. That it is indeed a multiverse becomes clear right from the opening the song 'Obsidian Smile'. Layers of notes and sounds are added one after the other, and alternating with one another, thereby building up interesting and effective constructions. And yet, the compositions never appear too noisy on the record, despite some aggressive drums, but instead clear and symphonious always spreading a sombre and enigmatic vibe. Black brilliance!
The following tunes, 'No More Eyes' and 'Oneirophobia', arrest all attention with those killer rhythms, repeating and evolving spooky synth layers, and breaks leading to outbursts. The latter one is a collaboration with Danny Ryder who hails from Liverpool with his witch house project MONOMORTE. High piano notes introduce 'Thistle Child' carrying the mysterious through the entire song. And 'In Nearness of...' is another great tune with less harsh beats taking you through haunted realms. After the rather ambient 'ÆÆÆ' another roaring storm gathers: 'And so We Praise the Havoc' is a malefic masterpiece! You will love the "witch winds" in it that are whistling in the dark. Clearly a highlight that is followed by the title track, which features some spoken words. Here, the listener is confronted with several interview questions on his/her personality.
The beautiful 'Bitter Solace' soothes the soul with its melancholia. Then, during 'The Last Thing You Feel', the tempo is raised again and its sinister bell strokes are just one of many sound extras that one better experiences just listening to the music by oneself. Up next is 'Counterparts' - another most fruitful collaboration is presented by this powerful title featuring ECSTASPHERE from Hamburg. It is a six-minute-long harmonic electronic delight enriched by a stunning guitar-driven part and Ophelia's fitting, Oriental sounding vocals. A big round of applause for 'Counterparts'! At the end, epic chants and strings guide us through the final song 'Funeral in the Botanical Garden'. It is a perfect closing title showing what NOIRE ANTIDOTE is all about and ends on a dramatic note.
In a nutshell: The second chapter of NOIRE ANTIDOTE is truly compelling and cathartic. One cannot but be intrigued by 'Negative Etiquette'.
Tracklist

01. Obsidian Smile
02. No More Eyes
03. Oneirophobia (feat. Monomorte)
04. Thistle Child
05. In Nearness of...
06. ÆÆÆ
07. And so We Praise the Havoc
08. Negative Etiquette
09. Bitter Solace
10. The Last Thing You Feel
11. Counterparts (feat. Ecstasphere)
12. Funeral in the Botanical Garden
Line-up

Benjamin Schoones
Website

https://soundcloud.com/noire-antidote/ https://noireantidoteaudiotrauma.bandcamp.com / https://www.facebook.com/noireantidote
Cover Picture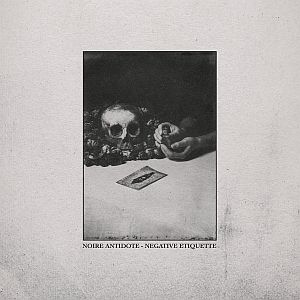 Rating

Music: 9
Sound: 9
Total: 9 / 10
See also (all categories):