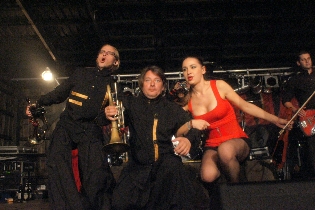 Hörnerfest Open Air, Brande-Hörnerkirchen, Germany
6th - 7th July 2012
Hörnerfest: Thorondir, Black Magic Fools, Zwielicht, Northland, Dunkelschön, Rabenschrey, Rapalje, Feurschwanz, Aletrun, Remember Twilight, Ingrimm, Fejd, Black Messiah, Ignis Fatuu, Versengold, Fireshow - Arne Feurschlund and friends, Russkaya

This was my first time at a German festival, but what a welcome I received when we landed at Brande Hörnerkirchen near Hamburg. Everyone was beyond friendly despite my less than perfect German and we found ourselves a nice camping spot in the section of the field roped off for staff and those working like ourselves. The line-up for the next two days were exciting and well thought out and after trying out the bar on the Thursday evening and finding the German beer good and cold we waited with anticipation for the next day's bands.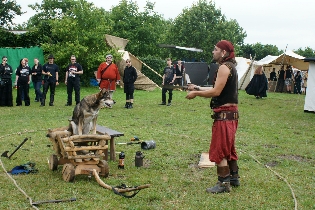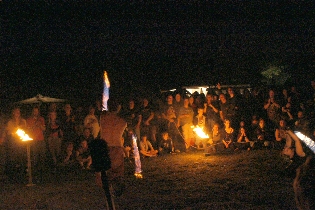 First Festival Day

Thorondir (12:00 - 12:50)

These guys from Bayern certainly know how to warm up a crowd with a set, style and presence that let's you know one day they will be headliners. Whilst all of the members were excellent the drumming was something really special and they played an all too short 50 minute set of pure hardcore folk metal that had pulses racing and set the benchmark very high for the bands which followed. I think their first band of the festival billing belies their talent and I'm sure that greater things are to come for these guys in the future with 'Midsommer' being my favourite song of their set. // http://www.myspace.com/thorondirmusic / http://www.thorondir.de // Rating: 8 /10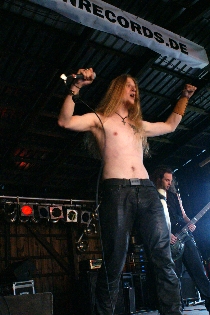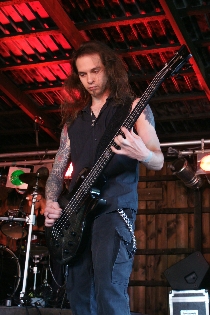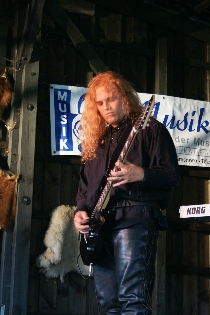 Black Magic Fools (13:20 - 14:20)

The BLACK MAGIC FOOLS, with their painted faces and Scandinavian verve came next, regaling us for an hour with great Swedish folk metal. It was an electrifying set balancing perfectly the rawness of ancient music and the thundering metal of modern instruments. Bagpipes and fiddles sat happily alongside a driving bass line and I found myself sorry when they were finished. // http://blackmagicfools.com / http://myspace.com/blackmagicfools // Rating: 8.6 / 10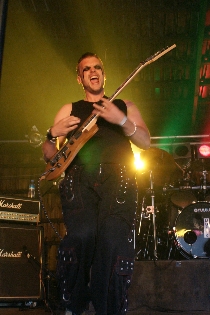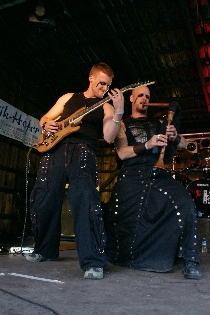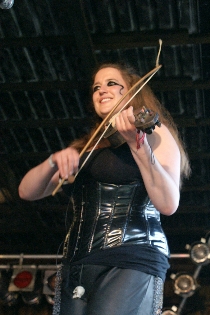 Zwielicht (14:50 - 15:50)

It's pretty damned cool to have a harpist in a metal band, and aside from lending their music a mysterious Celtic air, their harpist is a pretty good vocalist too. Their other lead vocalist also plays the recorder, but don't glean from that the idea that these guys are not rock hard because they are, they just do it with classical aplomb that leaves you wondering whether you've been lulled to sleep or hit over the head with a battle axe. A really interesting band to watch and certainly one I will look for in the future. // http://www.myspace.com/zwielichtband / http://www.zwielicht-band.de // Rating: 8.3 / 10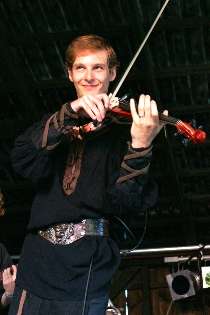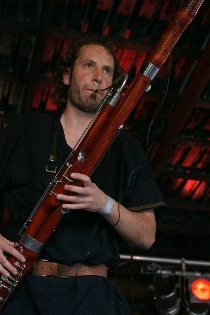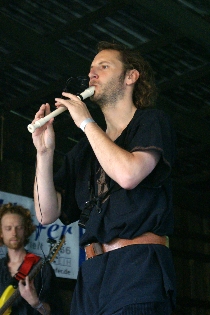 Northland (16.20 - 17.20)

With NORTHLAND's entrance I knew we would be in for something very special. They have a huge sound, a huge presence and a great repertoire of songs. Track after track they bombarded our ears with carefully crafted riffs and melodies, raw, hot and hungry. 'The Awakening', 'Where Heroes Die' and particularly 'Bloodred Sunrise' were all stupendous and it's fair to say that these guys are a breathtaking act to watch. Spanish metal is often overlooked in favour of the more familiar Scandinavian variety but these guys owned the stage with their own very special sound, and they are not to be missed if you can catch them. // http://www.myspace.com/northlandmetal / http://northland.cat // Rating: 8.4 / 10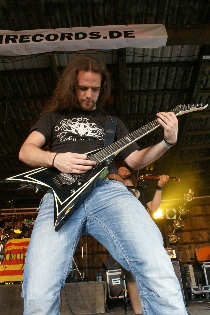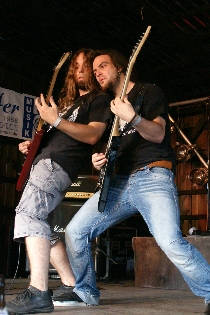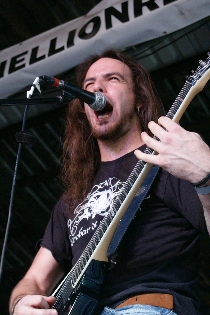 Dunkelschön (17:50 - 18:50)

DUNKELSCHÖN filled the sometimes awkward late afternoon slot well, being in possession of one of the most charismatic front women I've ever seen. Their set was melodic but driven, ethereal and raw all at the same time and it was a real pleasure to see such a tightly held together band at work clearly doing something they really love. Considering they played for an hour with considerable energy they never paled, tired or lost that first fresh spark that they had when they first entered the stage, and I'm pretty sure that I would never tire as the impressive trio of 'Madikeijla', 'Tri Martolod' and 'Zauberwort', sealed for me their prowess as performers. They were a pleasure to listen to from beginning to end. // http://www.dunkelschoen-musik.de // Rating: 8.2 / 10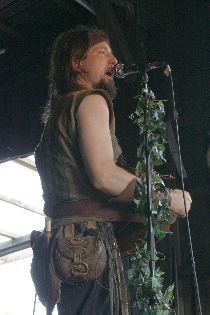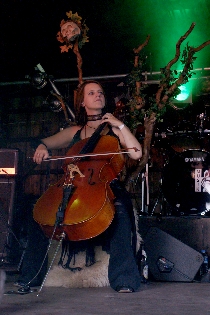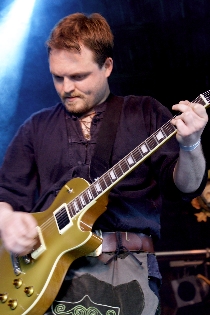 Rabenschrey (19.30 - 20.50)

'Hart aber ehrlich' with it's guttural vocal and staccato guitars was probably my favourite song of RABENSCHREY despite their music not generally being my cup of tea. For all that I enjoyed their set, and they performed well, giving it their all in what was a very well received offering. 'Das Templarschaf' and 'Der Kreis' were probably the next best tracks that they had to offer and their was no shortage of audience appreciation for their efforts. // http://www.rabenschrey.de / http://www.myspace.com/rabenschrey // Rating: 7.5 / 10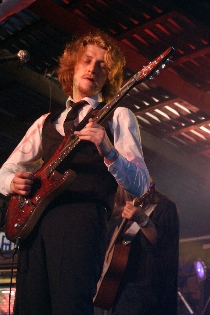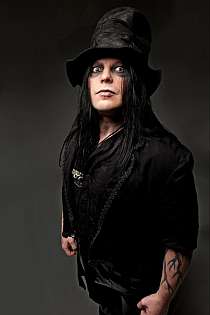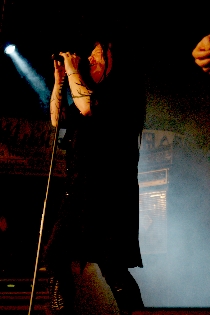 Rapalje (21:30 - 23:00)

I love these guys from the Netherlands. They have in my opinion everything going for them, since they are talented, pleasant, fun and thoroughly enjoyable to watch. 'Raggle, Taggle Gypsies' was exactly as it should be, pure folklore storytelling with exquisite fiddle work and a party atmosphere with other highlights being 'The crown and the Ring'. William, Dieb and Co never get old as they retain their enthusiasm for their music and it's obvious to see that they truly love performing. // http://www.rapalje.com / http://www.myspace.com/rapalje // Rating: 9.3 / 10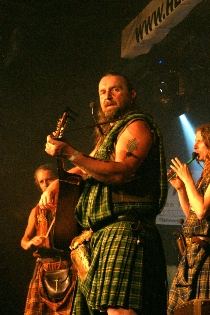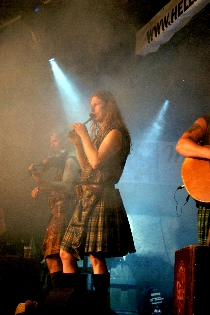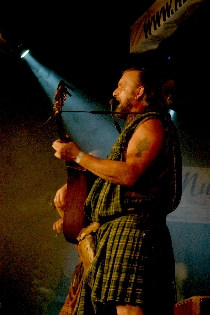 Feurschwanz (23.40 - 01:00)

I'd never seen FEUERSCHWANZ live, but I was not to be disappointed with the hype I'd heard about them being one of the most entertaining bands at any festival. They are slightly like an acid trip with knights carousing around the stage, handsome princes ( he was!) and the famous cat girls who cheer lead the crowd into a frenzy. That in itself would be enough but these guys have a genuine musical talent, with beautiful fiddle work from Yve and a great turn in double entendre lyrics by whichever of them actually writes their material. I was left feeling as though I'd been on a very fast rollercoaster ride, and it's one I'd certainly like again. // http://www.myspace.com/feuerschwanz / http://www.feuerschwanz.de // Rating: 9.3 / 10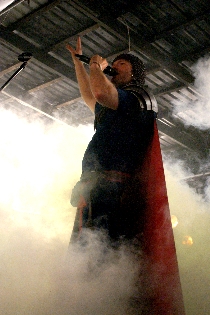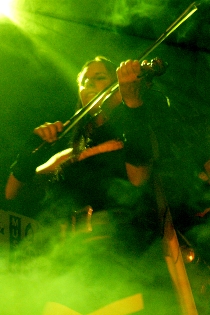 At the close of the first day it's was easy to see why my photographer companion had been raving about this festival from London to Hamburg and we set about finding one of the many parties going on. Having succeeded in that endeavour and sampled yet more German hospitality I was quite impressed that we made it to day two, but I'm glad that we did for it was to prove even better than the first.


Second Festival Day

Aletrun(12:00 - 12:50)

ALETRUN were in good form kicking off day two nicely with a plethora of good solid work. 'Gate of Ebony', 'Saga of Jotun' and 'Path of Jarl' were all impressive offerings from this local Hamburg band. Heavily inspired by Scandinavian myth, they have a hard death metal sound with just enough folk and opera to make them really interesting. I liked what they did and they quickly got the audience on board and were thus the prefect opening band for an exciting day two. // http://www.myspace.com/aletrunmetal / http://www.aletrun.com/ // Rating: 7.5 / 10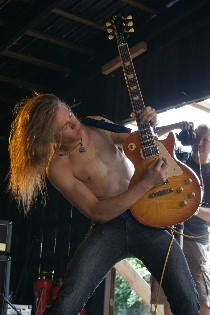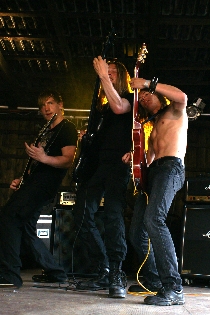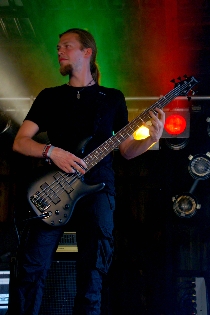 Remember Twilight (13:20 - 14:20)

It's always nice to find metal twinned with unusual instruments and the addition of a cello, violins and woodwind certainly got my attention. I liked most of what they did and what they did that I didn't like I thought brave anyway, such as the slightly too weird for me rendition at a dirge like pace of 'Mac the Knife' with a German translation. For me it didn't quite work but the audience seemed to disagree with me, loving it, so I'm happy to consider that it was just not to my taste. All that being said, I certainly admired the diversity of what they did and it was an excellently put together and executed hour long set. // http://www.myspace.com/kammermusikcore / http://www.remember-twilight.de // Rating: 7.5 / 10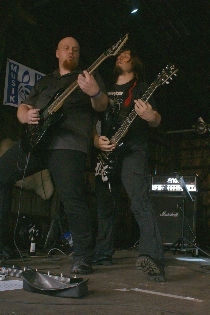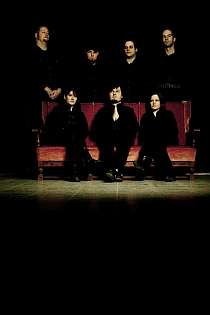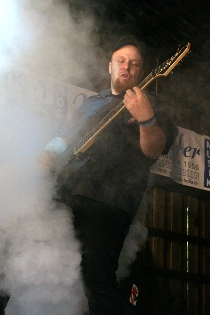 Ingrimm (14:50 - 15:50)

INGRIMM it has to be said stormed the stage in a blaze of fiery vocals that matched the lead singer and lyricist Fenris' flaming hair. This is a band that really made us both sit up and take notice, marked for their energy, enthusiasm, drive and uniquely raging sound. No wonder they are yet again guests of Wacken this year. They played an epic set, never dulling in their performance. There were a lot of excellent bands at this festival, but these guys have to rank as the best straightforward medieval metal band without a doubt. I very much look forward to the next time that they cross my path. // http://www.ingrimm.com // Rating: 8.6 / 10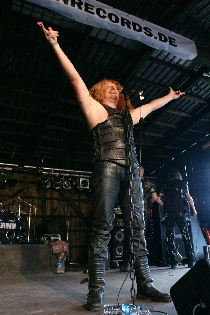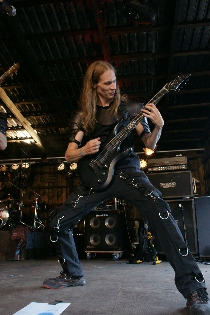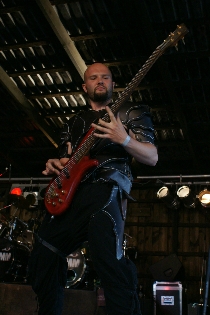 Fejd (16:20 - 17:30)

If INGRIMM were the best metal band FEJD were without a doubt the best folk based band bringing lilting refrains from their native Sweden coupled with hard driving metal edged tunes that got your feet tapping and made you want to dance. FEJD are the brothers Rimmerfors and a few musician friends forged into a truly great Nordic band. They were on form and the audience loved them. It would be hard not to since they scooped the crowd into the palm of their hands with a brilliant performance full of emotion and skill. Scandinavian myth has never sounded and looked so good. // http://www.fejd.se / http://www.myspace.com/fejd // Rating: 9.5 / 10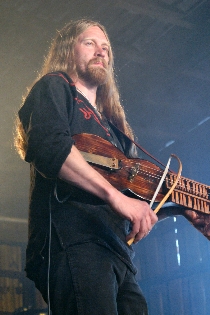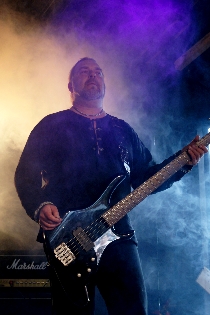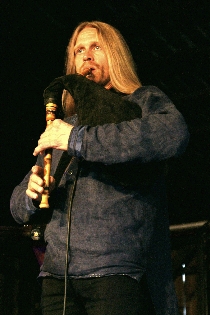 Black Messiah (18:00 -19:10)

With a fiddle playing front man with a talent for whipping the audience up into a frenzy, soon they had done exactly that. BLACK MESSIAH arrived in a cloud of atmospheric smoke, guttural vocals and catchy almost nursery rhyme-like fiddle led metal. It's certainly a different sound and one that I found I was torn between loving and loathing. Just when I thought I'd had enough the catchiness of it all got me and I started wanted wanting to dance. 'Der Ring mit dem Kreuz' was one to remember with vast audience participation and I found by the end I was joining in as much as anyone else. // http://www.black-messiah.de / www.myspace.com/blackmessiah2 // Rating: 8.2 / 10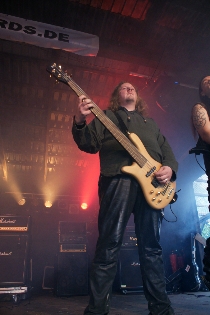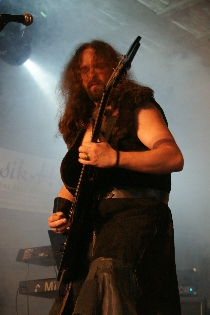 Ignis Fatuu (19:40 - 21:00)

There is a lot of hype surrounding IGNIS FATUU and since I had never seen them before live I had a completely open mind about them. 'Wolfzeit' with it's melodic and singable refrain got me straight away as hurdy-gurdy reeled, recorder's piped and rhythm drove to give a very organic and authentic sound. An hour and twenty minutes later and I was well and truly hooked on the sound with 'Stille Wasser' and 'Spiel des Lebens' underlining perfectly why IGNIS FATUU cause a flurry of excitement wherever they go. Wonderful. // www.ignisfatuu.de / www.myspace.com/ignisfatuu // Rating: 9 / 10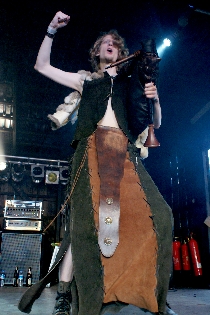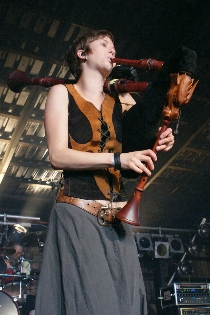 Versengold (21:30 - 23:00)

One and a half hours of hilarious, energetic, charming fun turned up next in the form of VERSENGOLD. You could be forgiven at first glance for simply thinking that's all they are, but they are also superb performers offering a rich and diverse musical menu, played to perfection with great skill. I cold happily have listened to them for another hour and a half, and it was great to see them using radio microphones to aid their mobility on stage, no mic stands getting in the way making for a very intimate feeling performance. I loved them, so much so that they are now officially one of my favourite bands. // http://www.versengold.de / http://www.myspace.com/versengold // Rating: 9.5 / 10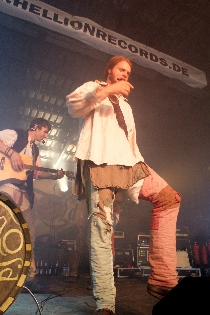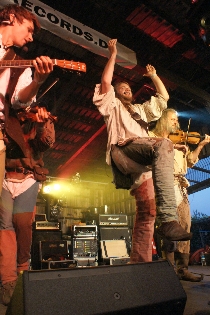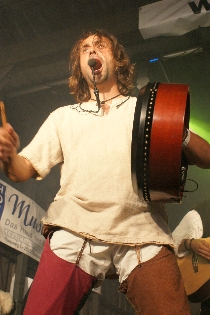 Fireshow - Arne Feurschlund and friends (23:00 - 23:30)

This pretty hilarious individual had been regaling us with his amazing fire acts all day, including a very neat trick where his associate, a lovely and brilliantly trained dog by the name of Coraline picked out the one piece of meat her master was juggling from between the two huge blades that he was also juggling at the same time. Clever dog. Clever man for training the dog. Together they are a really winning team, and even alone with his "erotic black underpants and propeller of death" ( don't ask) it's clear that he is a true artist and master of his craft. The fire show itself, dark as it was, was spectacular and no-one could have failed to be impressed by the level of difficulty, professionalism and dedication it must have taken to get to the point where it is possible to put on such a good show. 100% recommended. // Rating: 10 / 10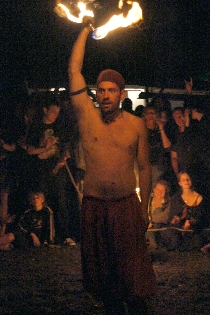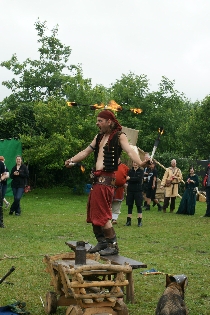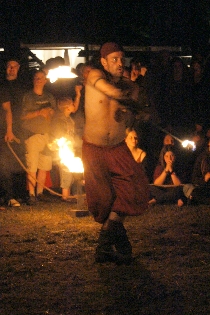 Russkaya (23:30 - 01:00)

Well, how to describe these Austrian Russians? Unique would be one word that springs to mind, weird might be another (but in a completely good way). Their lead singer has more stage presence that perhaps anyone I've ever seen, he's like a cross between Alexis Sayle, Topol and Syd Vicious. Violins are presented by a beautiful girl who would not be out of place in 'Black Swan' and the rest of the band are a diverse mix of eccentric, eclectic, brass playing musical psychopaths. Talking of psychopaths 'Psycho Traktor' is definitely one of their best tracks ( complete with it's own dance which front man Georgij Makazaria choreographed from the stage until there was a massive swirling mosh pit). The lighting was blood red and atmospheric, the sound pretty damned good, not that you could really hear the band over the crowd baying their appreciation most of the time. For me the highlight was 'Change' about a man from Russia who seeks a "better life" for himself in the US only to find he can't wait to go back home. It's funny, poignant, beautifully crafted with a chorus which consists solely of the words 'Oy oy oy' ( simple but effective) and is the most horribly addictive ear worm of a song that I'm still listening to over a week later. Were they great? They were great. Were they deserving of the ultimate billing? Yes they were. Will I be actively seeking out gigs and festivals in order to see them again. You bet I will, and I'll be evangelically spreading the message far and wide that RUSSKAJA are something not to be missed. // http://www.russkaja.com / http://www.myspace.com/russkaja // Rating: 9.5 / 10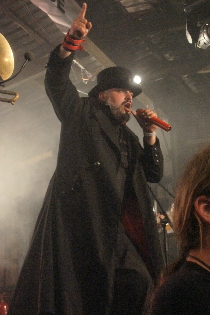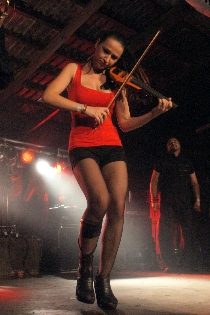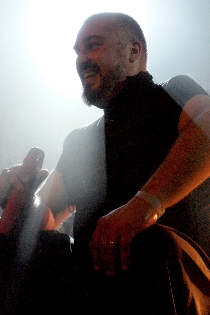 And so the final day of what proved to be an excellent festival drew to a close. It was the first time I had been to Hörnerfest or indeed Germany covering a Festival but I found it excellent. As far as being a nice festival to visit, the organisation was without flaw, good facilities welcomed you, a family friendly atmosphere with plenty of fun and parties, stalls galore in the medieval market and good food and drink reasonably priced capped off a very pleasant experience alongside of cause a line-up I couldn't have preferred had I picked the bands myself. I've already got next year's festival pencilled in my diary, hope to see you there.

All pictures by Maddi Isaacs except one promo pic of Rabenschrey and Remember Twilight