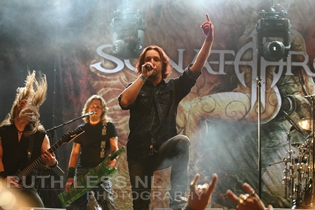 Lichtenvoorde, The Netherlands
20th to 22nd July 2012
Zwarte Cross Festival Day 2: Dog eat Dog, Textures, Hell, Lizzy Borden, Doro, Sonata Arctica

Over the years, the "Black MotoCross" festival grew out to be the biggest festival in The Netherlands and the biggest motor cross festival in the World with over 152,500 visitors in 2011. The festival is a mixture of motocross sports, music, camping and bizarre stunts.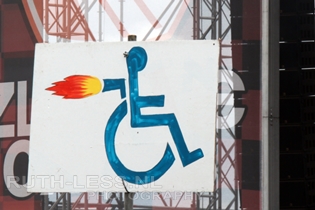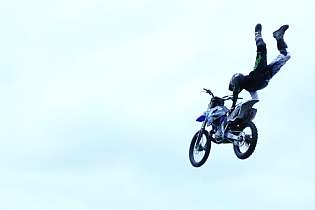 This year's 16th edition of the festival was held from 20th to 22nd July. Having little time and being the only RoD reporter, I had to do some serious cherry picking in the program with over 100 national and international acts performing on 20 stages. Artists range from rock, pop, blues, hard rock, "tear-jerkers", even Schlager, folk music and Rock 'n Roll. In addition, there are several DJ's and theatrical acts. With the presence of a metal stage though, a choice was easily made. Fortunately I did have some time between all the guitar violence to go and check out the spectacular motor-cycle cross itself.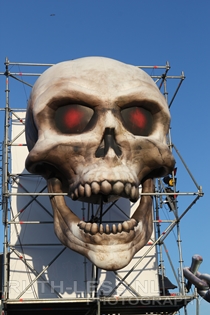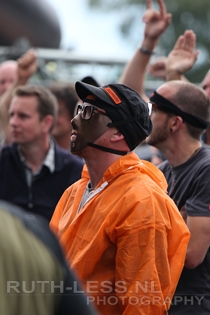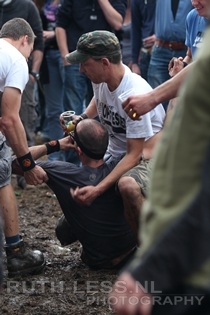 Dog Eat Dog

DOG EAT DOG is an American band originating from Bergen County, New Jersey. The band has a long history and started out 22 years ago in 1990 as part of the hardcore scene of New York City and New Jersey. With members now scattered through New Jersey, Washington D.C. and Europe, the band refers to themselves as being based out all three locations. DOG EAT DOG was one of the first bands to fuse hardcore and rap, a style that would later become commonplace. The band has achieved commercial success with their notorious album 'All Boro Kings' in 1994 and singles such as 'No Fronts', 'Expect The Unexpected' and 'Who's The King'. Their music can be described as a blend of hardcore and rap, incorporating elements of funk, Ska and hip hop. DOG EAT DOG is John Connor (lead vocals), Dave Neabore (bass, backing vocals), Roger Haemmerli (guitar) and Brandon Finley (drums). www.myspace.com/dogeatdogtheband / https://www.facebook.com/pages/Dog-Eat-Dog/43647538103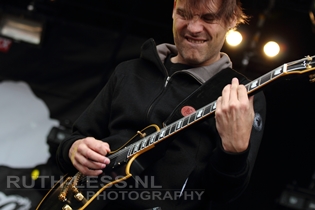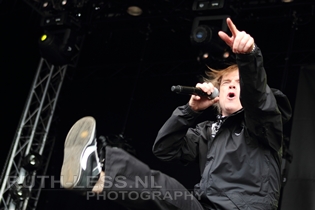 Music & Performance
DOG EAT DOG has been around for over 22 years… and it shows, especially when you're remembering the band members with their recognizable caps and oversized sport shirts. As they get on stage, I get an awkward feeling that a big part of this audience has absolutely no idea who these guys are. Sound is a bit off and their first couple of songs don't really reach the crowd. The weather is too cloudy to really get into the festival mood and not enough beer cans have been emptied to give these guys the benefit of the doubt. Nevertheless; John, Dave, Roger and Brandon just continue their show and try to energize the audience. About halfway through their gig, to my big surprise (and relief), their show gets going and so did the crowd.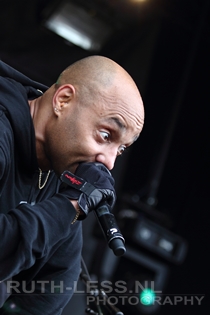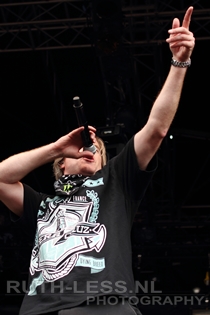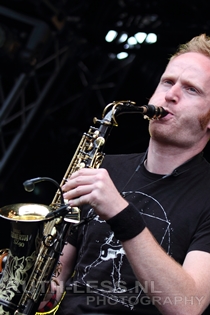 By the time front man Connor announces their 'All Boro King's hit 'No Fronts' (yes, the one with the saxo tune that – annoyingly - stays in your head) the majority of the crowd is in for a party. "No fronts no tricks no soap box politics / No guns just blunts we kick this just for fun" echoes over the metal field at Zwarte Cross. Ahh… those good old times… are unfortunately long gone.

Setlist (incomplete & random order)
Who's the King
Expect The Unexpected
Pull my Finger
No Fronts

Rating
Music: 6
Performance: 6
Sound: 6
Light: 6
Total: 6 / 10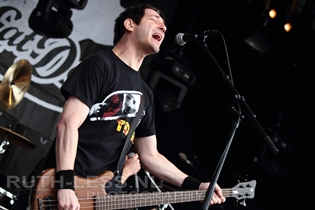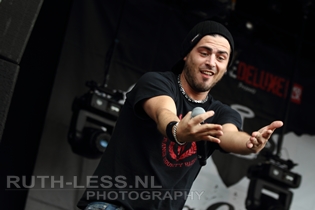 Textures

TEXTURES is a progressive metal band from the Netherlands, formed in 2001. The bands' style is influenced by progressive metal, metal core, technical death metal and groove metal. TEXTURES first came to the spotlight with their fully self produced debut album 'Polars' which won an Award for 'Most Promising Act' back in 2004. The band released two more albums with Listenable Records, 'Drawing Circles' in 2006 and 'Silhouettes' in 2008. Over the years, TEXTURES has known some line-up changes, of which especially the vocal changes made their albums sound slightly different but with the same brutal guitar and drum sound. When after six years, singer/front man Eric Kalsbeek left the band in 2009, he was replaced by Daniël de Jongh. Their latest album 'Dualism' was released in September 2011. TEXTURES is Daniel de Jongh (vocals), Jochem Jacobs (guitars), Bart Hennephof (guitars), Stef Broks (drums), Remko Tielemans (bass) and Uri Dijk (synths). http://texturesband.com / www.facebook.com/textures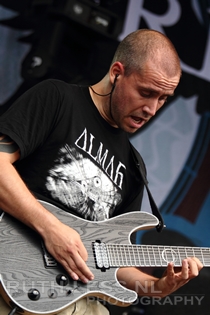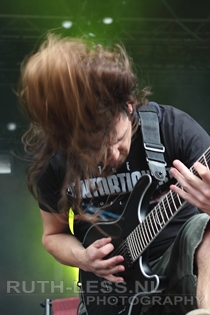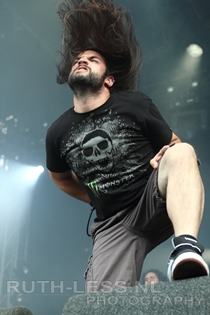 Music & Performance
As TEXTURES enters the stage, I brace myself for some progressive / metal core loudness. Daniel, Jochem, Bart, Stef, Remko and Uri are not new to the Zwarte Cross festival, as they were here two years ago as well. They take off with a dose if proper quality metal core. What I particularly like about TEXTURES music is that it has a good balance between metal core, progressive and melodic influences. From previous gigs, I know that front man Daniel has an awesome voice, but unfortunately this could at times hardly be heard on the metal stage at Zwarte Cross. Sound seemed off or was just blown away by the wind at this open air stage. This doesn't stop TEXTURES from delivering a tight-as-a-clockwork show with a blast of energy that just oozes off the stage. To my big surprise however, the audience was standing close-to-motionless just watching the stage. No moshpit, no crowd surfing, nothing.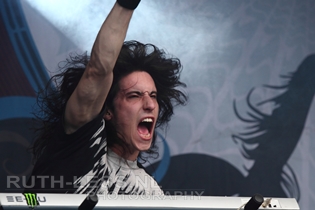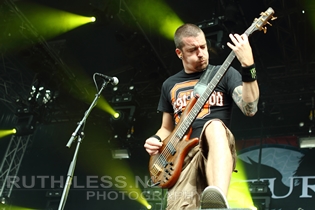 Fortunately, this didn't influence TEXTURES stage performance and it's great to see each musician give all in their performance. I hardly ever see a keyboard player going wild like Uri: *thumbs up*! By the end of their show, a few kids carefully start crowd surfing, but this doesn't match the other TEXTURES gigs I've seen by far. Too bad, because they put up a wicked show and I'm looking forward to seeing them again somewhere in the future!

Setlist (incomplete & random order)
Storm Warning
Swan Dive
Sanquine Draws the Oath
Consonant Hemisperes

Rating
Music: 9
Performance: 8
Sound: 6
Light: 7
Total: 7.5 / 10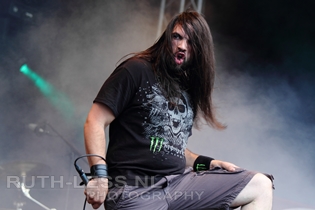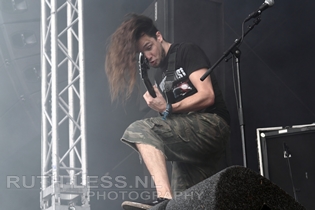 Hell

HELL is an English heavy metal band from Derbyshire, formed in 1982 from the remaining members of bands RACE AGAINST TIME and PARALEX. Due to a series of unfortunate and tragic events, the band originally folded in 1987, but were generally regarded as being many years ahead of their time, and have been cited as an influence by many notable musicians and bands of the genre. Although they were largely ignored by the media and record companies in the 1980's, their music became known through the underground tape trading phenomenon and the band achieved a degree of cult status. In 2008 HELL reunited, and were signed by Nuclear Blast. Their first full-length album, 'Human Remains', was released May 2011. HELL is David Bower (vocals), Kev Bower (guitar, keyboards, vocals), Andy Sneap (guitar), Tony Speakman (bass) and Tim Bowler (drums).www.hell-metal-band.com / www.facebook.com/HELLofficial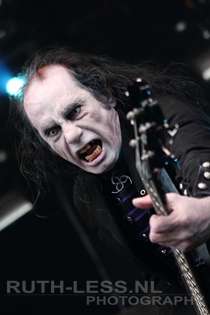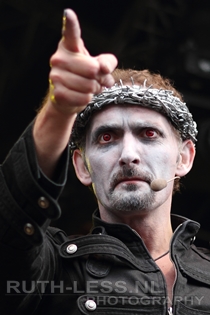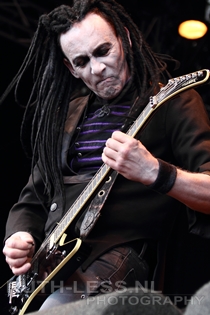 Music & Performance
I honestly didn't think you could go more over the top (...until I experienced LIZZY BORDEN up next) but the guys from HELL sure know how it's done! The stage is all covered up with church props and the band members took a lot of effort to make themselves pretty as well. Brothers David and Kev, Andy, Tony and Tim look almost exactly as in their recent video clip 'On Earth as it is in Hell' with white paint and coloured lenses. I am not familiar with their music, but their heavy metal storytelling-like music somewhat reminds me of IRON MAIDEN. There are some technical remarks to be made on their performance, especially at the start with the guitars. The audience has no chance of losing their focus, as singer David Bower is pointing, staring and singing right at them.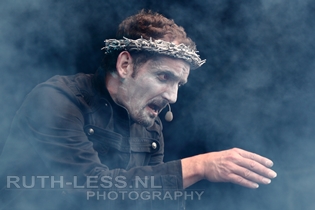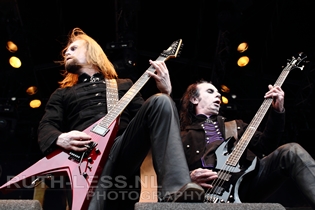 Between the songs he concludes that we're having just as great a summer as in their home country England. Although HELL's repertoire gets a little monotonous after say like 5 or 6 songs, this is more than made up for by their stage performance!

Rating
Music: 7
Performance: 8
Sound: 7
Light: 8
Total: 7.5 / 10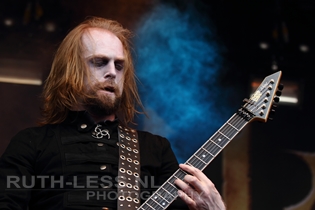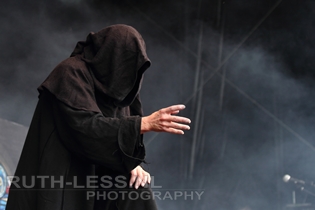 Lizzy Borden

LIZZY BORDEN is an American heavy metal band formed in Los Angeles in 1983. The name originates both from the name of the band's lead vocalist as the notorious Lizzie Borden, a woman accused and acquitted of murder in the late 19th century. Though the band was considered a part of the Los Angeles "glam metal" scene in the mid-1980s, they were musically influenced by bands such as ALICE COOPER, BLACK SABBATH, IRON MAIDEN, JUDAS PRIEST and KISS. In 2004, LIZZY BORDEN disbanded after the tragic death of guitarist Alex Nelson in a head-on car collision. The band regrouped two years later with new guitarist Ira Black, resulting in the 'Appointment with Death' in 2007 and intensive touring. In 2010 LIZZY BORDEN toured North America and Europe, including festival appearances at Wacken Open Air 2010 and Alcatraz Metal Festival.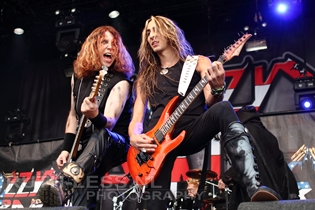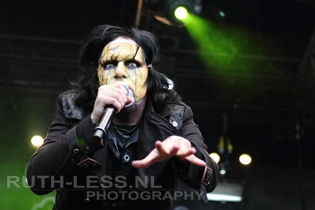 More tours followed in 2011 with amongst others the 'Summer of Blood' tour in North America Followed by the European version, entitled 'Death Takes a Holiday Tour'. In 2012, the band is back on several big European festivals, including Zwarte Cross. LIZZY BORDEN is Lizzy Borden (vocals), Joey Scott (drums), Marten Andersson (bass), Dario Lorina (guitar) and AC Alexander (guitar). www.lizzyborden.com / www.facebook.com/lizzybordenband

Music & Performance
Not knowing exactly what to expect, I wait with the other photographers in the photo pit as smoke fills the stage. Up next are raging guitars, lots of testosterone and lots of hair and finally a fully masked LIZZY BORDEN entering the stage. The band grabs the attention of the crowd right from the start and doesn't let go until they're finished. Their set list compiles tracks from their entire career and some fun stuff and intermezzo's.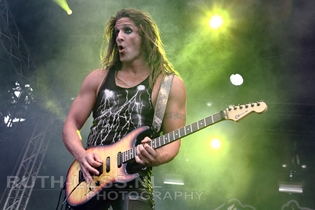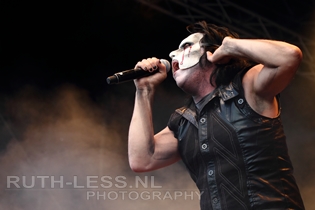 More recent songs presented are 'Tomorrow Never Comes' from their 2007 album 'Appointment with Death' and a huge step in time to 'Me against the World' from 1987. After a few songs I must say that I'm impressed by singer Lizzy's effort to change masks and outfits every song! That these guys are not all serious about their glam rock performance is proven when guitar players Dario and AC present their glam rock version of the Dutch National anthem. Another intermezzo during the show is the theme song of Pipi Langkous, giving singer Lizzy a chance to change his appearance once again. Many outfits and lots of guitar solos later, Lizzy performs a vampire-killing-act, murdering a scarcely dressed dancing girl on stage by biting her in the neck. After this blood shedding, the audience is up next. Assisted by his personal Hannibal Lecter, Lizzy blesses the front row with fake blood (somewhat of a disappointment…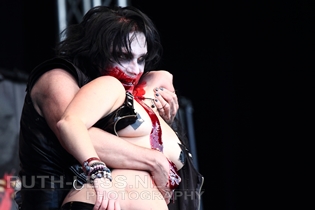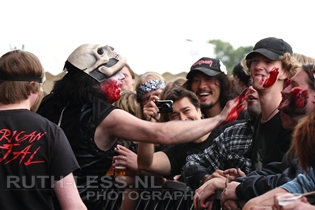 I've seen that differently at shows from for example WATAIN). To be really honest, I find LIZZY BORDEN's music pretty awful, but who cares about that with a freakin' live show like this?!
Setlist (incomplete & random order)
Tomorrow Never Comes
Me Against the World
Themesong Pipi Langkous
Dutch national anthem
Born to be Wild (STEPPENWOLF cover)

Rating
Music: 5
Performance: 9
Sound: 7
Light: 8
Total: 7.3 / 10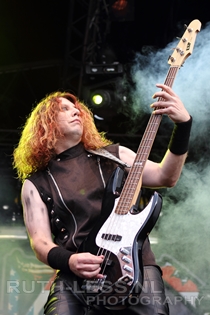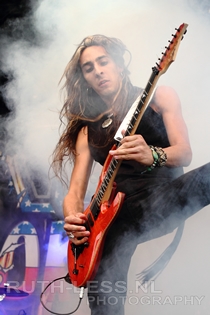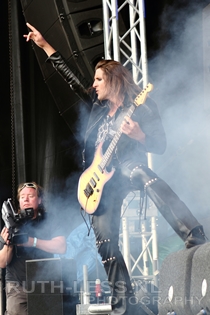 Doro

Dorothee Pesch (1964), better known as Doro Pesch or DORO, is a female rock vocalist, formerly of the German heavy metal band WARLOCK. After WARLOCK went through many line-up changes, Pesch was left the only remaining original member of the band. Because of legal issues with their former management about the ownership and trademark on the WARLOCK name, she was compelled to release under the name DORO what would have been the fifth album of the band. Pesch now pursues a solo career and lives in New York City. The 2004 album Classic Diamonds was collaboration with The Classic Night Orchestra, which reworked some of her earlier songs. Over the years, DORO musically collaborated with artists as Jürgen Engler (DIE KRUPPS), Lemmy Kilmister (MOTÖRHEAD) underpinning her diversity. Her latest album 'Under my Skin' (2012) is a best of CD containing rare and reworked tracks from songs throughout her career. DORO is Doro Pesch (vocals), Johnny Dee (drums), Luca Princiotta (guitar, keyboards), Nick Douglas (bass), Bas Maas (guitars). www.doro.de / www.facebook.com/DoroOfficial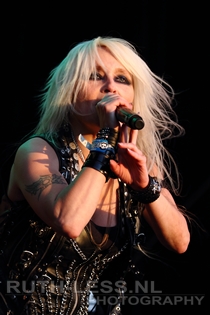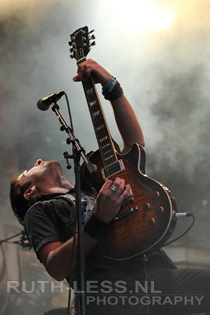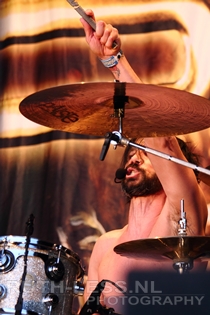 Music & Performance
DORO is welcomed with open arms by the Zwarte Cross audience. As 47-year old Doro emerges in the evening sun, the whole stage seems to be on fire. She is visibly happy to be here and thanks the audience for being so enthusiastic. As DORO announces 'Burn the Witches' from her WARLOCK time, the crowd cheers loudly along and I must say: heavy metal like this just puts a big fat smile on my face. DORO has released and is still releasing albums regularly containing heavy and power metal songs that are easily digestible. Live this 'grand dame' of metal is still really energetic and most important of all: she enjoys playing live with her band. Ex-AFTER FOREVER guitar player Bas Maas who has been playing at DORO for quite some years now, has a broken hand or wrist, but this doesn't stop him from going wild. After an opening with mainly up-tempo tracks, DORO takes a break with the ballad 'Für Immer'. The set list is a journey through DORO's entire career with many old songs but also a new one called "Raise your fist in the Air" from her upcoming album.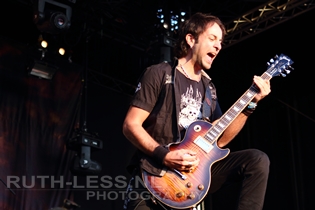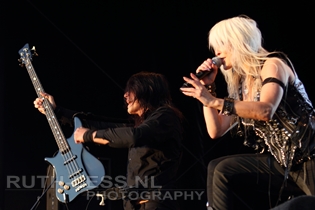 Covers from other bands are always a little tricky, but the audience by now has had enough beer to basically go along with anything, so DORO's Judas Priest' cover 'Breaking the Law' is digested just as easily as her own repertoire. Great show, great band and muchos respect for this power lady!

Setlist (incomplete & random order)
I Rule
Burn Witches
Running From the Devil
Fur Immer
Raise your fist in the Air (new album)
Breaking the Law (Judas Priest Cover)
All we Are
Metal Racer

Rating
Music: 8
Performance: 8
Sound: 8
Light: 8
Total: 8 / 10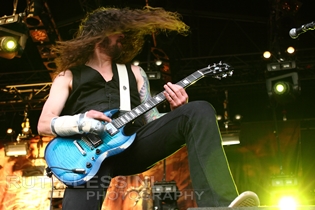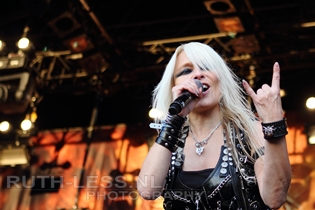 Sonata Arctica

Sonata Arctica is a Finnish power metal band from the town of Kemi, originally assembled in 1995. The band was founded by Marko Paasikoski, Jani Liimatainen and Tommy Portimo in Kemi at the end of 1995 (Tony Kakko and Pentti Peura joined in early 1996). Originally named TRICKY BEANS, they played hard rock rather than the power metal with which they grew to fame. In 1997 the band changed their name to TRICKY MEANS, and two years later in 1999 the band decided to name themselves SONATA ARCTICA. By then the bands style had drastically changed into the sound they became famous for. Their later works (most notably 'The Days of Grays', 'Unia' and a few tracks on 'Reckoning Night and Winterheart's Guild') contain several elements typical of progressive metal. Sonata Arctica is Tony Kakko (lead vocals, keyboard), Elias Viljanen (guitar, backing vocals), Tommy Portimo (drums), Marko Paasikoski (bass, backing vocals) and Henrik Klingenberg (keytar, keyvoard). www.sonataarctica.info / www.facebook.com/sonataarctica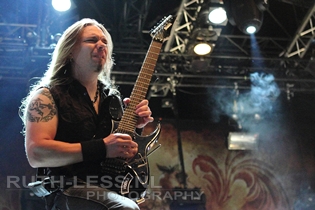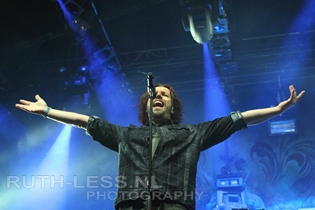 Music & Performance
SONATA ARCTICA is a settled name in the scene and this becomes clear from the start of their show as the audience gives them a warm welcome. Their show is part of SONATA ARCTICA's 'Stones grow her Name' tour to promote their latest album. Therefore, it is no surprise that most of their set list is based on their new songs. We only get a few glimpses into the past with 'Full Moon' (from the album 'Ecliptica', 1999) 'Black Sheep' ('Silence', 2001), 'Paid in Full' (Unia, 2007). Being a fan of death metal and metal core, SONATA's "fiddly diddly" metal style is obviously a bit too much for me, but it cannot go unnoticed that the audience is having a great time. I haven't seen them standing so close to the metal stage during the entire festival until now. Band members Tony, Elias, Tommy, Marko and Henrik are also having a blast on stage. Tony was enthusiastically playing air guitar with his microphone stand and Henrik taking it away on his keytar.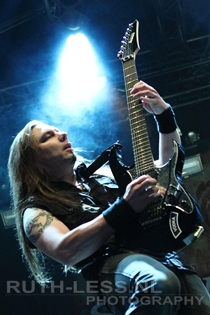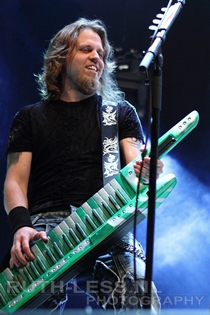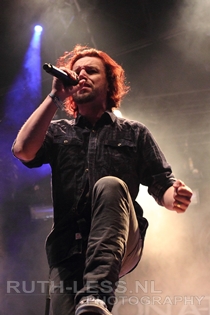 Between the different tracks, front man Tony chats a lot with the audience, even sits down on the edge of the stage. Their successful show comes to an end with oldie 'Don't say a Word' and their famous Vodka/ outtro, leaving everybody tired but satisfied after yet another day at Zwarte Cross festival.

Setlist
01. Only the Broken Hearts (Make You Beautiful)
02. Black Sheep
03. Alone In Heaven
04. Paid in Full
05. I Have a Right
06. Shitload of Money
07. Losing My Insanity
08. FullMoon
09. Cinderblox
10. Don't Say a Word
11. Vodka / outro

Rating
Music: 7
Performance: 8
Sound: 7
Light: 6
Total: 7 / 10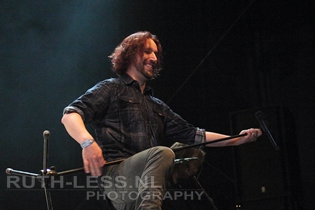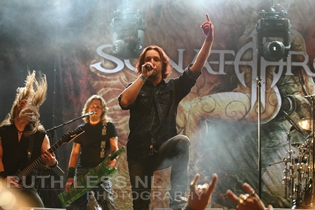 All pics by Ruth Mampuys (www.ruth-less.nl)