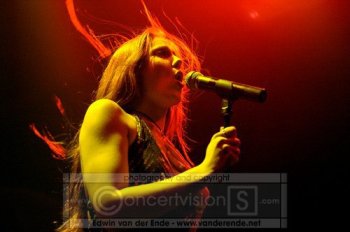 Hedon, Zwolle, The Netherlands
January 28th 2005
Even Vast, Taste of Insanity, Van Katoen, Epica and Day 6

It the second time that Eric Gijsen arranged a festival where all the money went to research for better medication against cancer. This year 1824, 35 euro was collected. Unfortunatly headliner Orphanage had to cancel the show because the drummer was ill. They found a new headliner and it was still a very good day after all.

Even Vast

The first band on stage drove a long way from Italy to the Netherlands to play here. This underground band is more than a gothmetal band: they have the intensity of a doom band and are very melodic. Simplicity in their melody makes it completely different. You have to give it a chance, listen to it. It's not a typical gothmetal band and that makes it difficult for the audience to have an opinion about it. One thing is sure: they deserve a lot of respect for the fact that they traveled all the way for not more than half an hour on stage.
Music
What I said before: the band is not the typical gothmetal band as we used to know. It's more symphonic and not bombastic. For me it's a band who knows that music is about true emotions. Frontwoman Antoinetta doesn't have the typical classical voice. Her sound is lower and sometimes it reminds me of The Gathering. The little girl seems to be very fragile, but she has a powerfull voice. The guitar lines are not that impressive, but the keyboards parts are great.
Performance
The band is tired and that's what you can see when they enter the stage. They play in the right/left of the stage and where it's very dark, so it's difficult to see. Antoinetta moves to the ground what makes her smaller than she is. Her performance is a good combination with the music: dark and emotional. What you see is honest and emotional. The other members are most of the time standing still, just doing their thing. Sad that there wasn't much light, otherwise the audience could see a bit more.
Rating
Music: 8
Performance: 6
Sound: 7
Light: 6
Total: 7 (6.7)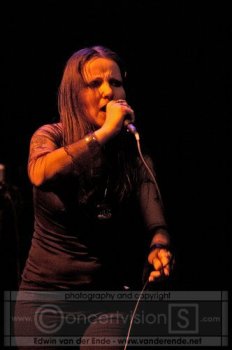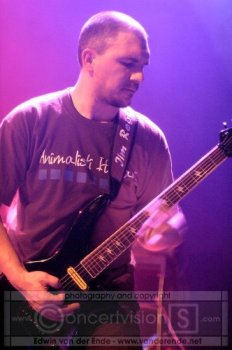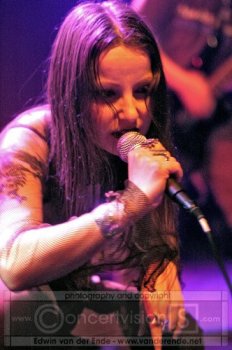 Taste of Insanity


The first band from the Netherlands in action. They call themselves a metalcore band and they're indeed very energic and aggressive on stage. They are like a wall coming down: full of sound and I hardly could hear different instrument lines. After some minuts I had to go, because of an interview.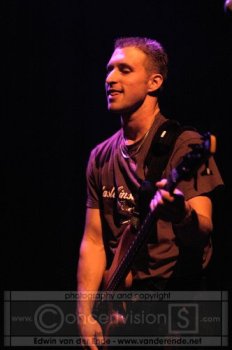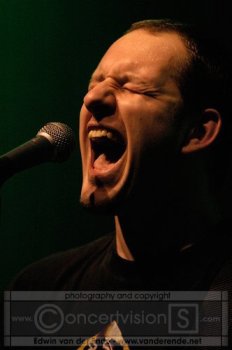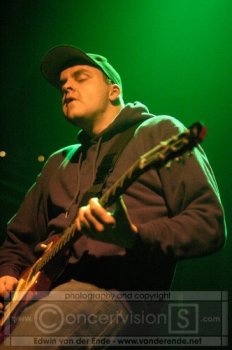 Van Katoen

A totally different kind of band these gentlemen; they make such original and powerful music that I don't want to put a label on it. Their songs are in Dutch and both the songs and the band are very much themselves on stage: energetic and fast.
Music
When you hear the songs you have to move. The drums are energic and fast. When frontman Bazz, with some beautiful dreadlocks, starts to sing the nu-metal/punkfeeling is immediately there. They're so happy and when the audience gives a lot of feadback the frontman even jumps into the crowd. The sound quality is very good. The band seems to have all the energy to play the whole evening and it's weird that they're no headliner this evening. Every melody line is strong and rough. The bass lines are really impressive.
Performance
The band just stands there and play, but with such an energy that they move a lot. The frontman talks a lot to the audience, about why he wants to play on this festival, and this leads to good interaction. He runs around and the other guys also have good interaction amongst eachother. You feel the kind of chemistry what's very important for a band. Their performance is the way they express themselves. It's very professional they can do this and still be themselves. They just wore the same clothes as they did when they came in, just real guys on a stage with a lot of energy.
Rating
Music: 8
Performance: 8
Sound: 7
Light : 6
Total: 7.5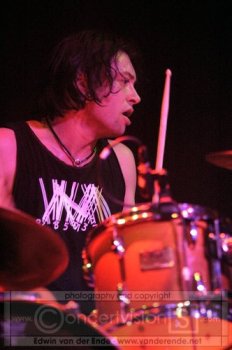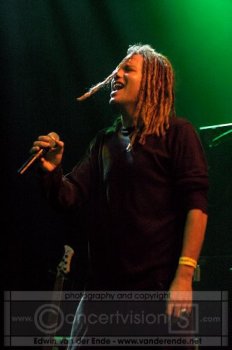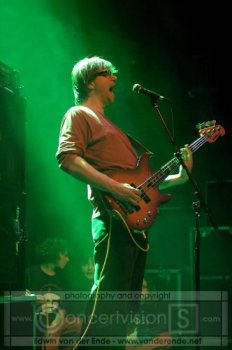 Epica

This band needs no further introduction. They played so much last year and they really are the new gothmetal sensation for a new generation. Just back from Mexico, they are on stage in the Netherlands again. It's clear that most of the people came to see this band, and it's because they have to go to France this weekend, otherwise they would have been the headliner of this festival.
Music
The sound is good. The band really has the energy back, which they lost after the long tour, but now the whole band wants to give everything. Simones voice is better than some weeks ago. Jonas Pap was present to play cello in "Solitary Ground" which gives the song more dimension. The drum sound was rougher and the setlist was great: some new and old songs with some very energetic parts. Because of that there was a good interaction with the audience. The guitar parts of Ad are getting even better show after show and it good to see that they did this more often. It's a machine that knows what every member can do and that's a good feeling.
Performance
When you name Epica the first thing you see is Simone. She's an expressive lady and her performance is the same most of the time. It's a good combination with the songs, but sometimes she moves so much that the quality of her voice is affected by it. She has to find a good balance and this night she has found it. Mark Jansen grunter, guitarist and founder of the band, is the one who has most interaction with the audience. Also keyboard player Coen knows what to say and do to make it a nice show. The light was very dim most of the time, a shame when you have a beautiful singer like Simone on stage.
Rating
Music: 7
Performance: 6
Sound: 7
Light : 5
Total: 6.5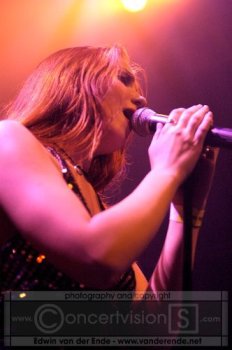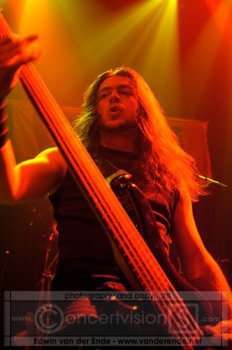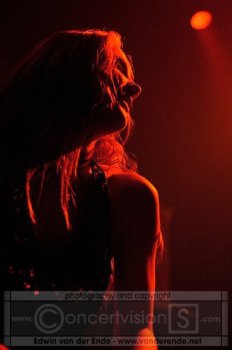 Day 6

Winner of metalblade competition and headliner this evening. Well It's sad to say but most of the people were outsite when they started to play. They had to catch a train or something, but I must say that they are a bit too aggressive after Epica. They make a very unique kind of metal: very aggressive with strong melody lines and screams which remind me to some powermetal bands.
Music
The music seems to be ok when they start the first song, but soon they get boring. The voice of the frontman is not one I really like to hear. It's too high but his screams are not deep so it's a bit disappointing. The guitar lines and drums have a strong sound, but it's sad that you can't listen to everything when one element is wrong.
Performance
The frontman does his best to get an interaction with the audience, but he's not very successful. The band has a good energy amongst each other and they show that they like what they do, but it's not enough.
Rating
Music: 5
Performance: 6
Sound: 5
Light: 6
Total: 5.5