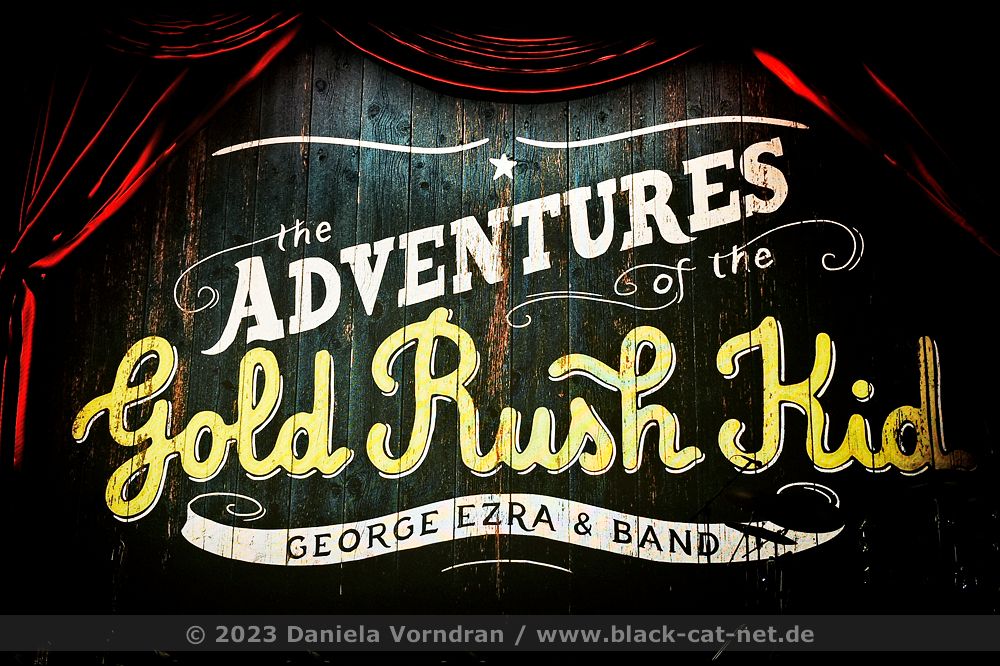 Lanxess Arena, Cologne, Germany
2nd March 2023
George Ezra - "Gold Rush Kid Tour" 2023 - Support: Passenger

The singer/songwriter from Bristol was discovered at the age of 19 and invited straight onto the stage at the Glastonbury Festival. Global success followed with his hit single 'Budapest' and other great songs such as 'Barcelona', 'Cassy O' and 'Blame It On Me', the two million-selling albums 'Wanted On Voyage' (2014) and 'Staying At Tamara's' (2018), both topping the UK Singles Chart and eventually the Brit Award for British Male Solo Artist. It goes without saying that EZRA also suffered from the pandemic. But he also found the time very productive, wrote a lot of new songs and worked on his equally successful podcast, for which he got stars like Ed Sheeran, Elton John, Lily Allen, Nile Rodgers, Ellie Goulding and Tom Jones in front of the microphone. But now it's time to present new music and to go on tour again, which will also take him to Germany with his final stop in Cologne.
Passenger

British singer / songwriter Mike Rosenberg, PASSENGER, had his first live appearances when he was 16. PASSENGER was originally a collaborative project between Mike Rosenberg and composer Andrew Phillips. They joined forces in Brighton in 2007 and recorded the debut album 'Wicked Man's Rest' with other musicians at Phillips recording studio. The collaboration with Philips ended the following year, and Mike Rosenberg released the album 'Wide Eyes Blind Love' alone under the name PASSENGER. He switched to the simple singer-songwriter guitar sound with folk and indie pop and toured the UK and Australia as a simple busker. The latest album, 'Birds That Flew and Ships That Sailed' was out in 2022.
Setlist
(CHECK)
01. Fairytales & Firesides
02. The Sound of Silence (Simon & Garfunkel cover)
03. I Hate
04. Young as the Morning Old as the Sea
05. Wild Love
06. Let Her Go
07. Scare Away the Dark
George Ezra

GEORGE EZRA's new album 'Gold Rush Kid' was released last June. The first single 'Anyone For You (Tiger Lily)' went straight up the charts and is rotating on all radio stations in the UK. The second is called 'Green Green Grass' and has a special story: When EZRA went on holiday to St. Lucia with friends over Christmas in 2018, they were sitting in a bar. At one point he heard music in the streets and was so taken by it that he went in search. He found a block party with three different sound systems, food stalls and people partying. When asked what was being celebrated here, EZRA learned that it was a funeral service for three people. That's how the single came about, an irresistibly upbeat song about always making the best of everything, especially in situations where you expect the worst. This story and the resulting song is typical of the music of GEORGE EZRA. The arena was very well filles this night, even though not sold-out. George played a fantastic concert; his voice was top. The acoustic version of 'Hold my girl' was one of the highlights when anyone in the arena sang along, even when Ezra stopped singing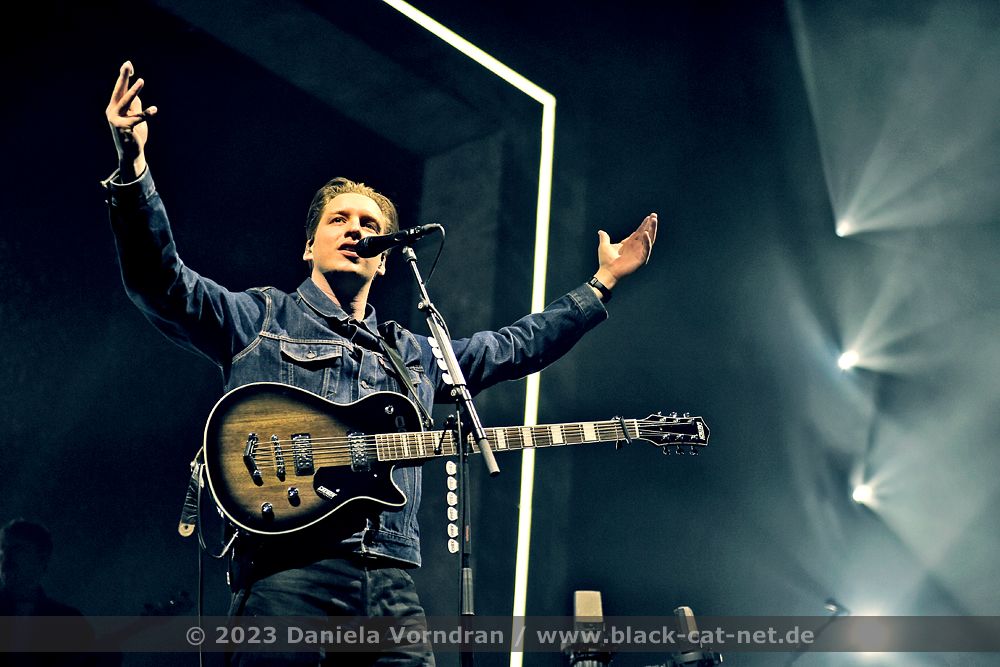 Setlist
(CHECK)
00. Intro: It's Not Unusual (Tom Jones song)
01. Anyone for You (Tiger Lily)
02. Cassy O'
03. Get Away
04. Gold Rush Kid
05. Pretty Shining People
06. Barcelona
07. Saviour
08. Did You Hear the Rain?
09. Hold My Girl (Acoustic)
10. Sweetest Human Being Alive
11. In the Morning
12. Manila
13. All My Love
14. Green Green Grass
15. Blame It on Me
16. Paradise
17. Budapest
---
18. Dance All Over Me
19. Shotgun
All pictures by Daniela Vorndran (
http://www.vorndranphotography.com
/
http://www.facebook.com/blackcatnet
)
See also (all categories):