Leipzig, Germany
Friday, 2nd June to Monday, 5th June 2006
Wave Gotik Treffen

http://www.wave-gotik-treffen.de/
It is the 15th Wave-Gotik-Treffen that will take place in Leipzig during Whitsun this year. Again there will be far more than 150 bands playing. But more important than all the bands it the "family gathering" of the black scene – Goths from all over the world will make their way to Leipzig again. One of this year's sensations is surely the reunion show of the EBM-legend 'Nitzer Ebb' who will play the Midnight-Special on Friday night.
All over the city there will play bands, projects and single artists performing on more than ten stages - from the old vaults of "Moritzbastei" up to large concert halls. The program covers the wide range of dark music: from Electro-Pop to Goth-Metal, from EBM to Neofolk, from medieval music to Industrial. But as mentioned Wave-Gotik-Treffen is more than just a music festival: there will be a medieval market place and a pagan village; there will be authors reading, performing arts and films. One of the big halls on "Agra"-fairground (the wide place of the German agricultural fair) will turn into the biggest Gothic-warehouse of the world for four days. The most fascinating thing during the Wave-Gotik-Treffen is the unique atmosphere - Gothics from all over the world are celebrating peacefully and with relish their gathering. Once a year about twenty thousand Goths are coming home: to the Wave-Gotik-Treffen.
Tickets


Treffen-Event-Ticket

4-days ticket for all events within the 15th Wave-Gotik-Treffen 2006 is 56 Euro in advance ticket sale (including advance sale charges). The Treffen ticket includes free use of public transportation (tram, city-busses, regional trains, surburban trains) within the zone 110 of MDV ("Mitteldeutscher Verkehrs Verbund") from 2006-06-02 12.00h to 2006-06-06 12.00h (without special routes). Promoters have changed the time in support of the day of departure. Please keep in mind that it is only allowed to use the public transport at this time with the Treffen ticket. There will be additional nightlines especially for WGT visitors on line 11 (gathering line).
Parking Vignette

For car parking at the Treffen-area you have to purchase a "Parking Vignette" for 14.50 Euro (including advance sale charges). Please note: Parking at the Treffen-area (agra-fairground) is definitely impossible without a "Parking Vignette".
"Obsorge" ticket

Limited up to 9999 Tickets for 20 Euro (including advance sale charges), contains the following service-package:
Camping at the Treffen-Campground (agra-fairground)
Silver Disc (Compact Disc) "Artists at the 15th WGT"
"Pfingstbote" ("Whitsun-herald") - the Treffen-programbook
Please note: Entrance to and use of the campground is impossible without an "Obsorge" ticket. The "Obsorge" ticket is only valid in connection with the Treffen-Event-Ticket.
Tickets can be ordered at the festival website.
Bands

Currently there are 163 artists confirmed - too many to look at all of them in detail. The confirmed artists at the moment are:
4080 Peru (UK) - Accessory (D) - Agonoize (D) - All Gone Dead (UK) - Altera Forma (RUS) - Amber (D) -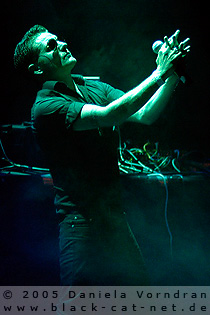 Analogue Brain (D) - And One (D) - Anubiz (D) - Apoptose (D) World premiere - Ausgang (UK) - Bahntier (I) - Beborn Beton (D) - Beinhaus (D) - Blitzkid (USA) - Blood & Pain Fetishperformance erotic performance of MOZART, MADELEINE LE ROY and the voluptuous royal suite - Bloodflowerz (D) - Bloodsucking Zombies From Outer Space (A) - Bloody Dead And Sexy (D) - Cantus Buranus (D) musical version of a medieval script of Carmina Burana performed by Corvus Corax - Cat Rapes Dog (S) - Catastrophe Ballet (D) - Cephalgy (D) - Chants Of Maldoror (I) - Charlotte's Shadow (IRL/E/D) - Clan Of Xymox (NL) - Combichrist (N) - Conrad Der Saitenreiche (D) - Culture Kultür (E) - Cultus Ferox (D) - Cumulo Nimbus (D) - Cyclotimia (RUS) - Dark Sanctuary (F) - Das Scheit (D) - Deathstars (S) - Decoded Feedback (CDN) - Deine Lakaien (D) - Delight (PL) - Des Teufels Lockvögel (D) - Destroid (D) project of the head of Haujobb Daniel Meyer - Devils Kiss (D) - Dieter Müh (GB) - Division Kent (CH) - Donner & Doria (D) - Dope Stars Inc. (I) - Dracul (D) exclusive gig 2006 - Dryland (D) - Dunkelschön (D) - Dupont (S) - Echo West (D) - End Of Green (D) - Ensoph (I) - Eric Fish (D) - Fanoe (CH) - Feindflug (D) - Feuerschwanz (D) - Frozen Plasma (CH) - Garden Of Delight Feat. Lutherion (D) - Götterdämmerung (NL) - Genitorturers (USA) "Cirque du Risque" - fetish musical - Glis (USA) - God Module (USA) - Gods Army (D) - Gothminister (N) - Gryffenhain (D) - Hatesex (USA) World premiere - Heaven 17 (UK) original line-up - Illuminate (D) - Imperative Reaction (USA) European premiere - Implant (B) - In The Nursery (UK) - Iridio (I) - James Rays Gangwar (UK) - Katatonia (S) - Katzenjammer Kabarett (F) - Killing Miranda (UK) - Kirlian Camera (I) - La Casa Del Cid (D) - Lacrimas Profundere (D) - Lacrimosa (CH) -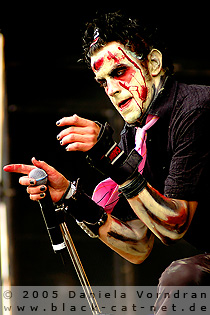 Land:Fire (D) - Limbogott (D) - Liv Kristine (N) romantic late-night performance at the Pagan Village - Lola Angst (D) - Love's Labour's Lost (D) - Lydia Lunch (UK) new performance "Real Pornography" - Lyfthrasyr (D) - Maschinenkrieger KR52 vs. Disraptor (D) - Metallspürhunde (CH) - Michigan (S) - Miquel And The Living Dead (PL) - Naio Ssaion (SLO) - Necro Facility (S) - Neotek (DK) - Nitzer Ebb (UK) first reunion show worldwide - Nosferatu (UK) exclusive gig in Germany 2006 - Novy Svet (E/A) first gig in Germany - O Quam Tristis (F) - Omnia (NL) - Ordo Rosarius Equilibrio (S) - Painbastard (D) - Propergol (F) World premiere - Proyecto Mirage (E) - Reaper (D) - Regicide (D) - Rosa Crux (F) - S.I.T.D. (D) - S.K.E.T. (D) - Salonorchester Weimar (D) Hänsel & Gretel a horror story - Saltatio Mortis (D) - Samael (CH) - Samsas Traum (D) - Sanguis Et Cinis (A) - Scarlet's Remains (USA) - Schattenschlag (D) - Schelmish (D) - Schock (D) - Seelenthron (D) - Seelenzorn (D) - Silvery (D) - Soko Friedhof (D) world premiere live - Solitary Experiments (D) - Sonar (B) - Songs Of Lemuria Feat. Nik Page (D) - Sono (D) - Spiritual Front (I) - Superikone (D) - Tactical Sekt (UK) - Tanzwut (D) - The 3 Cold Men (BR/F) European premiere - The Breath Of Life (B) - The Dreamside (NL) - The Gathering (NL) - The House Of Usher (D) - The Last Dance (USA) - The Legendary Pink Dots (NL) 25th anniversary - The Old Dead Tree (F) - The Other (D) - The Pain Machinery (S) - The Spook (D) - The Spookshow (S) - The Twins (D) - Theatre Of Tragedy (N) - Theatres Des Vampires (I) - Tragic Black (USA) - Trial (D) - Unheilig (D) - Valeria (MEX) - Van Band (PL) - Van Langen (D) - Vigilante (RCH) European premiere - Violent Entity (USA) European premiere - Vive La Fete (B) - Vivus Temporis (D) - VNV Nation (UK) - Voices Of Masada (UK) - Winterkälte (D) - Witt (D) - Wolgemut (D) - Xandria (D) - XP8 (I) - Y-Luk-O (D) - Zeitgeist Zero (UK) European premiere -


Program


Besides all the concerts there is a lot more to experience and to explore. The detailled programm will soon be published at the festival homepage.


Running Order

A schedule is not published yet. Watch the festival website to be updated.