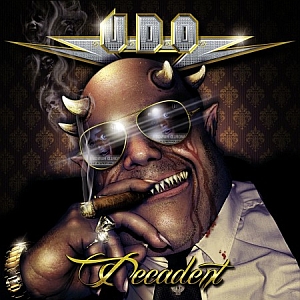 Artist: U.D.O.
Title: Decadent
Genre: Heavy Metal
Release Date: 23rd January 2015
Label: AFM Records
Flash Review

Two years after the bad 'Steelhammer' the metal general Udo Dirkschneider and his band are back with a new album. 'Decadent' is closer to the old-school U.D.O. albums. The general and his boys left the modern influences of the latest albums (with the exception of the self-titled track of the album) behind and returned to their roots, you can say that the album is close to the classic 'Faceless World' album' Andrey Smirnov and Kasperi Heikkinen on guitars have made a great job with double solos and great melodies something that was missing from the last albums. My favorite tracks are the self-titled of the album, the ballad 'Secrets in paradise', the classic U.D.O. 'Pain' and the speedy 'Speeder'. The minus of the album is the bad cover but if the music is good the cover doesn't matter that's what I believe.
Conclusion: The old German metal dog is out again "You better beware, You better take care, Be prepared for the shock"!
Rating: 8 / 10