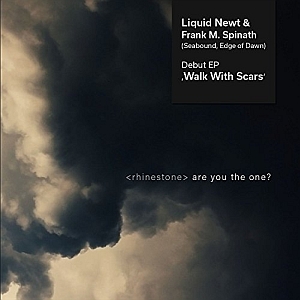 Artist: Liquid Newt & Frank M. Spinath
Title: Walk With Scars
Genre: Electronic
Release Date: 13th May 2016
Label: Dependent Records
Review Flash

Although LIQUID NEWT has been active for quite a while, the project by Didier Salvatore is a well-kept secret. Didier probably is most known to some people as keyboard player for DISKONNEKTED. He got in touch with Frank M. Spinath from SEABOUND who ended up singing on this new track. The bio described it as
"a fresh and danceable variation of SEABOUND or IRIS, to name but two inspirations",
and it's a pretty good comparison. 'Walk With Scars' is a trancey / danceable track that reminds me of some BLANK & JONES or SCHILLER club tracks. Very melodic, very dancey but somehow, one more in a list of thousand club hits. The EP comes with three remixes. "Remix" that emphasizes the danceable side of it, with stronger beats and even more trancey synths, the 'Diskonnekted Remix' that brings some dark electro sounds and an edgier touch to it and finally, the 'Early Version', more ambient driven by atmospheric synths.
Conclusion: Nice to hear but I will certainly forgot about it in a couple of weeks.
Rating: 7.5 / 10
See also (all categories):