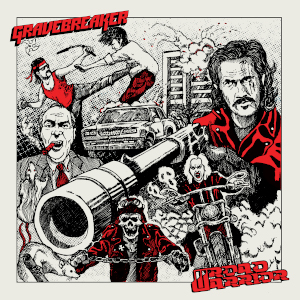 Artists: Gravebreaker / Road Warrior
Title: Death Promise / Death in Heels on Wheels
-
Split EP
Genre: Heavy Metal
Release Date: 21st February 2020
Label: Gates Of Hell Records
Review Flash

Sweden's GRAVEBREAKER and Australia's ROAD WARRIOR kick-off this Heavy Metal year with a split release that will satisfy the cravings of their loyal fan bases!
ROAD WARRIOR's first vital signs were noticed in 2016 when the Tasmanian Devils released their demo 'Ignition'. ROAD WARRIOR play a dramatic mix of Classic Heavy and Power Metal. Vocalist Denny Blake's voice is a rather unorthodox beast but it serves the sound well. 'Death in Heels on Wheels' baited me in to want more of the same.
Gothenburg's GRAVEBREAKER's first demo came out in 2016 too even though these rockers were around already since 2011. This three-piece has an occult-guitar solo driven sound that is rather playful at times reminding me of the great melodies of bands like ANGELWITCH. Like with ROAD WARRIOR this EP serves as a great lure to check out the rest of both bands. Nightmare's voice is rather rough and raw but a little reverb and the occult feel make this quite extraordinary, making 'Death Promise' a cool first impression with its movie samples at the beginning and end.
Conclusion: Separated by nearly 14,000 kilo meters, GRAVEBREAKER and ROAD WARRIOR is an awesome pairing for a split. Listeners will undoubtedly realize they are two bands with different yet quite unique approaches to heavy metal music.