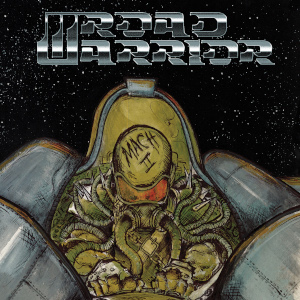 Artist: Road Warrior
Title: Mach II
Genre: Heavy Metal
Release Date: 24th April 2020
Label: Gates Of Hell Records
Review Flash

The first time I was made aware of ROAD WARRIOR's existence was in January, I reviewed their split EP with GRAVEBREAKER and was pleasantly surprised by both acts. Both bands have a uniquely cheesy retro appeal and weird vocals. But let's check out the press text or at least a part of it:
"On their second studio album 'Mach II', Australian Metal tyrants ROAD WARRIOR push Traditional Metal forward with fist-clenching manliness while remaining true to the past. ROAD WARRIOR bassist / vocalist Denimal Blake is a songwriter by trade, Metal head at heart and proud purveyor of metaphor. When discussing his manner of collecting song-writing ideas for the band's second album, 'Mach II', he envisioned himself as a massive, ancient dragon, perched atop a giant stockpile of precious riffs, jealously guarding each and every one, no matter how tarnished and old. Through the age-old process of riff elimination and song-writing maturation, 'Mach II' was born, an album that brings forth "more" of everything from ROAD WARRIOR's sonic arsenal in comparison to their 2018 debut 'Power'. More melodies, more guitar harmonies, more solos and more vocals. In fact, the word "more" was thrown about so much that Blake joked the album should have been called 'More II' instead of 'Mach II'. 'Mach II', though, is fitting since it is a more sophisticated offering than its predecessor."
Yeah, well… press-texts are a hit and miss, most try to sell the band to the journalist or try to convince the writer that the band is better than it really is. ROAD WARRIOR did indeed up their game, more melodic, better vocals, hooks and just more high-quality Metal. The only thing they did indeed reduce is the cheesiness and the weirdness (fans of bands like MANILLA ROAD or MEGATON SWORD can check them none the less because less cheese does not mean no cheese at all). All in all I like this a lot better than the small portion of ROAD WARRIOR craziness I already reviewed in January.
Conclusion: If you like crazy, weird macho metal in the vein of SAXON or old SAVATAGE and METAL CHURCH you should check this out.
Rating: 8 / 10
See also (all categories):