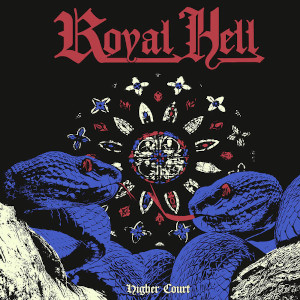 Artist: Royal Hell
Title: Higher Court
Genre: Thrash'n'Roll
Release Date: 1st November 2019
Label: Pharmdown Records
Review Flash

Not so long ago I asked for kick-ass new bands on my Facebook page because I ran out of sweet stuff to review and on that very day I met Matt V. Peppe (online of course). Matt is the vocalist of ROYAL HELL a band I will try to describe over the course of this review. At first, we will take a look at what the band has to say:
"ROYAL HELL hailing from Wilkes-Barre/ Scranton, North-Eastern Pennsylvania was established in the summer of 2016. The band lives and dies by the sword of Rock'n'Roll and Heavy Metal! They have released a handful of singles and an album entitled 'Higher Court' that's available online everywhere! They have shared the stage with DOKKEN, WARRANT, HINDER, ANTI-FLAG, DEAD GIRLS ACADEMY, D.R.I., FLAW, KILLCODE, CLOVEN HOOF, ATTACKER, BLACK WATER RISING, THE MENDENHALL EXPERIMENT, NORTHERN GHOST, GLASS HOUSES, SCATTERED HAMLET, EXTINCTION AD, Aaron Fink (BREAKING BENJAMIN), Brian Quinn (CANDLEBOX) and many other talented local and regional bands."
The first impression I get here sound wise is: Retro Rock meets Thrash meets Punk Rock, catchy and melodic but rough enough around the edges to not scare of the elitists. Peppe's voice is what makes the stuff interesting as I normally never get a kick out of anything that resembles Punk. I don't know what it is but I get a strong John Bush / ARMORED SAINT vibe but a bit old-school production-wise. The song 'Van' Is one of the rare songs that are repetitive and really good despite the repetition (normally that disqualifies a song but this one gets catchy because of the unstopping rollback), 'Screwdriver' is another good example of this kind of songwriting. I also noticed a recurring stoner rock element to the sound.
Conclusion: If you like to party in a smoke filled van listening to a mix of 80s Thrash and Punk Rock and having a few cold ones, this is the soundtrack to this party.
Rating: 8 / 10