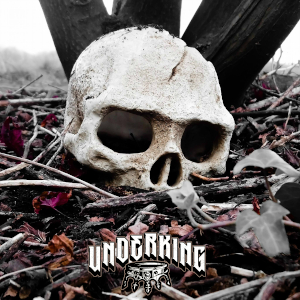 Artist: Underking
Title: Ghosts of the Past EP
Genre: Metalcore / Heavy Metal
Release Date: 3rd April 2020
Label: Self-released
Review Flash

Good evening ladies and gentleman tonight we listen to the guys from UNDERKING. UNDERKING are a British Heavy Metal band from Nottingham, Nottinghamshire. I don't know if the guys from UNDERKING steal from the rich to give it to the poor, oppressed masses but I know they do play quite melodic metal and were formed in 2019. Let's check the press-text:
"Forming in 2019 and starting as the solo endeavour of Maxwell Jeffries (previously of RAGE CAVE), the project soon began to broaden in scope. After enlisting the vocal talents of Dustin Burmeister - the Nottingham / Arizona based UNDERKING began recording their debut project. With 'Ghosts of the Past' focusing on a classic Heavy Metal, BLACK SABBATH / JUDAS PRIEST influenced sound (sung by Maxwell Jeffries) and 'Amongst the Dead' drawing inspiration from groups such as KVELERTAK, MEGADETH and PANTERA (sung by Dustin Burmeister) - the full force of UNDERKING's influences is present in their diverse sound with songs ranging from NWOBHM riff-fests to hardcore inspired sledgehammers. Also featured on the project is the producing talents of both Adam Buckley and Andrew Thompson, with Harvey Magher of Rainless contributing two guest guitar solos to the tracks 'Lost Souls' and 'Deadman'."
I cannot make out any direct influences from NWOBHM (Ok, 'Witchhammer' has a bit of a SABBATH riff at the beginning) bands but that maybe due to the fact that the NWOBHM ain't a real genre but a headline, a starting point for dozens of styles and subgenres. There are two EPs out there as you can read above, I naturally chose the one that is more melodic. So, Jeffries sings on this one and I can say he is fit for the job, his voice is melodic and he can hit quite a few notes due to his variable vocal register. My fave is 'Witchhammer', it has a Doom vibe and a few nasty riffs.
Conclusion: Check out these guys and tell me about it in the usual place.
Rating: 7 / 10