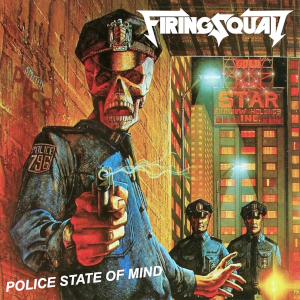 Artist: Firing Squad
Title: Police State of Mind
Genre: Thrash Metal
Release Date: 10th November 2020
Label: self-released
Review Flash

2020 showed the whole world what it was like to die, suffocating on the ground with a knee on your neck. What many people in the US already knew was a shocker to most of us European citizens. George Floyd became a symbol for Police violence and blatant racism in Blue. The pissed off guys of FIRING SQUAD wrote a song concerning this and it's not a beautiful lullaby. 'Police State of Mind' accuses, it points his finger at the Brotherhood in Blue and it points his finger at everyone that complies, stands watching without doing something against it. The beginning of this song is saying it like it is:
"Big man with a badge and a gun
Scared for his life
Tonight he'll shoot another kid in the back
Not once but twice"
This is like a sucker punch in the guts, this hits home. Let's hope that this all ends well and no one will have to write another songs about shit happening like this. If you have a head to think and bang and like Thrash Metal that is rightfully angry, check this out and follow FIRING SQUAD (aside from this killer track the guys are also kick-ass musicians and a nice bunch).
Conclusion: Black Lives Matter, 'nuff said!
Rating: 8.5 / 10