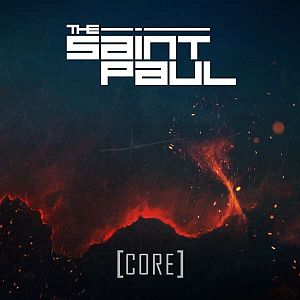 Artist: The Saint Paul
Title: Core
Genre: Electro Pop
Release Date: 19th March 2021
Label: Infacted Recordings
Review Flash

If you collect beermats, or bottle tops, or beanies, you probably feel a ripple of excitement every-time you encounter one you haven't already got. Electropop is like this. There's an absolutely tonne of the stuff out there, and there are the gems at the top of the pile that every collector will have. Then there's the rare stuff that's highly sought after, early demos, collaborations, the hidden treasures. And then there's all that stuff in the middle, the stuff you have to get because you're a completist, but, if you're honest, this part doesn't fill you with massive amounts of joy. It's more of a duty really.
THE SAINT PAUL, four albums in, represent that middle tier to perfection - they can sound like CAMOUFLAGE (but not as good) or SOLAR FAKE (but not as cunning, angry or sophisticated) and they never try to sound like DEPECHE MODE (a small mercy) but ultimately, it's all perfectly serviceable dancey pop with a slight streak of dark here and there. The singing is ok when in key, the synths all sparkle and shimmer, you can bounce up and down and pretend you are at a festival (second band on, sunny Saturday afternoon, third stage) and the melodies are there, laid out as a predictable but pleasant series of notes. But when singing "You have to be a rebel" on 'Be A Rebel', it needs to feel there is more to this than staying up past midnight.
Conclusion: There is nothing wrong with this album. Add it to the collection. Then move along. Better things will come.
Rating: 6 / 10