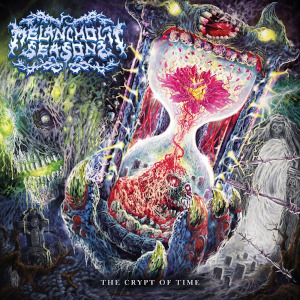 Artist: Melancholic Seasons
Title: The Crypt Of Time
Genre: Melodic Death Metal
Release Date: 1st May 2022
Label: self-released
Review Flash

Some time ago I was contacted by Andi Henke (guitars and bass) of MELANCHOLIC SEASONS, he introduced himself and the band and asked me right away to do a review (spoiler alert: I said yes). He did send me a very nice package (CD, stickers and loads of information about the band) and now I finally found some time to properly do a write-up about this brutal as fuck Melodic Death Metal band from Rodgau. MELANCHOLIC SEASONS was formed in 1995 and this is their fifth full-length according to the Metal Archives.
The band itself has suffered some horrible losses in the past when former singer Björn "Krach" Hoppe died in October 2017. The band soldiered on despite the traumatic loss and released the album 'Martyrium' in 2018. So, what do these guys sound like? The easy answer is that sound-wise this I rough but very melodic Thrash Metal with ultra-brutal and fiercely low Death Metal vocals that sound like they come directly from hell. The album was produced and mixed in Manuel Renner's Überlärm Studios in Weisenheim am Sand. The bad-ass traditional cover was created by Cursedhand_Art. The most memorable moment of the 61:30 Minutes of melodic mayhem is 'I am December (Autumnsphere Pt.2)' which features an old vocal part of the late vocalist Björn Hoppe.
Conclusion: If you are into music that is moving, melodic and brutal as working hungover on a Monday morning, you better check it out!
Rating: 7 / 10