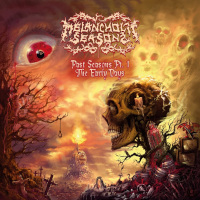 Artist: Melancholic Seasons
Title: Past Seasons Pt. 1 - The Early Days
Genre: Melodic Death Metal
Release Date: 31st March 2023
Label: self-released
Review Flash

A little more than a year ago the guys from MELANCHOLIC SEASONS did sent me their release 'The Crypt Of Time' and aside from the solid Melodic Death inside I was really impressed by the material they provided that was not music. There were loads of information surrounding the band and their brand-new record and as expected that is the first thing I saw opening this package. The three-piece from Rodgau, Germany has once again assembled a shitload of information to go with their music and it is appreciated. Sound wise nothing has changed since the predecessor of 'Past Seasons Pt. 1 - The Early Days', the bands still rips you a new one yet the music never fails to do the Melodic part in Melodic Death Metal proud. There is a lot of instrumental technicalities to witness and Kevin Kieseckers vocals embody the rough counterpart to the rather complex superstructures.
Fun fact: There are visual hints to every song featured on the cover artwork, this is something I really dig because it makes clear that the band is clearly involved and invested in every step of the production of the cover. With 15 tracks and 58:53 minutes this is clearly a lot to stomach but if you enjoy Death Metal you know what to expect.
Conclusion: If you dig the genre and bands like AT THE GATES or WINTERSUN you will appreciate the fuck out of this.
Rating: 8 / 10
See also (all categories):