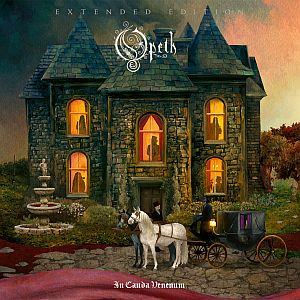 Artist: Opeth
Title: In Cauda Venenum (Bonus disc of Extended Edition)
Genre: Progressive Rock / Metal
Release Date: 13th May 2022
Label: Atomic Fire
Review Flash

On May 13th OPETH released 'In Cauda Venenum' with several bonus tracks on digipack and a vinyl boxset called 'Connoisseur Edition' which includes the same bonus tracks but these were remastered by Mikael Akerfeldt specifically for vinyl. The special edition contains the English and Swedish versions of OPETH's latest album 'In Cauda Venenum' [see review
here
] with new artwork by Travis Smith. The bonus CD includes three previously unreleased bonus tracks, both in English and Swedish:
01. The Mob / Pöbeln
02. Width of a Circle / Cirkelns Riktning
03. Freedom & Tyranny / Frihet & Tyranni
The bonus tracks show different aspects of OPETH's work, 'The Mob / Pöbeln' comes with acoustic guitar work and offers Mikael Åkerfeldt's to show more aspects of his voice. 'Width Of A Circle / Cirkelns Riktning' comes with a riff that might give hope who mourn OPETH's Metal past, but they are mistaken, while the vocals first might spread some hope, the instrumentation changes to the most Folk prone approach OPETH ever tried. The acoustic work is outstanding, so are the vocals that seek perfect harmony with the instruments, especially the piano, then OPETH take you back into the Rock world to leave you marvelling at such a versatile song. The bonus discs final songs 'Freedom & Tyranny / Frihet & Tyranni' are the ultimate highlight, starting with a 7es style Prog intro with Hammond, some acoustic and strings you get that 70s feeling, but OPETH would not be OPETH, if they give the song some perfectly engineered twists and turns, this time they brought in an amazing guitar solo part.
It's interesting to hear the vocals being performed in English and Swedish, while the music for the bonus tracks remains the same, it seems that the Swedish vocals are a bit more emotional.
Conclusion: If you love 'In Cauda Venenum', get the bonus edition, the music and the vocals are OPETH at their best.
Rating: 10 / 10