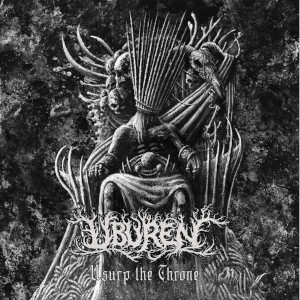 Artist: Uburen
Title: Usurp The Throne
Genre: Black Metal / Viking Metal
Release Date: 20th January 2023
Label: Dusktone
Review Flash

UBUREN from Sandnes, Norway originally started their harsh Black Metal sound under the name SKYGGEGJEMSEL is best translated to "shadow lair". The meaning of the new band name UBUREN is best explained as an act the Spartans (or Norse people thereof) were presumably carrying out, the killing of unwanted or weak offspring by throwing them off a cliff (like in 300, the movie or Graphic Novel). UBUREN however is a harsh Black Metal band that does not come off as weak nor would I call them unwanted because I decided to review them (duh!). The sound is best described as Black Viking metal that draws its inspiration for the lyrics from Norse mythology and stories about Vikings.
When it comes to the compositions there is a technicality and complexity that is not typical for Black Metal, the wall-of-sound effect and the staccato riffs however definitely are. The shared screams and hisses of bass man Bior Kjetilson and guitarist Ask Kjetilson are typically not to be categorized as your friendly neighbourhood vocals but they definitely do the trick and fit perfectly into the musical fabric (anything less brutal than the riffs and drums would be pathetic). 'Usurp The Throne' is UBUREN's fourth full-length record and it rips! If you fancy bands like DØDSRITUAL, MASTER'S CALL or FLUKT NO you should check out UBUREN with their newest Norse tale 'Usurp The Throne'.
Conclusion: If you like your rituals Pagan and your music rough as a blood eagle before breakfast you will enjoy this.
Rating: 8 / 10