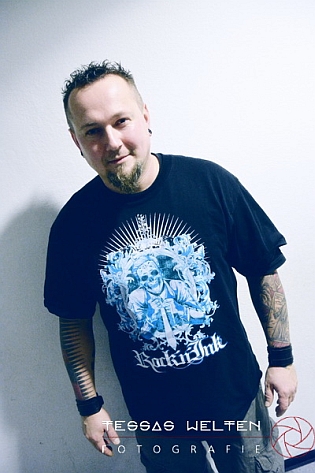 John Lindqwister wasn't the only interview we did during our Christmas holidays at the Darkstorm Festival. Today we would like to present our second one with Mike Koenigsberger from ACCESSORY. This band was founded in 1996 and plays in the EBM / Industrial / Electro style. ACCESSORY always presents amazing live performances and the Darkstorm was no exception. So our great conversation with Mike only strengthened this impression.
Reflections of Darkness [RoD]
: When did you get your first tattoo and what was it? Did it take much time until you decided to get it done?
Mike
:
I made my first tattoo when I was 16 years old. It was a tribal of the band PSYCHOPOMPS's cover from their album
'In The Skin' (EP 1993)
. I got this tribal tattooed with ink on my left upper arm by a tattoo artist. There was no time to think much about it because his schedule was very tight. And I was more interested in showing which musical genres I belonged to.
RoD
: How many tattoos do you have? Could you please tell us their story?
Mike
:
Both arms are almost completely tattooed right now and were done in a professional
tattoo studio
. I decided to make these tattoos after the ACCESSORY US Tour 2008 where I have seen many interesting people with tattoos. But one of them, together with his tattoos, was etched in my memory. It was the singer Michael from the band
ALTER DER RUINE
. He has several black stripes on his arm which have inspired me. On my right arm I have 19 boxes in black and red colours, which together give a strip from the hand up to the shoulder. Along with the tips and upcoming sun, it is kind of a Polynesian tattoo. My left arm is decorated with three tarot cards.
RoD
: Have you already got all the tattoos that you wanted or will you get some new ones in the future?
Mike
:
Since I still have some free spaces on my arms, surely one or more will be added in the future.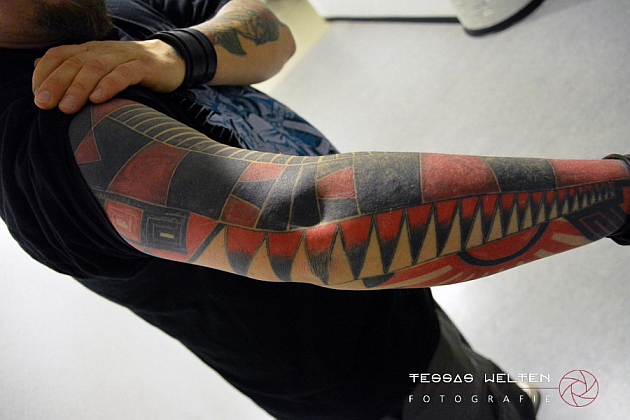 RoD
: Have all your tattoos been done by one tattoo artist or by different ones? How do you choose the tattoo artist? In addition, who draws your sketches?
Mike
:
My best friend Benni has tattooed my right arm. He worked with me on the idea that I got on this USA tour and that I have seen by Michael. Benni had my full trust. We both were on the same wave: in music and in life. Unfortunately, after the tattoo was finished, Benni died in a terrible motorcycle accident. This has chocked me deeply.
RoD
: Getting tattooed hurts, how do you cope with the pain during the sessions?
Mike
:
The first time it still hurts but the second time - not so much. ; ) I need the right music to be played while tattooing, then the pain is not so intense. I like to listen to SKINNY PUPPY when I'm tattooed. Their songs are the total inspiration for me. I get a lot of new tattoo ideas. Yes, during being tattooed I think about new tattoos which I would like to have.
RoD
: Do you regret getting tattooed sometimes?
Mike
:
I have never regretted in my life that I have these tattoos. And if the tattoos are unsuitable for a certain situation I can still pull the sleeves over them.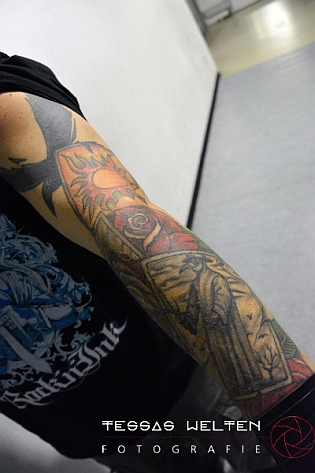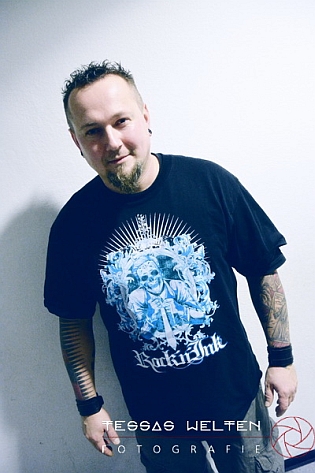 RoD
: What is your taboo in terms of tattoos? What kind of tattoo would you never get done and don't like to see on other people?
Mike
:
I do not like baby tattoos with dates of birth. I think, it does not fit to be tattooed on the body. Do not all baby faces look always the same, snub nose and big eyes? And how it looks on an old skin, I even do not want to think about that. How terrible must it be for a child, if, 18 years later, he has to see the shrivelled face which was supposed to be similar to his own one?
RoD
: Some people say that the drive to acquire body art is addictive while others say it fails to meet the true definition of an addiction, simply calling it a passion. Is it really impossible to stop?
Mike
:
Before I had my own tattoos it was inexplicable for me how it can be: to be addicted by tattooing. But, whoever has experienced the needle, the pain and the healing, needs it again and again. Yes, tattooing makes addictive. Not to compare with a cigarette or an evening beer. But, the entire process, from the first visit to a tattoo shop, to the smell of the wound healing ointment, makes it an addiction.
RoD
: Last Year's tattoos are a new trend; many people do not care about the meaning, they just want to have something coloured on the skin, to be in trend. Those people often just go into a tattoo salon and ask which drafts they have. Tattoo artists are not artists any more, they produce consumer goods. Not all of them, of course. How do you feel about this situation?
Mike
:
Such people give a lot of work to the tattoo artists. But I think that a tattoo should fit a respective person. And you cannot find that out in a few seconds. Such guys usually come back after one or two years to get a cover-up done.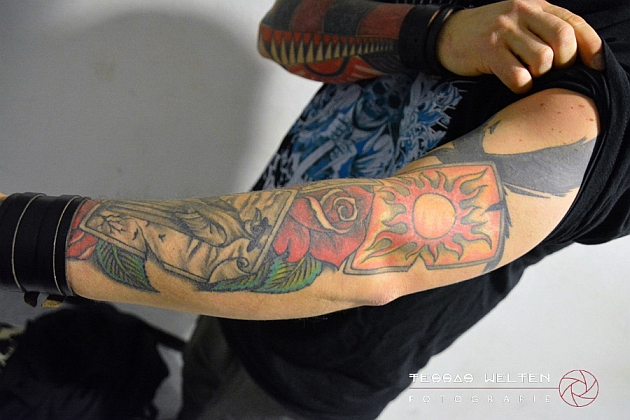 RoD
: I would like to talk about the social aspect of tattoos, too. Previously, many people believed that if you have a tattoo, you will be never be successful and will not find a "good" job. Have this state of mind and people's perceptions changed or are these prejudices still alive?
Mike
:
There are certainly people who still have this association. I do not care what other people think about it. It is my body and it is my life. If you do not want to see it, please look away. I think you should not judge a person by his tattoos. What does a tattoo have to do with human performance? Then I only say, away with these grandmother prejudices.
RoD
: Which advice would you give to people who are going to get their first tattoo? How to choose a tattoo artist? Colour or black and white? Any practical advice?
Mike
:
My recommendations to all people who want to get a tattoo for the first time are the following: First, the harmony between you and the tattoo artist should be 100%. Is it all worth it if he does not understand you and you get a completely wrong picture tattooed? You can paint the tattoo which you are going to make with a pen on your skin and look at yourself in the mirror whether it suits you. If something was made under your skin it will remain there forever. But I do not want to make you be afraid of it. If you are sure that it must be, that it must happen - then do it. Colour makes life more colourful.
Project by Daria Tessa and Daniela Vorndran, Interview by Daria Tessa
Pictures by Daria Tessa (
https://www.facebook.com/tessaswelten
)