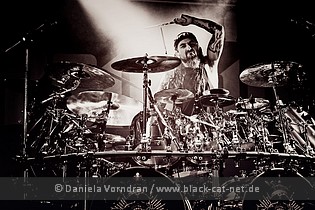 Matrix, Bochum, Germany
7th July 2012
Adrenaline Mob & Downspirit

Even though ADRENALINE MOB itself is a new band, the line-up of this group promised an extraordinary evening full of good rock music. Even though the venue was not packed, the venue was very well filled and soon, the temperature inside was heating up. People were very much excited of the things to come. But first, they had to be patiently waiting in front of the door since the sound check took a bit longer. Finally at around 8:15, support act DOWNSPIRIT were entering the stage…



Downspirit

German band DOWNSPIRIT from Stuttgart was originally formed in 2009 by SYMPHORCE/Ex-FREEDOM CALL guitarist Cédric "Cede" Dupont in order to fulfill his longtime dream to form a band dedicated to the combination of blues and metal music. The band also consists of vocal-talent Steffen Lauth as well as Dennis Wohlbold on bass and Steffen Theurer on drums, who complete the line-up with a blasting feel of rhythm and groove. The band released its debut album 'Point of Origin' mid 2010 blending bluesy 80's hard rock with metal sounds and pop influences. The second album of the band is just waiting to be released on 27th July. It is called 'Bulletproof'. http://www.downspirit.com / https://www.facebook.com/downspiritofficial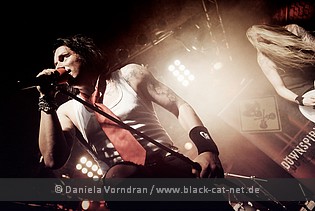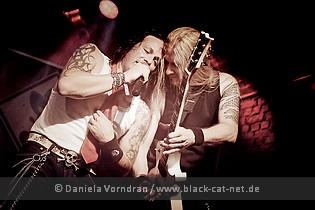 Music & Performance
The hall was already heated up when DOWNSPIRIT entered the stage to start with 'Hellyeah' from their upcoming album. This was not the only song taken from it. In fact, most songs of the set were taken from the new album, being not yet released. Having as goal to play as much live as possible, might it be in small clubs or in stadiums, the band put a lot of energy into the show right from the start. And they did not fail to convince the audience. Soon, people were screaming and clapping a long. There was a great communication between lead singer Steffen, wearing white shirt, red tie and holding a screaming read microphone. Soon, his first cowboy hat, a pink one, was flying into the audience. And it was not the only one. Later on, a black and a white one followed as well as some t-shirts. The music blends old blues roots with a modern, down tuned guitar-feel. And this mix soon turned the hall into a big party.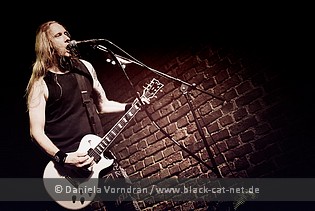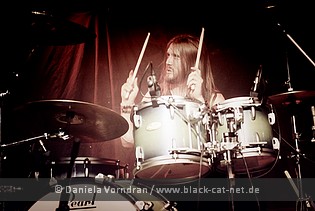 Singer Steffen was also proud of his little announcements in-between the songs, putting some little stories into it. So, he i.e. told us that the song 'Get the Fuck up' was about some guy anyone knows, a blithering idiot. Anyone on stage had a lot of fun during the show, you could see that those guys love to be on stage. At the very end, there was finally glitter being shot into the audience. This band really was a great surprise and you should keep an eye on them. It's a lot of fun seeing them live on stage!

Setlist
01. Hellyeah
02. Greed
03. Overload
04. Love Song
05. Highway Run
06. Get the Fuck up
07. Life after her
08. The Wish
09. Good Times

Rating
Music: 8
Performance: 8
Sound: 7
Light: 8
Total: 7.8 / 10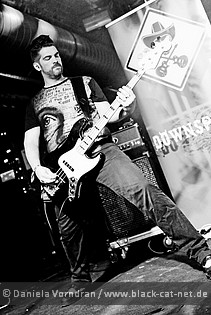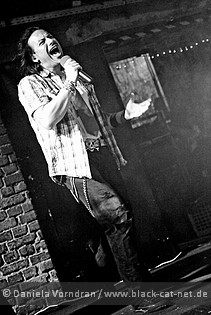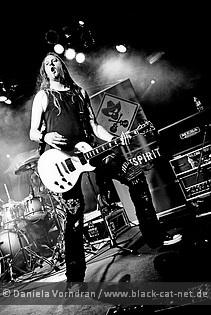 Adrenaline Mob

Russel Allen would state later during the concert that ADRENALINE MOB is "not a super group". But somehow this band is! ADRENALINE MOB is not a group of newbies trying to get the attention of an audience but something the term super group has been coined for. It was formed not a long time ago in 2011 featuring four great and well-known artists currently. First, you have ex-DREAM THEATER drummer Mike Portnoy and SYMPHONY X lead vocalist Russell Allen. Those two are supported by DISTURBED bassist John Moyer as well as guitarist Mike Orlando, known for some solo albums with his own SONIC STOMP INSTRUMENTAL BAND and besides that, he is member in another "super group", TRED, featuring rock royalty & legends Rudy Sarzo (Ozzy, Whitesnake, Dio, Quiet Riot), Tim Ripper Owens (Judas Priest), AJ Pero (Twisted Sister). The result of such a collaboration couldn't be anything akin to standard issue at all. The band recently released their very first full-length 'Omerta' in March. http://www.adrenalinemob.com / https://www.facebook.com/adrenalinemob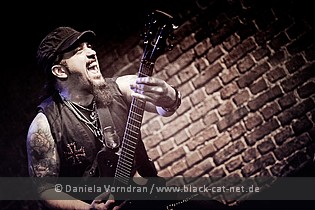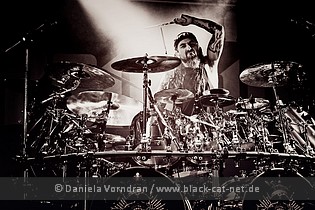 Music & Performance
I was really, really curious about this show and to let you know at the very beginning: ADRENALINE MOB did not fail at all. What those four guys delivered was more than a great show, it was a big party where band and audience were celebrating together. The band operated perfectly together but still you had four individuals on stage. First to mention Portnoy who probably drew most attentions. He's just a legend and when he departed from DREAM THEATER, he left lots of sad fans back. Many of them probably showed up this evening to see cult drummer Portnoy in action. And it was really a pleasure to watch him behind his drums, interacting with the other and members or the audience, standing up behind his drum set or climbing up his seat, and being there for several announcements. Guitarist Orlando was communication with the audience through his facial expressions. It was a pleasure to watch, as it was a pleasure to watch John Moyers playing the bass. And last but not least you had impressive singer Russell Allen, who most often spoke to the audience.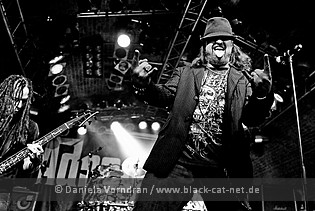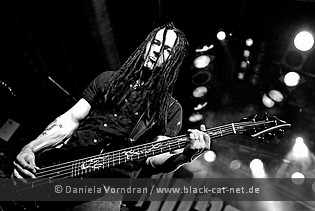 The party started already when the band entered the stage under bright light and blustering applause starting up with 'Psychosane' and 'Feelin' Me', both from their first release. Since there is only one album out so far, most of the presented songs were of course taken from it. After four kind of fast songs, it went on a bit calmer with 'Indifferent', a song that was perfect for Russell's vocals. A small drum solo, which was accompanied with loud cheers, was leading over to 'Freight Train' being extensively introduced by Russell: "You Motherfuckers (one of his favourite words) are awesome! ... WE want to see your hands in the air, we wanna hear you screaming, singing…. This is not our show (pointing onto the band), this is OUR show (pointing onto the whole audience)!" 'Freight Train' was indeed a powerful song inviting to party, presenting also an extensive guitar play when Orlando and Portnoy finally were shaking hands.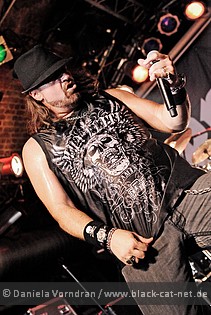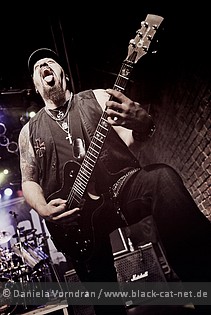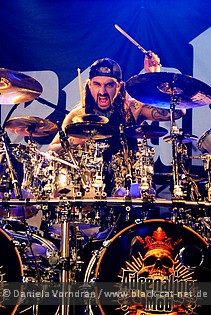 Getting along in the set, there was another surprise when Russell suddenly introduced "a wonderful guest on stage", being Floor Jansen (formerly After Forever) presenting the DURAN DURAN song 'Come Undone' as a fantastic duet. The audience loudly celebrated this guest appearance. Floor afterwards stated that it was a real honour and anyone should have fun afterwards. Also Russell seemed to be impressed: "This was awesome! It was good for me, was it good for you too?". No doubt this question was answered with loud cheers. After thanking anyone showing up, Russell introduced the next song with the words "this one is from our heart to year ears. 'All on the Line' following up was a wonderful melodic ballad. After this moody interlude, the power arose again, moving the set towards the end, finally culminating with the last song of the main set, 'Undaunted' when anyone was loudly singing, the chorus even without the band, and following up the heavy demand to jump. What a final of the set!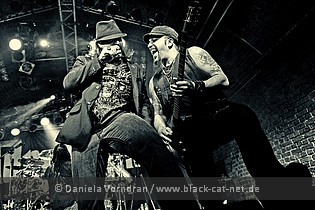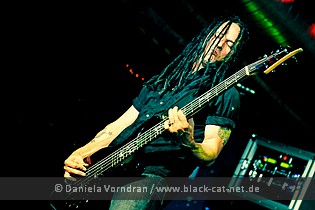 But still, we're not done yet. There was more coming up. The encores were opened with a guitar solo, introducing some cover songs coming up next. After the BADLANDS cover 'High Wire', the set was closing with two BLACK SABBATH cover songs, namely 'The Mob Rules' – already being presented earlier via YouTube – and finally 'War Pigs' making a great final of the evening. What a powerful show this was, releasing sweaty people wearing happy smiles on their faces!

Setlist
01. Psychosane
02. Feelin' Me
03. Down to the Floor
04. Angel Sky
05. Indifferent
06. Freight Train
07. Believe Me
08. Come Undone (Duran Duran cover with Floor Jansen)
09. All on the Line
10. Hit the Wall
11. Undaunted
---
12. Guitar Solo
13. High Wire (Badlands cover)
14. The Mob Rules (Black Sabbath cover)
15. War Pigs (Black Sabbath cover)

Rating
Music: 9
Performance: 10
Sound: 8
Light: 9
Total: 9 / 10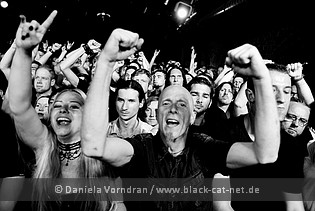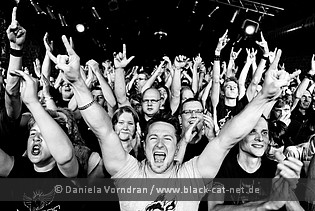 All pictures by Daniela Vorndran (http://www.vorndranphotography.com / http://www.black-cat-net.de/ / http://www.myspace.com/vorndranphotography / http://www.facebook.com/blackcatnet)