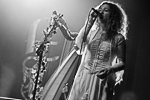 C-Halle, Berlin, Germany
30th January 2011
Faun

The concert of FAUN started with a little surprise for all people who came to "Huxleys Neue Welt", because it had be placed to the C-Halle. No problem for us, because our photographer had a car and the C-Halle is not so far away from the "Huxleys". When arrived at the C-Halle, people were already impatiently waiting for FAUN, one of the most singular medieval music projects located in Germany.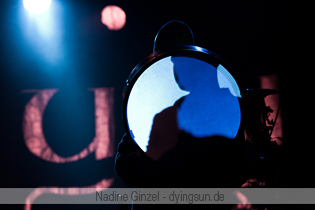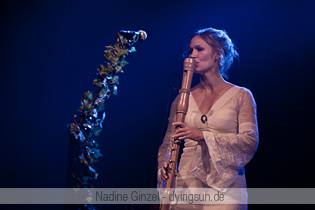 Founded in Germany in 1999 by Oliver Sa Tyr, the band published their first album in 2002. Since then, they have released six albums and played over 600 concerts. The band's current members are Oliver Sa Tyr, Rüdieger, Niel (instrumentals) as well as Rairda and Fiona (vocals). Their repertoire consists in their own compositions, but also in medieval and popular songs from all over the world. Faun themselves call their enchanting combination of Celtic folk, medieval music and Arab influences "Pagan folk". They sing in several languages, like old German, Latin, old Icelandic, Spanish, Greek and others. Many of their songs are adaptations of medieval airs, although they also play compositions of their own. http://www.faune.de/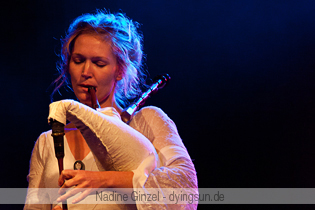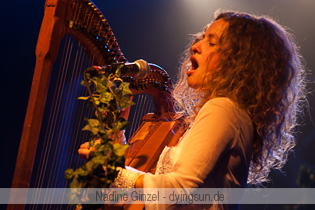 Music & Performance
The audience at the C-Hall represented the diversity of FAUN's fan community. Middle-aged, decently dressed couples sit together with young gothic people and medieval dressed ladies with gorgeous garments. It has to be said that it was a concert with seats, a little bit unusual for FAUN. FAUN appeared at the stage nearly punctual, with Oliver Sa Tyr and Rüediger dressed in black and the two ladies dressed in white wedding dresses. People were curious for the new band member - Rairda had replaced the former singer Sandra. Oliver gave an introduction to every song, often telling a little story about the content or the origin of the song. "You need to sit - we stand, and if you wanna dance, you can dance during the break" said Oliver Sa Tyr with a smile. FAUN started with a cheerful Gypsy song, 'Sao Roma', with Rairda playing the tambourine. The next song, 'Ne aludj el', was a little bit more calmed. At the third song, Oliver said that people do know about the danger of beautiful women, and told a short story about a fairy and a knight at the sea, before FAUN started to play 'La belle dame sans merci', an old English ballad.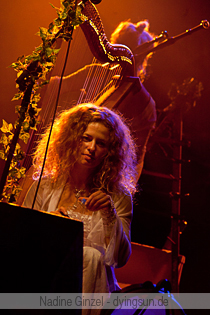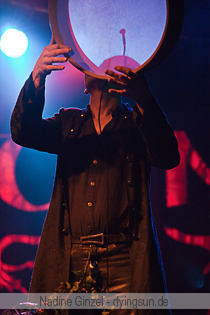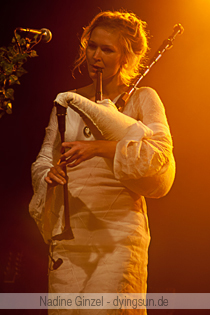 Also at the next song, Oliver narrated a imaginative tale extracted of the old German saga of the "Nibelungen", in which King Gunther is suspended from the hallstand by his wife, lady Brynhild. At this song, 'Karuna', Fiona and Rairda embodied Brynhild, Oliver embodied King Gunther and Rüediger the hallstand. 'Karuna' is a really heartbreaking ballad, and the audience was deeply moved. After that, a song from Rairda´s solo album was presented. Although people applauded her a lot, I must say that, speaking in generally terms, her strong presence and voice is maybe a little bit too dominant and suffocates sometimes the other singer. "There are people", said Oliver, "which don't know what to do when a female troll enters the room". People burst out laughing, and FAUN performed their beautiful and amusing song 'Herr Heinerich', which tells the story of a knight, who is forced by a troll lady to feed her with his beloved dog, his brave horse and finally to share his bed with her. Before the break, Oliver told a tale about a lazy boy, who, after an encounter with a bewitched princess, learns to be a hard-working man. "I wish you all to find sometimes a person who pushes you" said Sa Tyr, before the break of 30 minutes started.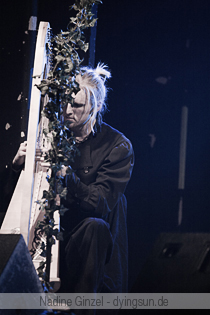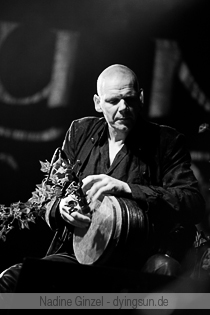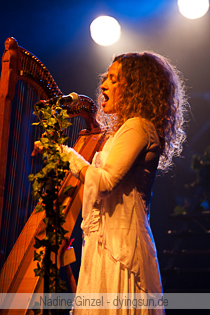 At the first song after the break, 'Da que deus', Rüediger performed a really breathtaking performance at the drums and earned a lot of applause. One other highlight was the 'Polska', a mix of three Swedish polskas, a really beautiful, very sad song. After this song, Oliver performed solo, only with his harp, a medieval minstrel air about an unreachable love. People were moved by this love song. But after this song, FAUN changed the topic an played 'Tanz über die Brücke', where a bridge symbolizes the death and were people are not afraid of dying, cause the enter the bridge dancing. FAUN finished their regular program with a highly acclaimed song, 'Tinta', an old Spanish love song. People didn't stop applauding and trampling the ground, and FAUN performed two encores: 'König von Thule', about a dying king, and 'Fort', about a Gypsy child. Oliver Sa Tyr finished the concert saying thanks to the crew, the public and even to Trinity concerts for their merchandising.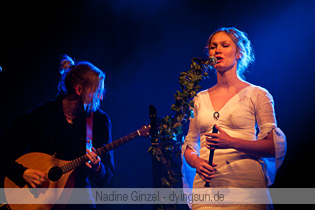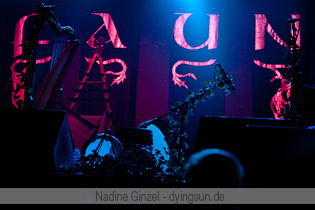 It can be said that the concert was a real success. It is really amazing how many instruments Oliver an Fiona do play with high ability, and not less remarkable is the mastery of Rüediger at the percussion. Faun are surely one of the bands whose concerts medieval music fans should not miss.

Setlist
01. Sao Roma
02. Ne aludj el
03. Belle dame sans merci
04. Karuna
05. Zauberhaft
06. Hanter dro
07. Herr Heinerich
08. Ballade des Lebens
09. Da que deus
10. Königin
11. Adam lay ybounden
12. Polska
13. Vom Truge
14. Brücke über den Main
15. Erkenekon
16. Cuncti simus
17. Tinta
---
18. König von Thule
19. Fort

Rating
Music: 9
Performance: 8
Sound: 8
Light: 7
Total: 8.3 / 10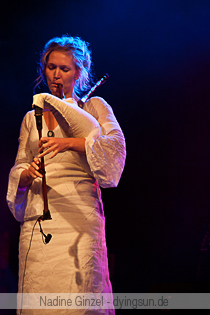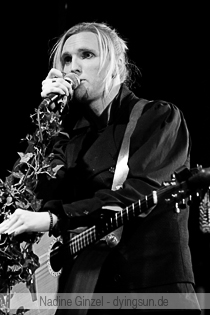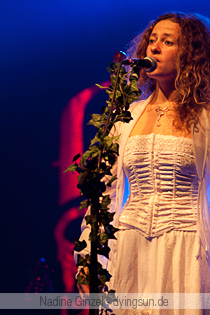 All pictures by Nadine Ginzel (www.dyingsun.de)