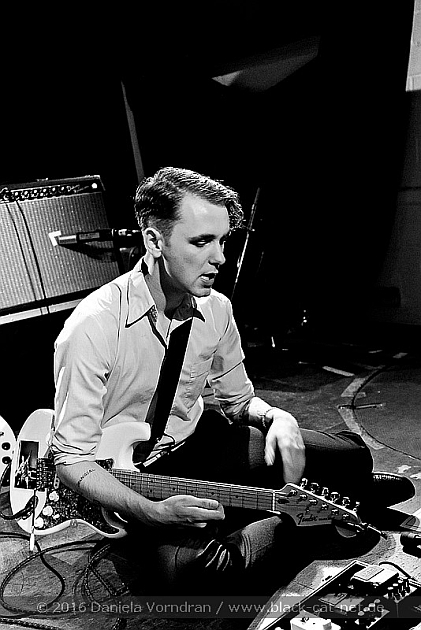 Gleis22, Münster, Germany
3rd November 2016
Drangsal & Fabian

Even though I've been going to concerts for 30 years by now, there's still a venue nearby which is actually new to me: Gleis22 (transl. "Platform22") – for all music enthusiasts in Westphalia and beyond it's of course a well-trodden location, but somehow I've never ended up there. The alternative club, which also offers vegetarian / vegan lunch, has even been voted three times the best in Germany. What brought about a Gleis22 "deflowering" was a gig of one of the greatest hopefuls of the German Indie scene, one could also say one of the greatest "hypes" or, as we put it nowadays, "hot shit" Indie acts.
Under his alter ego DRANGSAL, Max Gruber from Herxheim near Landau, Germany, who's a Berliner by choice by now, is stirring up the world of music. His dark Indie Post Punk Wave Rock with a lot of 80ies influences is overhyped just everywhere and, what's more, the artist himself is not particularly uninteresting. In various interviews Max appears as a self-confident but at the same time torn young man who still has to find his position in life. This should also be seen tonight, but we'll get to that later. After having snatched a glass of champagne first, we realized that a sold-out "platform" (about 300 visitors) doesn't really offer optimal view, not to mention the conditions for the photographers. The stage is narrow, small, and not very high, so that the shorter folk may've had the pleasure of only hearing than also seeing. But at the 22 it's also all about the feeling, I believe, the closeness to the band and to each other. In any case, the audience, that mostly consisted of students, was in a good mood when the supporting band hit the stage punctually on the stroke of nine.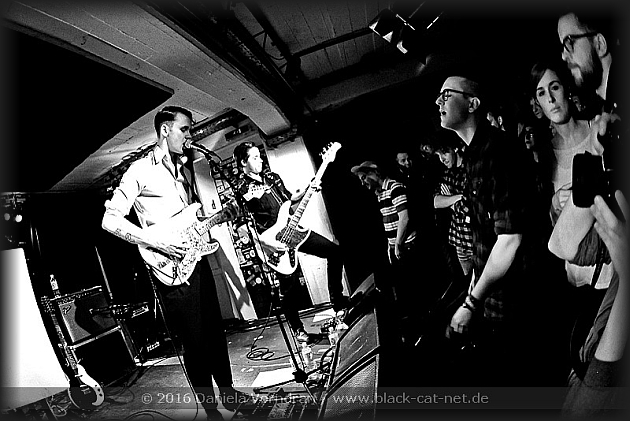 Fabian

FABIAN comes from Leipzig and has been around since 2013. I have to admit that I had to read up on them on the internet since I haven't heard about the quadripartite combo around vocalist Vitiko Schell yet. They can boast with Max Rieger (DIE NERVEN) as their producer, which immediately made clear that FABIAN's work is complex music, not something to simply like straight away. There's talk of Post Wave / Post Rock in some review, but that's far from describing all the facets of the East Germans who could also be seen as creators of Avant Garde Pop including Jazzy moments and dissonant changes in rhythm.
http://fabianmusik.com
/
https://www.facebook.com/fabian6668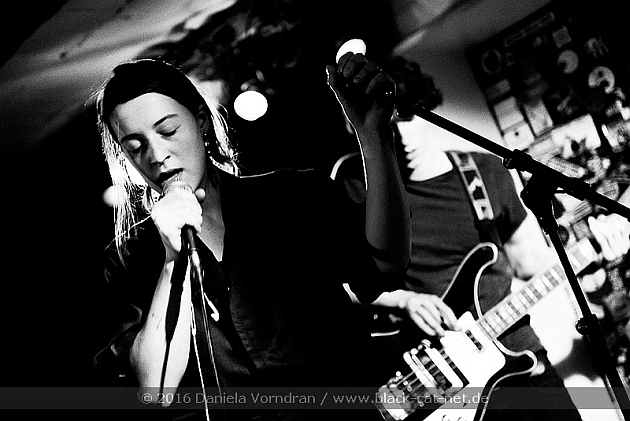 Music & Performance

Ms. Schell at the mike has a very individual and interesting voice and appears quite casual or rather farouche; her few announcements spread some raw charm. Strange and hypnotic are further fitting adjectives to characterize the songs of the project's self-titled debut, which came out in 2015 via Treibender Teppich Records. Due to lack of knowledge and announcements I cannot refer to any concrete titles, but it's the artistic synthesis that counts, which once in a while was enhanced by trumpet tunes by guitarist Max Kraft. Their show was a 35-minutes-long listening experience that's been driving and at times actually demanding. On the whole, FABIAN was received quite positively. The act is on the road under the cryptic banner of "Leihmütter Tour" (transl. "Host Mothers Tour") which kind of suits the sound of the Leipziger.
Rating

Music: 8
Performance: 7
Sound: 7
Light: 6
Total: 7 / 10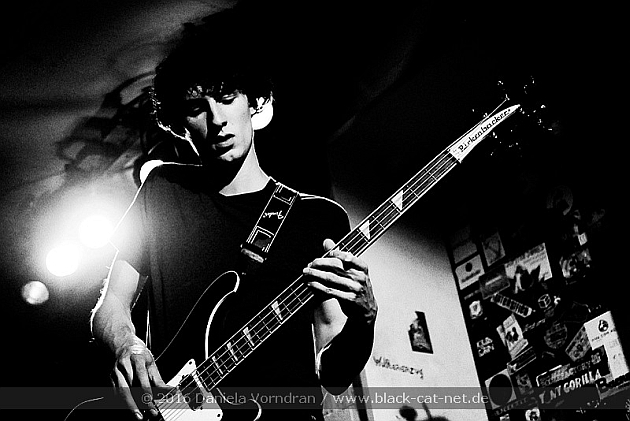 Drangsal

Hardly anyone left one's standing place that one fought for before the show, on the contrary, and thus the temperature inside kept on increasing. After a short phase for rebuilding and as well extremely on time, around 10 pm, DRANGSAL started with a sample about the "new artists". The name Gruber always makes me think of the headless doctor from the Horror cult film "Re-Animator", but this Gruber with his jaggy haircut is actually one of a kind. DRAGSAL is singular and live on stage, there's of course the entire band consisting of Tim Roth (Tarantino anyone?), Christoph Kuhn on the drums, and nestling Sam Segarra who would have his grand entrance later on.
https://soundcloud.com/diedrangsal
/
https://www.facebook.com/frucadeodereierlikoer/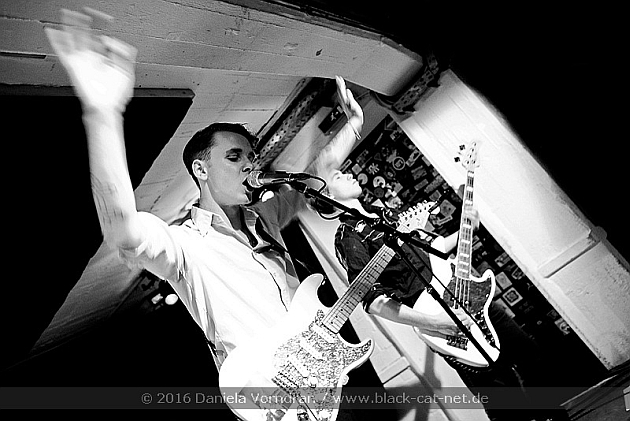 Music & Performance

Already the first announcement was kind of peculiar: Max explained that the opener 'Der Ingrimm' was the trickiest piece on the setlist and therefore they would play it first... "being as professional as they are". And this already reflects to some extend the contradictory character of the artist. Is that still irony or already self-complacency? My thesis is that the man is not really self-confident; insecurity and arrogance are known to lie close together. Anyway, this is all exciting stuff, and of course also musically since DRAGSAL have the well-known "problem" of being one of those "one-album-headliners". There's not much material but a lot of keen fans. In addition, the songs of the highly successful 'Harieschaim' are not exactly sprawling epics. Be that as it may, pieces such as 'Do the Dominance' or 'Will Ich Nur Dich', the latter being favoured with a video, are simply fun and make you shake a leg because of their driving sounds. So, even minor sound problems (keyword: professional Kuhn on drums and the Hi-Hat-Mic) do not really matter but, quite on the contrary, somehow provide for a raw charm.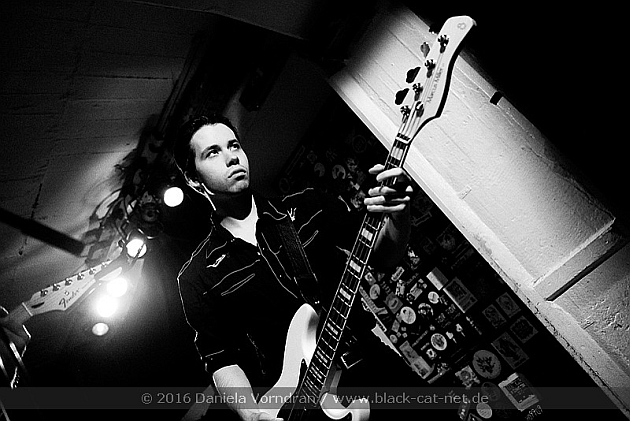 After the popular and longing 'Love Me Or Leave Me Alone' (Who had not said this phrase sometime?), there were two non-album tracks for our ears. 'Und Du? (10.000 Volt)' is a piece of the DRANGSAL's follow-up album which is currently in the making, but it didn't grab me immediately. 'Zur Blauen Stunde' is on a 7inch and came into the world on Record Store Day. With the legendary 'Wolpertinger' that was already it and the audience easily accepted the main part of the show to be over – "The album is short after all". A while later, Max and Co. could not escape the old game of getting off and back on stage and began to play once again presenting a new line-up: self-taught instrumentalist Gruber on percussion, Kuhn on bass, and in the front Segarra, who had been rather reserved so far, as a limelight hog. And this is to be taken literally for him singing the MISFITS cover 'Some Kinda Hate' while whirling all across the stage like a dervish could have ended up on the soundtrack of "El Mariachi".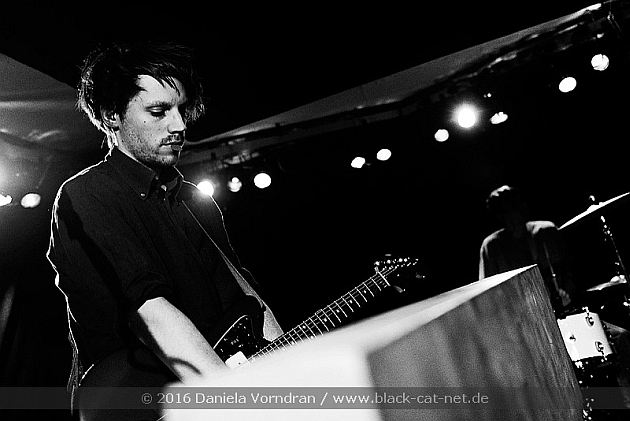 Needless to say, THE uber-song of the DRANGSAL guys was not to be missed: 'Allan Align' marked the much celebrated end of the gig. With all in all 47 minutes playing time it was one of the shortest headliner appearances in my long history as a concertgoer. And I must say there were many people who were not really happy that the concert was so short. But this way we arrived back home before midnight and the show was also charming due to its compactness. Just to repeat it once more, the album and its songs are indeed rather short. Let's see where the road will lead the strident inhabitants of the capital. Basically, I think anything from "great breakthrough" (if that's what he actually wants) to "one album wonder" is possible. For my part, I am delighted to have become part of the DRANGSAL phenomenon in its beginnings. Together with the self-willed supporting act and the old school location they sort of made it an unforgettable evening...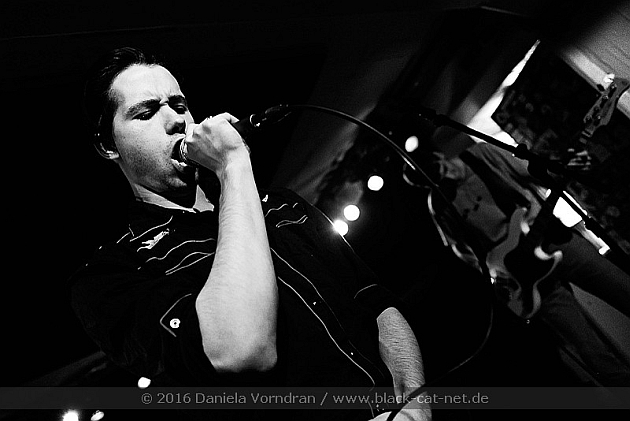 Setlist

01. Der Ingrimm
02. Hinterkaifeck
03. Do The Dominance
04. Will Ich Nur Dich
05. Moritzzwinger
06. Love Me Or Leave Me Alone
07. Und Du? (10.000 Volt)
08. Zur blauen Stunde
09. Wolpertinger
---
10. Some Kinda Hate (MISFITS Cover)
11. Allan Align
Rating

Music: 8
Performance: 8
Sound: 7
Light: 6
Total: 7.3 / 10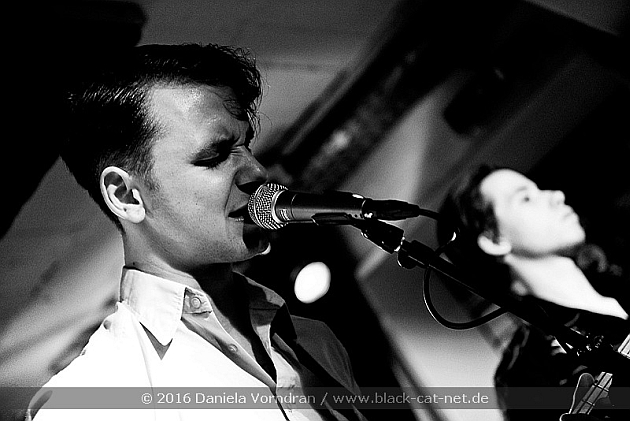 All Pictures by Daniela Vorndran (
http://www.vorndranphotography.com
/
http://www.facebook.com/blackcatnet
)
See also (all categories):