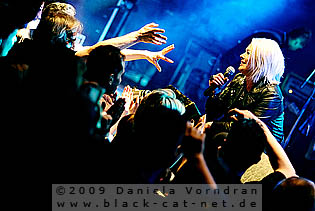 Zeche, Bochum, Germany
27th March 2009
Kim Wilde & Jon Harrison


For French people she is the "Brigitte Bardot of Rock" and her German fans still adore her for being the most exciting glamour girl of the eighties. Her mega hits like 'Kids in America' and 'Cambodia' still fill the dance floors. Of course we're talking about the 'Perfect Girl' KIM WILDE here and after celebrating a great show in November 2007 she came back to the Zeche in Bochum on 27th March 2009 to do it again.



Jon Harrison

JON HARRISON wanted to be a singer as long as he can remember. He began his musical journey at the Leeds Academy in 1996 and developed his vocal skills, style and range with the help of a creative team with many fellow musicians and after receiving great feedback for demo songs posted online Jon decided to pursue his childhood dream further and now his first full-length album is close to its completion.
http://www.jonharrisonmusic.com/
/
http://www.myspace.com/jonharrisonmusic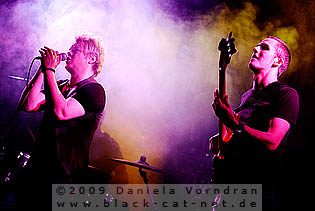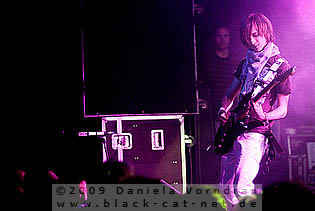 Music & Performance

Rather unknown to me and according the reactions to many others was JON HARRISON announced as Special guest soon entering the stage with his band after the announcement to start pretty fast with the straight rocking song 'Ordinary Girl' followed by 'Shooting Arrows' starting out slow but growing towards the chorus. It became even slower with the next song 'Breakdown' with piano, vocals, laid-back drum and guitar instrumentation and no breakout chorus afterwards. Already after 5 songs it was time for Jon and his band to say goodbye but I guess he's got some new fans as the reception from the audience was overall positive and he received lots of applause during the show.
Rating

Music: 6
Performance: 7
Sound: 7
Light: 6
Total: 6.5 / 10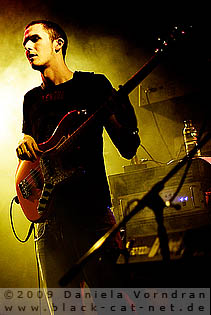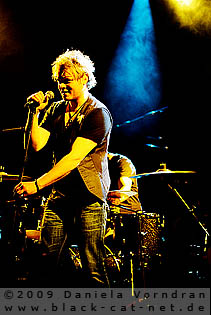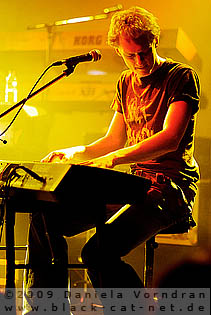 Kim Wilde

KIM WILDE, 80s icon with lots of famous hits like 'Cambodia' or 'You came', was back with a new album - 'Never say Never' - released in September 2006 followed by three more single releases - 'Perfect Girl', 'Together we belong' and 'Baby obey me' - after she already had quite a come-back with the NENA cover version 'Anyplace, Anywhere, Anytime' which entered the Top Ten through whole Europe. The band of blonde KIM WILDE (vocals) consist furthermore of her niece Scarlet (backing vocals), her brother and song writer Rick (guitar), drummer Jonathan Atkinson, keyboarder Steve Power, second guitar player Neil Jones as well as bassist Nick Beggs (KAJAGOOGOO).
http://www.kimwilde.com/
/
http://www.myspace.com/officialkimwilde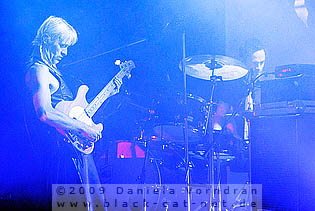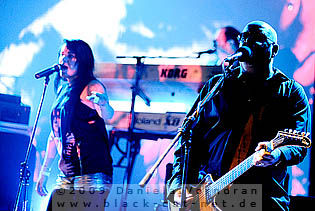 Music & Performance

The girl everyone was waiting for was finally taking over the stage now to a after her band took its positions and already at the band's march-in the applause was overwhelming but nothing compared to when the perfect girl KIM WILDE came on stage. The audience could be hardly kept back anymore and enthusiasm swept through the crowd when 'Never Trust a Stranger' came out of the speakers as the first song with its rocking guitars and fast drums. It would become a time travel back into the 80s with stops at famous hits like 'Cambodia', 'You Came' or a song that hasn't been played in a wile as she told us 'Love Blond' and another hit 'You keep me hanging on' each of which brought the crowd, amongst them many people following Kim's career since the very beginning and literally growing up with her and the songs, into an ecstatic rush expressing in loud clapping, singing and wild dancing to the tunes and every now and then she received flowers, roses for the most part, and a teddy frog which she tried to turn into a prince, unfortunately didn't work out as wished.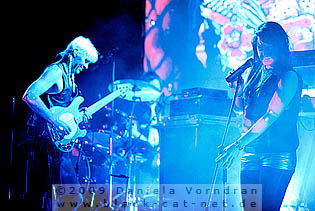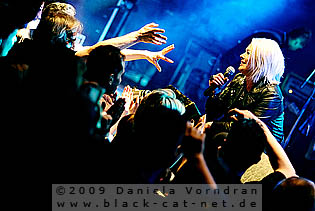 The chemistry on stage was fantastic right from the start and not as if you would have some kind of copy & Paste band up there. It was a real team that has grown together over the years including the band's "Personal Jesus, Mr. KAJAGOOGOO himself" Nick Beggs and they visibly had much fun up there. Kim always had a smile on her face enjoying the crowd's reactions to the well-known and also newer songs such as 'Perfect Girl', a title written for her, it seems; or the moving acoustic song 'Love you more than you know', showing what a great voice she has and a highlight that needs to be mentioned: The stirring duet with her niece Scarlet on 'Another Step (Closer To You)'. The whole show culminated with a rousing performance of the super hit 'Kids in America' presenting a band giving their all once more for the celebrating crowd leaving them all exhausted but happy; happy as me who was now heading towards the exit with a big smile on my face after such a performance.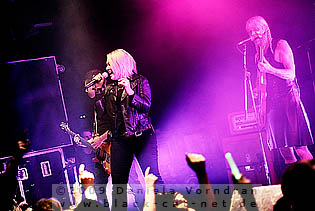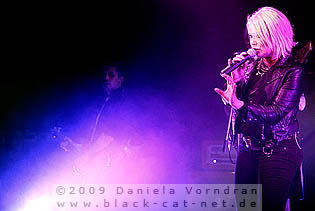 Setlist

01. Never trust a stranger
02. Perfect Girl
03. View from a bridge
04. The second time
05. Love blonde
06. Anyplace, anywhere, anytime
07. Chequered love
08. Love in the natural way
09. Love is holy
10. Cambodia
11. Loving you more than you know
12. Another step (closer to you)
13. Can't get enough (of your love)
14. Four letter word
15. A little respect
16. You came
17. You keep me hangin' on
---
18. Ça plane pour moi
19. Enjoy the silence
20. Kids in America
Rating

Music: 8
Performance: 9
Sound: 8
Light: 8
Total: 8.3 / 10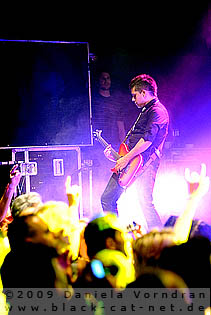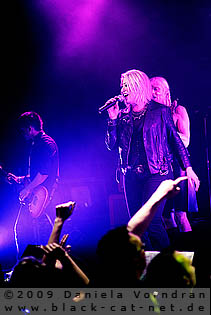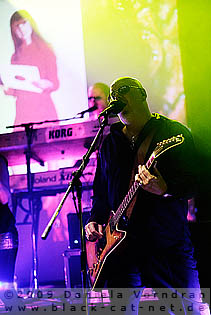 All pictures by Daniela Vorndran (
http://www.vorndranphotography.com/
/
http://www.black-cat-net.de/
/
www.myspace.com/vorndranphotography
)
{jos_sb_discuss:17}
See also (all categories):