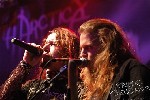 De Boerderij, Zoetermeer, The Netherlands
May 11th 2006
Sonata Arctica, Doro, Altaria

When arriving at the Boerderij, Zoetermeer, I noticed that a lot of fans had already gathered in front of the Boerderij, dying to get in. It was Sonata Arctica who had attracked most of the fans this night. I, myself, am really looking forward to seeing Doro. I have never seen her perform live, but I heard some great stories about it. Time is check it out...
Altaria

The Finnish melodic metal band 'Altaria' was founded in the year 2000 by Marko Pukkila (bass) and Tony Smedjebacka (drums); at that time both playing in a band called 'Blindside'. With Johan Mattjus (vocals) and Jani Liimatainen (guitars) the first 'Altaria' line-up was complete; simultaneously. Jani was already playing the guitar for 'Sonata Arctica'. After a line-up change - the vocalist was replaced by Jouni Nikula - they released their first album, 'Invitation' (Metal Heaven) in spring 2003; also a second guitarist, Emppu Vuorinen from 'Nightwish', joined the band. During the tour to promote their debut album, Jouni left the band and was replaced by Taage Laiho, also contributing the vocals for 'Kilpi'. Emppu stopped playing for 'Altaria', too, due to commitments concerning 'Nightwish' and a new guitarist was quickly found in Petri Aho. After the recordings for their second studio album 'Divinity' and quite similar to Emppu, Jani had to leave 'Altaria' because he was too busy with his main band, 'Sonata Arctica'. The replacement was found in J.P. Alanen, who had played in the band 'Celesty' up to then. This year, 'Altaria' released their third album, 'The Fallen Empire' (Metal Heaven).
Line-up: Taage Laiho (vocals), J.P. Alanen (guitar), Petri Aho (guitar), Marko Pukkila (bass) and Tony Smedjebacka (drums).

Music
Altaria had the pleasure to open for this night. Not a very easy job if you consider the rest of the line up for the rest of the evening: Doro and Sonata Arctica. Still they stood their ground well. Not a lot of people in the audience knew the opening act, but the style of Altaria can be described as the same as the headliner, Sonata Arctica. The band has recently released their third album 'The Fallen Empire'and a lot of songs of that album were introduced to the audience. Taage Laiho (vocals) is blessed with a strong voice, an aspect which bolstered heavy guitar rifs and catchy bass lines. The sound in The Boerderij was very clear.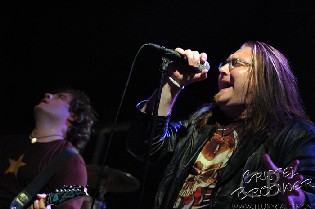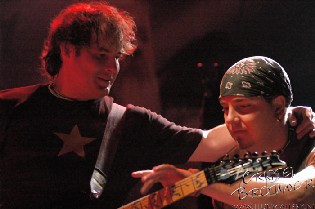 Performance
It was a bit sad that the backline of Doro and Sonata Arctica was already placed onstage; it left Altaria a small place to move around on stage. Still Allen (guitar), Marko (bass) and Petri (guitars) were moving around a lot and making fun with each other and the audience. Taage (vocals) concentrating on his vocals a lot and in between he reached out to the audience and tried to let them make the good old devil-horns. Although not a lot of people knew the band of just knew the name Altaria, but in the end of their gig they seem to have gathered some new fans. Altaria used a lot of with combined with yellow in their lightshow. Exchanged with some green and blue and thank god not a lot of red the lightshow served the band very well.

Rating
Music 6
Performance 7
Sound 7
Light 7
Total 7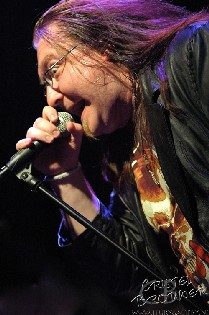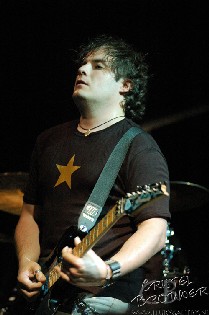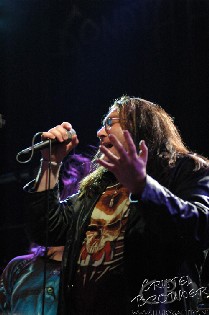 Doro

I surely do not have to introduce Doro Pesch. Germany's most successful hard rock lady, born in Düsseldorf, started her career in 1980 as a vocalist in a band called 'Snakebite'. A few years later she changed to 'Warlock' whose debut 'Burning the Witches' (Mausoleum) was well received by critics and audience. In 1986, 'Warlock' released their greatest commercial success, the album 'True as Steel'. In the following, they played the 'Monsters of Rock' festival in Donington, Doro being the first female to appear on this event. Due to legal factionalism concerning the name 'Warlock' the band was renamed. 'Force Majeure' from 1989 is their first release as 'Doro'. After some line-up changes, the band developed more and more to a solo project. Till the present day 'Doro' has published several successful studio albums, the latest being this year's release 'Warrior Soul' (AFM Records).
Line-up: Doro Pesch (vocals), Joe Taylor (guitar), Oliver Palotai (guitar/keyboards), Nick Douglas (bass) and Johnny Dee (drums).
Music
Now it was time for our little German to enter the stage; a woman from which I had hoped her to be the headliner of the evening. The intro started, the band began to play, the audience began to scream and there she was: Doro! And how she still rocks after all those years! With a extremely strong, powerful voice she presented us a various setlist; old Warlock song were exchanged with the newer Doro song. The band proved themselves to as even as powerful as Doro: Joe (guitar) and Oliver (guitar) played heavy guitar solo's and Johnny's drums sounded like canon strikes.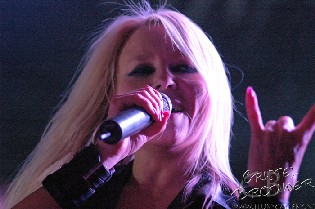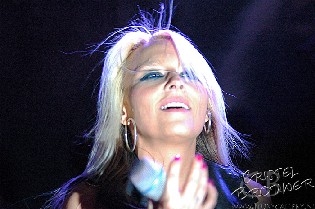 Performance
It is impressing to see how much energy this tiny, dainty singer emanates and with how much devotedness and power she manages, after all these years on stage, to still enthral and carry away her fans. During the gig she ran from one side of the stage to the other not leaving a hand untouched. She effortlessly got the audience to scream and jump and wave their hands in the air. She made a lot of contact with her bandmembers, especially Joe (guitars). Doro was dressed in a great-looking leather suit, which really gave her that '80s-hardrock-look. Very impressive. Looking at the light show shown during Doro I noticed that their were not a lot of changes with Altaria: a lot of with combined with yellow in their lightshow. Exchanged with some green and blue and some more red.
Rating
Music 9
Performance 9
Sound 8
Light 9
Total 9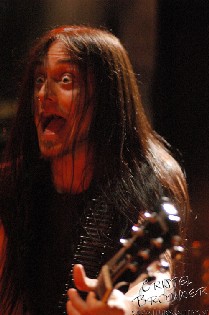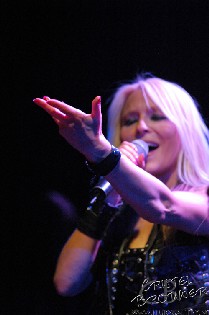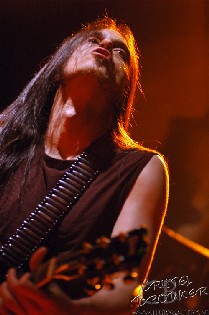 Sonata Arctica

The history of 'Sonata Arctica' begins in a little town called Kemi somewhere in northern Finland in the year 1996, when four guys decide to form a band – 'Tricky Beans'. A few years and some line-up changes later the band consists of Tony Kakko (vocals/keyboards), Jani Liimatainen (guitars), Janne Kivilahti (bass) and Tommy Portimo (drums) and they decide to change the band name into 'Sonata Arctica'. In 1999 they release their first studio album, 'Ecliptica'. Their well-received debut is followed by a short European tour with 'Stratovarius' and 'Rhapsody'. A few months later, bass player Janne is replaced by Marko Paasikoski, who had been one of the founding members of 'Tricky Beans'. In January 2001 their second studio work appeared, titled 'Silence' (Century Media). This album is regarded as their best one so far by many fans. In the following, they publish a live album – 'Songs of Silence-Live in Tokyo' – some kind of reward for their trusty fans in Japan, and change their label from Century to Nuclear Blast. Their latest release called 'For the Sake of Revenge' (2006) is again a live album.
Line-up: Tony Kakko (vocals/keyboards), Jani Liimatainen (guitars), Marko Paasikoski (bass), Henrik Klingenberg (keyboards) and Tommy Portimo (drums).
Music
After Altaria and Doro, it was time for the headliner of this evening: Sonata Arctica. I had seen them once live and they had impressed me back then. In the venue a lot of had gathered in front of the stage chanting the name of their favourite band. When the intro was played, the audience got wild. When Tony (appeared) on stage the fans got even wilder and formed a pit. Tony (vocals), supported by Jani (guitar) proved the fans to their absolute favourite. A very mix set was played; from older stuff to new stuff, from ballads to heavy metal songs. Tony (vocals) proved himself to be an excellent singer; even in the higher parts his voice is still powerfull.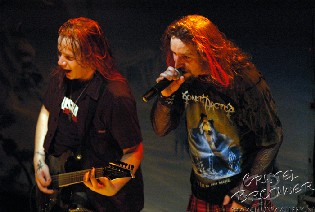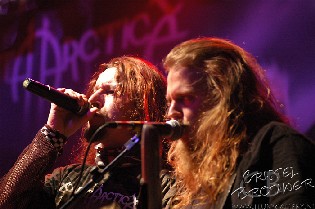 Performance
The last time I had seen Sonata Arctica, Summer Darkness 2005, the band was very active on stage and they had a lot of fun among each other. Today, Further up on the road, a couple of hundred gigs later, the band seemed a little exhausted. There seemed to be a certain split on stage: Henrik (keys) looked like he was not really there and only made contact with Marko (bass). Only Tony (vocals) and Jani (guitars) were active on stage and made a lot of contact with the audience and among eachother. Tony (vocals) invited the audience to join in a couple of songs by holding the mic into the audience or making them clap their hand. The band may have gave me a slighter exhausted impression, the fans (and there were a lot of them in this sold out venue) still enjoyed Sonata Arctica to the max. As a lightshow Sonata Arctica chose for a serene show: a lot of blue and pink was used, which suited the show very well.
Rating
Music 8
Performance 7
Sound 7
Light 7
Total 7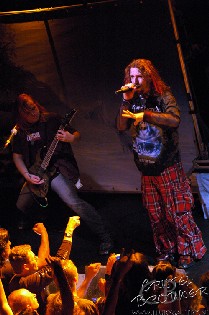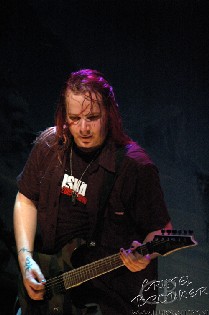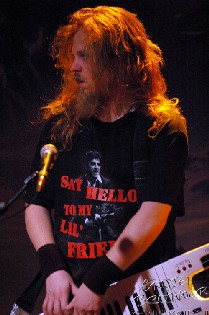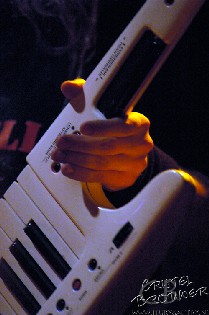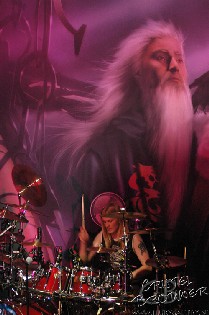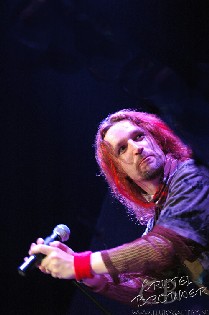 More pictures can be found on
www.llukygallery.nl
{jos_sb_discuss:17}