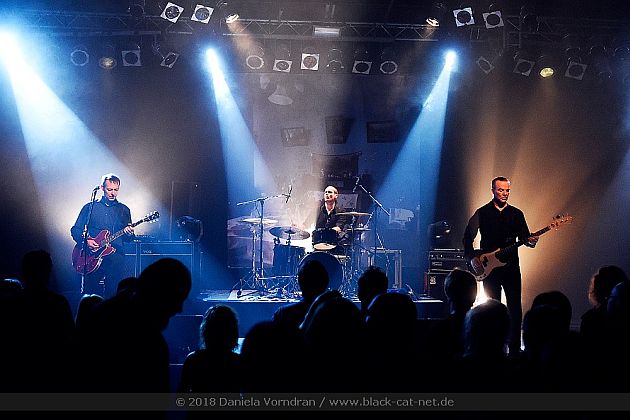 Rosenhof, Osnabrück, Germany
9th May 2018
Pink Turns Blue & Alphamay

German Wave-Rock legend PINK TURNS BLUE are on tour again to tell "Untold Stories", as the title of the tour suggests. The plan is to do more intimate club shows rather than festival shows such as the Wave Gotik Treffen or M'era Luna. The Rosenhof club in Osnabrück was probably already one of the bigger venues on this tour but it's a great live club, anyway.
Alphamay

PINK TURNS BLUE hired local act
ALPHAYMAY
for their show in Osnabrück to open the night. Henning Hammoor (vocals, visuals) and Cris Frickenschmidt (keyboards, programming, production, backing vocals) started the project after both left the band ROSENCRANTZ and after the two friends had a horrible car crash on May 1st 2012 (hence ALPHAMAY) which forced Cris Frickenschmidt to be confined to a wheel chair ever since. The duo likes to describe ALPHAMAY as "more than an Electro band [but rather] a multimedia master plan to merge videos, light, voices and sound" and they characterise their musical style as "modern, dark synth sounds with a decent dose of 80s". Well, this all sounds a little boastful and I could think of a few dozen of bands who mix present-day electronics with a strong 1980s flavour, so let's see what they actually have to offer. https://www.alphamay.de / https://www.facebook.com/electronicavantgarde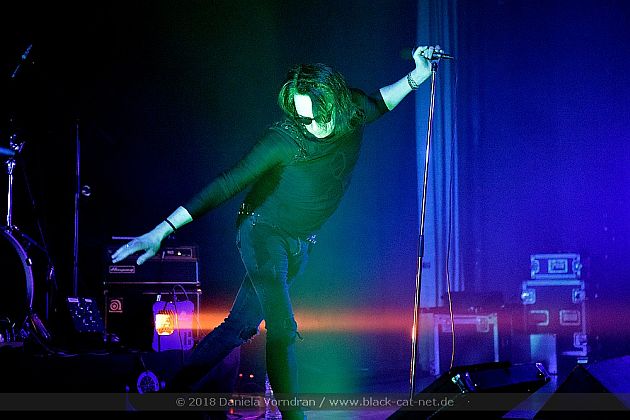 Music & Performance

When ALPHAMAY hit the stage the Rosenhof club was still half-empty but after all it's a pretty big venue - and a quite good one for live shows, by the way. It's a former cinema, as far as I know, and with smoothly rising platforms and a bar on the opposite end from the stage a great view at the performing artists is always guaranteed. The little problem is that most people prefer to indulge in some German gemütlichkeit and have a beer at the bistro tables at the bar in the back but ALPHAMAY paid no attention to this and started their show enthusiastically. Seeing ALPHAMAY for the first time live I can't say if their show usually includes video screens, although I would think so given their approach, but supporting PINK TURNS BLUE there were no screens, whatsoever. But you should check their YouTube channel (https://www.youtube.com/channel/UCzrWZx_CvnT-0HbYOobgOCg) as they indeed have some pretty good video clips for their songs, especially for an underground act.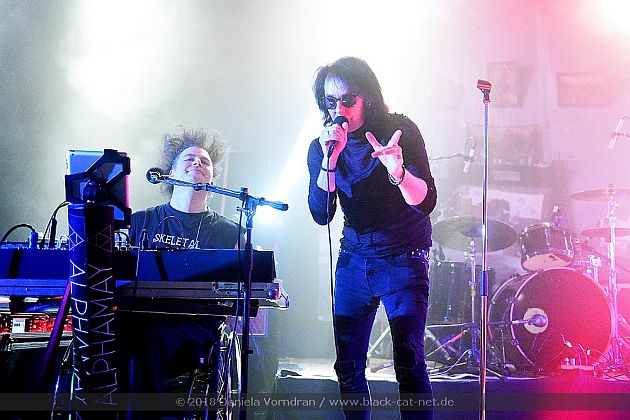 Starting with the dark 'The God Games', ALPHAMAY made their way through a rather diverse selection of songs which spans from classic Dark Wave to plain Synth Pop to stomping Electro, and back. Singer Henning Hammoor looked a little bit like the young Andrew Eldritch with his long black hair and the dark sunglasses, but his voice often rather reminds on Alexander Veljanov from DEINE LAKAIEN, especially during the slower, more melancholic songs. Not the worst reference! 'Decay of a Dream' is a fine example for this, and with 'On the Other Side' the electro duo paid tribute to other heroes of them, SILKE BISCHOFF. As most people at the Rosenhof were most likely not familiar with ALPHAMAY it was a good idea to lighten things up a little, and so the duo finished their set with a smashing version of YAZOO's 'Don't Go'.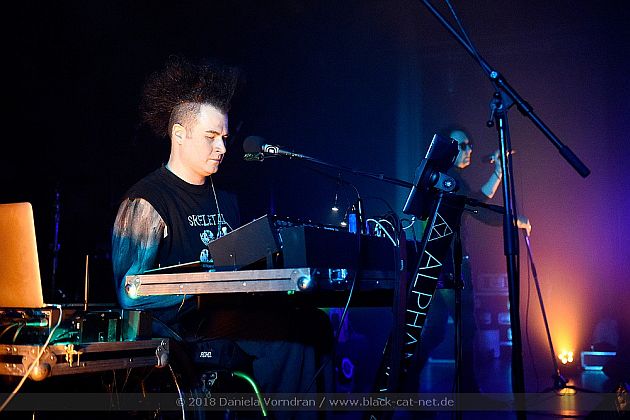 ALPHAYMAY are probably not quite the "electronic avant-garde" they'd like to be (heck, "electronic avant-garde" is even in their Facebook URL) but they have good songwriting, a good production and varied vocals on their plus side. And some decent videos, so don't forget to check out their website and YouTube channel, those clips definitely deserve more views!
Setlist

01. Intro
02. The God Games
03. Missing Me
04. Serenity
05. Decay Of A Dream
06. Black Parasite
07. On The Other Side
08. Flat Earth Flat Head
09. Low In Love
10. My C 64
11. The Carousel
12. Don't Go
Rating

Music: 8
Performance: 8
Sound: 8
Light: 8
Total: 8 / 10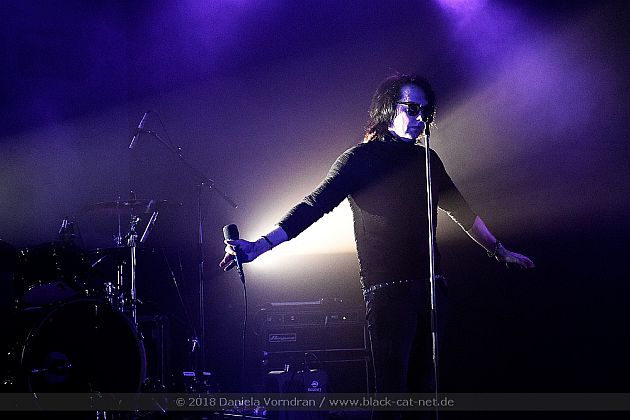 Pink Turns Blue

And now it was time for the headlining act, the band everyone came for:
PINK TURNS BLUE
! The Cologne-based band is legendary and surely one of Germany's founding fathers of Wave and Goth, formed in 1985 by Mic Jogwer and Thomas Elbern, who soon left the band to work as a radio host and to start a new band in 1989, ESCAPE WITH ROMEO. Jogwer gathered new partners in crime around him and the result was the debut album 'If Two Worlds Kiss' in 1987. With the single 'Michelle', released in 1990, PINK TURNS BLUE landed a major Independent smash hit which is still popular at alternative club nights today. Moving to London in 1991 to get fresh ideas from a new environment, PINK TURNS BLUE significantly changed their style and became heavily influenced by British Rave music and the "Madchester" scene of its day. The fans weren't thrilled, though, and in hindsight Mic Jogwer admitted that PINK TURNS BLUE lost its musical orientation in the London era. Ultimately, the band was laid to rest in 1995.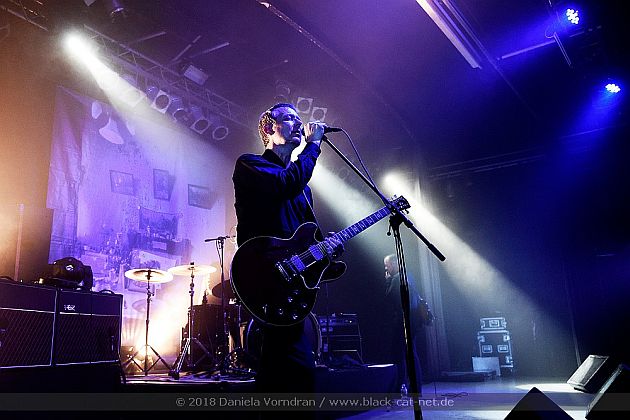 Thanks to a booking request for the famous Wave Gotik Treffen in Leipzig, PINK TURNS BLUE re-united in 2003 and the success of the gig convinced Mic Jogwer to make a serious effort to revive the band. The first result was the compilation 'Re-Union' in 2004 and the new album 'Phoenix' in 2005. Two more studio albums followed, and the latest release is 'AERDT - Untold Stories', somewhat a continuation of the 1991 album 'Aerdt'. The album was released in 2016 but PINK TURNS BLUE are still touring with it. In the last few years the band were rather guests on the stages of festivals like the Wave Gotik Treffen or M'era Luna and there were only a handful of club gigs in countries like Spain, Portugal, Greece and Poland in 2017. So the idea was to perform a few more intimate shows in their home country this spring. http://pinkturnsblue.com / https://www.facebook.com/Pink.Turns.Blue.Official
Music & Performance
One could argue how intimate the Rosenhof in Osnabrück actually is and how much it makes sense to urge for intimate shows when the performing band appears rather distanced and aloof on stage but in the end Mic Jogwer and his two band mates Rüdiger "Ruebi" Walter (bass guitar) and Paul Richter (drums) know what they are doing. Starting with the Post Punk-ish 'Something Deep Inside' from 'The AERDT - Untold Stories', followed by 'Dirt' from the same album, I somehow failed to make an emotional connection to the performance. With the vintage 'Walking on Both Sides' came the first attention grabber, and PINK TURNS BLUE proved that their musical maelstrom works slowly but inescapably.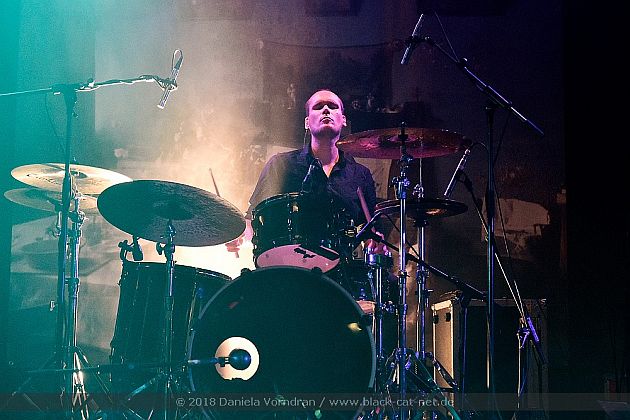 There wasn't too much interaction with the crowd - and one wonders why a German band speaks English most of the time when addressing a German audience - so PINK TURNS BLUE mates left it almost exclusively to the music to make an impact. The intensity forced up from song to song, and it's difficult to highlight a specific track. With the hypnotic, 7-minute long 'Your Master Is Calling' PINK TURNS BLUE finished their main set but it was clear that this couldn't be all. And the band was generous with encores, coming back for three more songs including their most popular song, 'Michelle'. The fans were frenetic, of course, but I have to admit that 'Michelle' was the least impressive rendition among a lot of very impressive performances. And it wasn't over still as PINK TURNS BLUE returned for another encore with 'When the Hammer Comes Down' and the title track of their debut album, 'If Two Worlds Kiss'.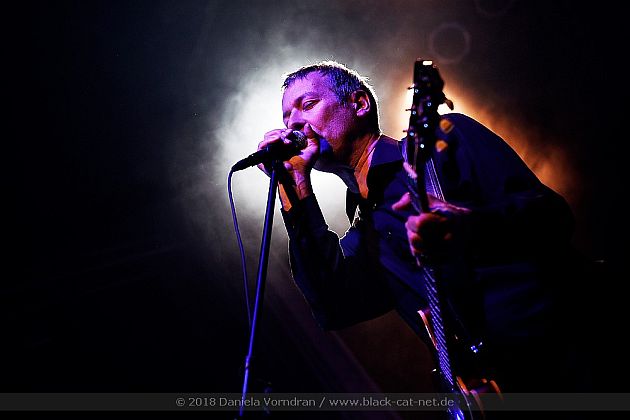 The show may have started mildly interesting, at least for me, but in the end the gig just wowed me. PINK TURNS BLUE is simply a slow grinder who won't let you lose. Inescapable!
Setlist

01. Something Deep Inside
02. Dirt
03. Walk Away
04. Walking on Both Sides
05. Give Me Your Beauty
06. The Clown
07. I Coldly Stare Out
08. After All
09. When It Rains
10. Missing You
11. Tomorrow Never Comes
12. State of Mind
13. Can't Be Love
14. Your Master Is Calling
---
15. That Was You
16. A Moment Sometimes
17. Michelle
---
18. When the Hammer Comes Down
19. If Two Worlds Kiss
Rating

Music: 9
Performance: 9
Sound: 9
Light: 8
Total: 8.8 / 10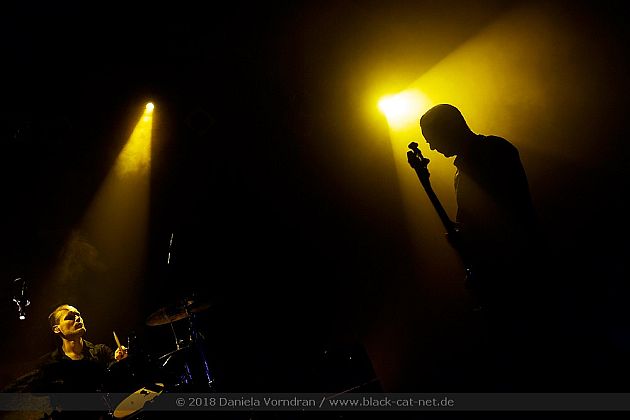 All pictures by Daniela Vorndran (
http://www.vorndranphotography.com
/
http://www.facebook.com/blackcatnet
)
See also (all categories):