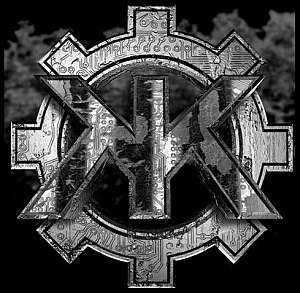 Interview with

Pierre Aus Maier (Vocals, Concept, Programming) of TraKKtor

I met up with the Swedish band TRAKKTOR at their 10 year anniversary and new CD release party here in Stockholm at a local club in Slussen near the old town called Tech Noir in Kolingsborg held on July 23rd. TRAKKTOR is a popular Swedish EBM / Aggrotech / Industrial band that is a blend of hard industrial and electronic synth beats and sounds. TRAKKTOR is made up of Pierre Aus Maier (Vocals, Concept, Programming) and Jens Conan Lagnekvist (Keys, Vocals).


A huge crowd descended on Kolingsborg to take part in the festivities and a great time was had by all. The live bands on stage were TRAKKTOR, PROJECT ROTTEN and MARSUPIUM MASSACRE. The DJ's were Conan, Leif Wadermark, Pierre and Jens. I talked a bit with the lead singer Pierre Aus Maier and did an interview asking him about TRAKKTOR and their new album 'Force Majeure'. But before we come to the interview itself, let's have a closer look onto the album. The cover of TRAKKTOR's CD is amazing with the band logo on the front side and the nuclear symbol on the backside. In one of the inner sleeves there is an 8 page colour booklet with lyrics with beautiful artwork. If the cover wasn't enough to impress already then came the first track, 'Pandoras Box' which is exactly that! A perfect introduction to a great list of tracks. This song blew me away, it is a complete work of dark industrial art. The samplings from the 'Poltergeist' movie introduce this track and prepare you for the intensity that is to come. The end of the world is coming and its introduced in this track then its only poltergeists that inherit the earth. All is death and darkness with only demons in our nightmares. Bloodshed and evil landscapes beckon the listener to the depths of this industrial insanity.

The second track, 'Soothsayer' is amazing and seems like a sequel to the first. It starts to sound like an epic tale of Armageddon. Its like the band if relating their nightmares about an industrial end of days. 'Final Fusion' sounds like the light of the da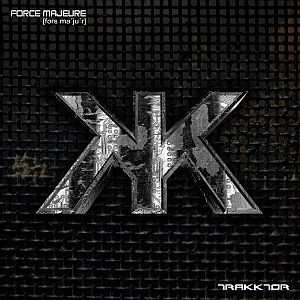 y has fallen into eternal darkness in a tune. The intensity of this track is profound. The track after this one is called 'Veil of Thorns' which is a tune about sadistic romance, a give and take of pain and pleasure that offers satisfaction. Following 'Reaper' is like travelling to the underworld. Along the way you see the reaper himself and know that death is knocking down your door. Knock! Knock! Bang! Bang! 'The Surge' which is next is like electricity in your veins and a shock to your soul. The beat is so intense you can't forget it. An ebb and flow of sound that penetrates your mind. The track 'Spitfire' reminds me of how it must have been to fly an airplane during the war in 1944. Flying and fighting for dark glory! 'Extinction' is like a premonition of what the human race is heading towards in this industrial world. And if I had a choice to pick a track to walk towards eternal damnation it would be this one! The sound of the synthesizers are amazing following the lyrics of this tune. 'Dancing with the Devil' is like an explanation of what happens after you become extinct. A lost soul that lives a deceased existence in a forgotten underworld. I want to exist in this industrial madness. Tempt us towards the darkness and take me down there!

The track 'Thirteenth Order' is like an awakening, an introduction to a new way of thinking. A Utopian order that is better then the last, better then anything produced from the past. A refreshing industrial lift into a type of hope for the future questioning if we are on the right track? Through change comes redemption! The perfect CD for industrial archangels that lament the end of the world. Amazingly beautiful in its dark demented state. I think TRAKKTOR has really outdone themselves this time around. They are a true force in the industrial electro scene now with their seductively dark tracks. If you love dark industrial as much as I do this CD is not to be missed! Buy it! And now, let's see what the band's vocalist has to tell…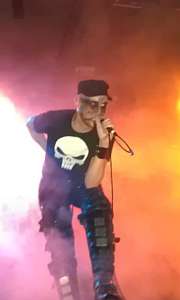 Reflections of Darkness (RoD): What motivated TRAKKTOR to work on the new album?
Pierre: Well, we have mostly been a live act and put our songs on the inter webs but due to this concept being ridiculously successful from 2007 and forward we actually found that doing a mediocre album was not an option so we put countless of hours in refining the sound and building 'Force Majeure' into what we believe to be as good and true to the concept of the album as we could possibly make it over 3 years. Judging from how well received it has been, it was all worth it.

RoD: Where is TRAKKTOR originally from in Sweden?
Pierre: We started in Karlskoga and it was me and Tobias, who has recently left the band, who started this project some 10 years ago.

RoD: When did TRAKKTOR get started? How did you get started as a band? How long have you been together?
Pierre: The members now have been in the band for 2.5 years and we have recently gone from a trio to a duo and this is a setup we like. However the band has been around for 10 years with me as the front man.

RoD: The theme of the album seems to be very Armageddon-ish what influenced this general theme in the music?
Pierre: Well the album title is 'Force Majeure', this is a general term of an unspeakable disaster of biblical proportions, like earthquakes, plague, world wars and hate, tsunamis and the like. And even though we have written a lot more songs than this album, we compiled this album around this theme. Even the artwork for the album follows this theme.

RoD: 'Pandora's Box' is one of my favourite songs on this album. Why does it have this title?
Pierre: According to legend, after Pandora's Box was opened and all the evils of man like hate and greed spilled out to take it's place on our world, the last remaining biggest evil of all remained in it, hope. Even though the album is mostly fictional epic little stories , most of them contain little glimpses of possible futures for our world, the obvious endless pursuit of the extinction of our race that our political leaders seem to involve themselves in. The fact that nobody has the political balls to actually take a steady step towards solving the CO2 issue, for instance. But I guess the main flaw of humanity is that we do not live long enough to face the consequences of out stupidity, most likely all of our political leaders will be long dead before the CO2 issue becomes truly lethal. This makes it more attractive to makes decisions on short sighted economic and political gains, after all, money and power gets you laid.

RoD: What is your interest in history and war? I see you have a tune called 'Spitfire' about a World War II pilot. When you listen to this tune you can almost imagine yourself in a plane and realizing that war can be both glorious and dark.
Pierre: Well who does not like an epic war-story of great war machines and glory? Well, anyone who has not lived though it I'd suppose. Still the song is also about what war makes ordinary men into fierce killers under extraordinary circumstances, and glorifying this is probably a way for men of war to cope with the horror. This song in particular is mostly a theatrical epic and not something anyone should have to live through ever again.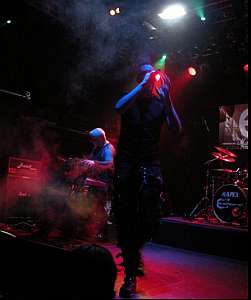 RoD: What kind of world events influence TRAKKTOR's music?
Pierre: Anything major, like the cold war, stupid short sighted decisions of world leaders, religious madness and such things. also we are both suckers for movies and sci-fi so naturally this will always be an influence.

RoD: What is your favourite period in history?
Pierre: There's nothing like the present, the time we live in is exciting in so many ways. As one of my personal heroes Carl Sagan said already in the 80s. "Today we stand at a critical branch point in history, what we do with our world, right now, will propagate down through the centuries and powerfully affect the destiny of our descendants. It is well within our power to destroy our civilization and perhaps our species as well. If we capitulate to superstition our greed or stupidity we can plunge our world into a darkness deeper than the time between classical civilization and the Italian renaissance."

RoD: What type of technology do you use to make music? The synthesizers always sound incredible.
Pierre: A unique combination of software and organic systems. (kidding) We use Cubase , and a mix of virtual and hardware synthesizers which are all built around a core recording / midi system from Motu.

RoD: I noticed the beautiful artwork on the CD, who created this?
Pierre: Tobias is a professional art designer so naturally he is the one doing our graphics work, even though he has left the band we will hopefully employ him for future CD's as well.

RoD: The lyrics on the CD to each song is really fascinating, like dark poetry. What influenced the lyrics?
Pierre: Pretty much what w have already discussed, sci-fi literature, movies and the world we live in.

RoD: The end of the world seems so final why does 'Force Majeure' have this type of theme?
Pierre: Well unless we somehow get our shit straight and realize that our world will not live forever, this album speaks about of a lot of events that might just happen.

RoD: One thing I noticed about this album is that its really easy to visualize the lyrics and music together. It makes an intense picture in your head about a sci-fi type of landscape. Every single tune seems to tell a story. What story did TRAKKTOR want to relate to their fans with this CD or just in general?
Pierre: Well, even though I want to tell a lot of stories with our music, I would like everyone who listens to it to make up their own mind about what it means to them, that's the only freedom anyone ever has.

RoD: Who writes the lyrics to the music?
Pierre: Most of the lyrics to 'Force Majeure' were written by me before Jens joined the band but on newer stuff he also helped out a bit and continues to help out in the writing. Since Jens is a DJ and did not really have any experience with writing music when he joined the band, he had to learn a whole new craft and is steadily learning this new role.

RoD: I noticed in the lyrics "angels" and "devils "are mentioned more then once. Is this a spin on an epic theme?
Pierre: Well naturally most people can relate to these terms, there is however nothing religious about TRAKKTOR, it's just more fiction.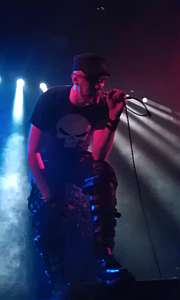 RoD: I like how this CD tells a story. Like one complete tale with a positive ending in the song, Thirteenth order. What is your idea of a new world order? A political new world order?
Pierre: Well, basically, the 13th order is about the existence of the organization the Illuminati and their would be world domination or root of all evil. [comment: Google it , it's quite interesting reading, however there's a lot of conspiracy theories and stuff.] When me and Tobias wrote this song we looked at a lot of these theories and tried to find a reference in world politics and we found a whole lot of political quotes referring to this would be organization which is said to rule the world. It was quite interesting and enough to make anyone paranoid. But as anyone knows, if one looks for patterns one will eventually find some even though there are none. I leave this up to people to make up their own mind about this as well. This song is basically a compilation of what our curiosity found combined with a bit of imagination and it is not a positive song whatsoever.

RoD: What are your plans for this album in the near future?
Pierre: We plan on playing live for whoever will have us and to release the next album early next year.

RoD: Where will you be playing in the coming months? Venues?
Pierre: We just had our release party and we will play in out hometown next week, we are taking bookings for the autumn at the moment and any gigs that are confirmed with signed contracts will be posted on our website.

RoD: Is there a new album in the works?
Pierre: Oh yes, we are fighting over the name of it at the moment.

Some of the highlights of the evening can be seen at:
http://www.youtube.com/watch?v=THiIdBDb5g4
http://www.youtube.com/watch?v=TUKysAweGy4

If you would like to learn more about TRAKKTOR see:
http://trakktor.katyusha.se/ / http://www.myspace.com/trakktor / http://www.facebook.com/TraKKtor

Other bands that played that evening:
http://www.projectrotten.se/ / http://www.facebook.com/Projectrotten
http://www.marsupiummassacre.com/ / http://www.facebook.com/MarsupiumMassacre

Tracks on YouTube:
Veil of Thorns: http://www.youtube.com/watch?v=seuIiGfZDLo
Extinction: http://www.youtube.com/watch?v=9LMmJPaHRD8



See also (all categories):