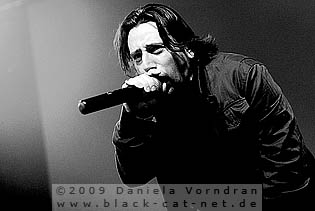 Münchenbryggeriet, Stockholm, Sweden
10th April 2009
Tinitus Festival Day 1: And One, Suicide Commando, Combichrist, TraKKtor, Noisuf-X


The 10th anniversary TINITUS festival, and also the last ever one, was something special: two days of synth love for the masses. An all-star classic, a gathering of the tribes. For the love of music through the art of party. The first day was headlined by German Synth poppers AND ONE.


Before the fest started for me, I was invited to a nice little pre-party. Good start of the day I'd say… well, after I enjoyed the fantastic weather in Stockholm already before. We arrived at the venue, an old brewery and very nice… and very big, at about 20:00 and there was still a very big cue as the doors were not opened so far. There was a little problem with the sound check and so, anything as little delayed. But finally, about 30 minutes after the planned start, it was time for the first band to enter the stage.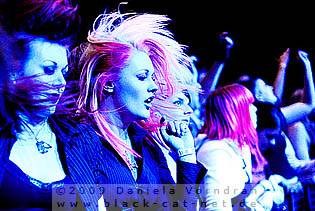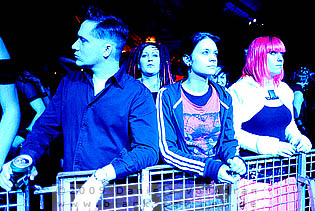 Noisuf-X

Everybody who knows X-FUSION kind of knows NOISUF-X already as the man behind those two projects is the same guy. The first NOISUF-X track ever to be seen was 'Happy Birthday' and released on the very first issue of the 'Bunkertracks' compilation by Belgian label Alfa Matrix. The debut album 'Antipote' (2005) and the follow-up EP 'Tinnitus' garnered him even more attention. The next album 'The Beauty of destruction' from 2007 reached #2 of the German Alternative Charts and in February 2009 he came back with his next assault on the unsuspecting public called 'Voodoo Ritual'. NOISUF-X is Jan L. (composing, production).
http://www.noisuf-x.com/
/
www.myspace.com/noisufx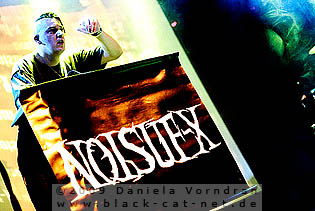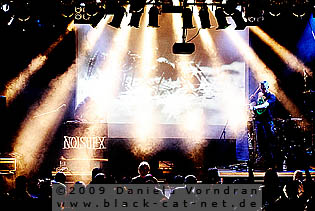 Music & Performance

Musically, NOISUF-X presents something like noisy and distorted Techno made for the clubs and so, people in front of the stage were moving right from the start. Once again, NOISUF-X proved that they can get people dancing at this early time as first band of the evening. The show, which presented several new songs out off the recent album, was as usually supported by cool video projections that made the two-man electro show a bit more vivid and of course were an eye catcher. They enhanced the dark and apocalyptic sound of NOISUF-X, which blasted loud through the PA.
Rating

Music: 6
Performance: 6
Sound: 8
Light: 8
Total: 6.6 / 10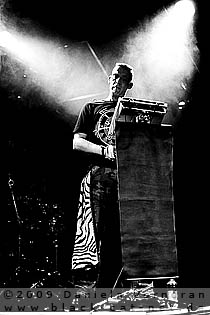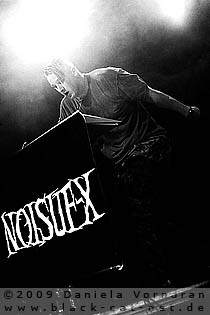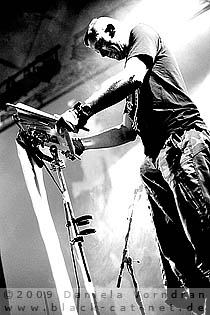 TraKKtor

The Swedish project was formed in summer 2001 but before they could make any real progress one of the band members moved because of a work opportunity. The project was put on ice afterwards and the remaining members focussed on other projects in the years to come. In 2004 it was decided to re-activate TRAKKTOR and the experimenting a lot. The first result of all the hard work was the track 'High on your Hate' released on the 'Weatherhead 2' compilation by Telegrammetry Records. The duo's currently busy with getting a lot of demo tracks ready to maybe release them one day on a full album if they're entirely satisfied. TRAKKTOR is Pierre Maier (vocals, programming, synthesizers, concepts, lyrics) and Tobias Jansson (backing vocals, programming, percussion, Atari ST, visuals, synthesizers or live drums depending on venue).
http://www.trakktor.se/
/
http://www.myspace.com/trakktor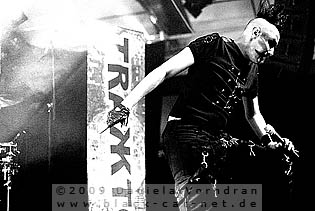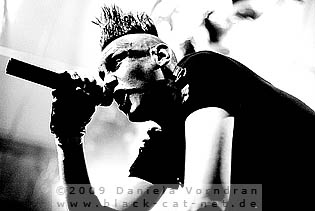 Music & Performance

TRAKKTOR were the winners of a voting and had the chance for a short set on the first festival evening. Later on, they got a very important role as well… saved someone's ass somehow. But more of that later and first to the band's show. The two Swedish guys just had time for four songs to be presented and entered the stage, both with face paint, to start their short but energetic set with 'Reaper'. Sound-wise, they are trying to find a balance between hard-hitting EBM, Trance and sounds of the 80's. Quite an experiment you might think, but it worked out. The duo got quite a good response.
Setlist

01. Reaper
02. The Surge
03. Extinction
04. Final Fusion
Rating

Music: 7
Performance: 7
Sound: 8
Light: 7
Total: 7.2 / 10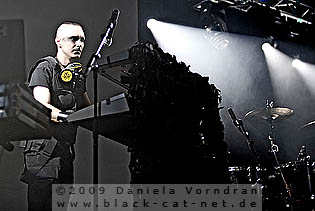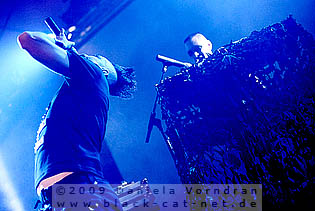 Combichrist

COMBICHRIST is one of the other faces of well-known singer and ICON OF COIL mastermind Andy LaPlegua who's presenting a much more hard-edged side of industrial with this project. The two first releases, the album 'The Joy of Gunz' and the limited Halloween special 'Kiss the Blade' both being released in 2003, conquered the clubs and dance floors in a storm. Only a year later Andy unleashed the next assault entitled 'Sex, Drogen und Industrial' which marks a change in the sound of COMBICHRIST to more electro and less distortion dominated sounds, yet the tracks remained as energetic as ever.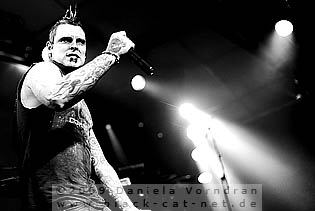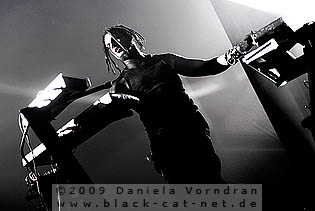 In Spring 2005 it was finally time for the new album 'Everybody Hates You' whose description can be summed up as follows "A journey through hell and high water, through the eyes of a serial killer, sex, violence and plenty of Jack Daniels on ice." 2006 saw the release of a new EP that even took the project to the Hot Dance Billboard Charts and as Andy is a workaholic, he released the next album 'What The F*&$ Is Wrong With You People?' in March 2007. Right in time for the summer, Andy released the 'Frost EP' at the end of June 2008 with new tracks as well as remixes. The most recent album is called 'Today we are all Demons' and came out in 2009. COMBICHRIST is Andy LaPlegua (vocals, lyrics, production), Joe Letz (live drums), Trevor Friedrich (live percussions) and z_marr (live keys, synths).
http://www.combichrist.com/
/
http://www.myspace.com/combichrist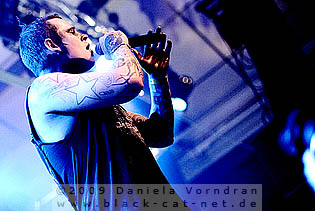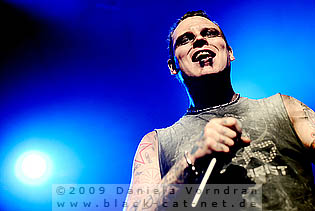 Music & Performance

With COMBICHRIST now entering the stage it was time turning the venue into a madhouse with sweaty moving bodies and waving hands on front of the stage and a crazy band on stage. The show at Münchenbryggeriet, and at the same time last show of the tour, started with the already well-known intro during its end the band one after another entered the stage to take their positions, Andy being as always last. This seemed to be the signal for anyone to let all hesitations down and just party hard. Andy of course was in the centre of attention being the one having the audience contact. But it was just a blast to watch the other three band members perform. Especially the drummers showed both a lot of aggression maltreating their instruments. Joe i.e. thrashed on the drums like a berserk and the whole show through he threw away the drum sticks so the stage hand was kept quite busy. Trevor for his matter hit onto his toms sometimes standing on his chair. Looked impressive!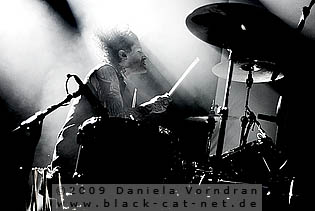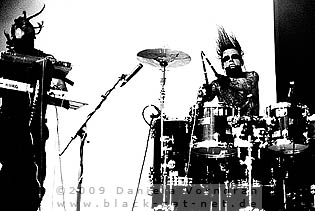 But from the visual part to the music now! Even though this was not a full-time show, the set left nothing to be desired. It started with 'All Pain is gone' from the current album 'Today we are all Demons'. Besides that, it was more or less a greatest hits program with such songs as 'Electrohead', 'Get Your Body Beat', 'Sent to Destroy' or 'Shut up and Swallow' covering the whole bandwidth of brute-force electro sounds. The climax and last two songs were 'This Shit Will Fuck You Up' and 'What the Fuck is wrong with you People?' Great finish if you ask me. This is not the music I listen to at home, but it is perfect to celebrate a big party!
Rating

Music: 8
Performance: 10
Sound: 8
Light: 8
Total: 8.3 / 10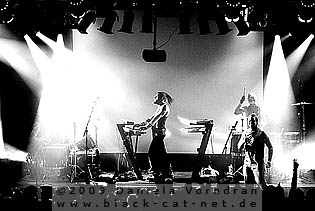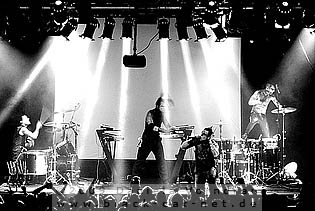 And One

AND ONE is the project of Iranian born Steve Naghavi and usually when his project's name appears in a festival billing you can bet your ass that you'll have a great party. Songs like 'Technoman' or 'Deutschmaschine' can't be missed out on any of those occasions and still belong to the fixed repertoire of most DJs but only the music excites thousands of people since many years, it's also Steve's "special" form of lyrics that always caused discussion amongst fans and critics as to how they can be taken seriously. Just remember the text of 'Pimmelmann'. After a longer absents, amongst others caused through the events of 9/11 and their harsh consequences for Steve Naghavi, AND ONE returned in 2003 with a new album 'Aggressor' and three years later 'Bodypop' the ninth AND ONE studio album sees the light of day. On 19th December 2008 they released a limited 7" single with the name 'Paddy is my DJ'. AND ONE is Steve Naghavi, Chris Ruiz and Gio Van Oli.
http://www.andone.de/
/
http://www.myspace.com/andoneofficial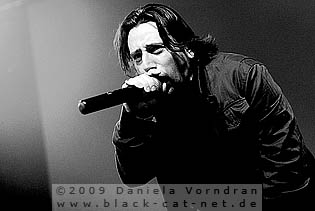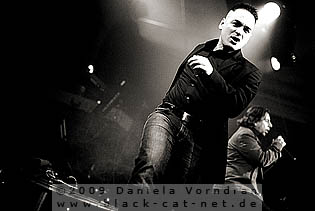 Music & Performance

You might ask yourself what's wrong that AND ONE is coming up now. Well, this is a story of heavy technical difficulties. During SUICIDE COMMANDO were building up their equipment and doing line-check, some reverb crashed the notebook's sound card. So, the band did not have a chance to run their backing tapes with the biggest part of the music. A backup solution needed to be found but that took a little more time. So, it was now AND ONE's turn who agreed to switch places in the schedule and play before SUICIDE COMMANDO. Due to the lack of time and the fact, that there was strict curfew at 3:00, the changeover needed to be done very quickly and parts of SUICIDE COMMANDO's equipment remained on stage.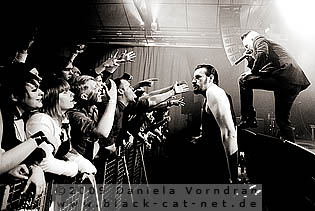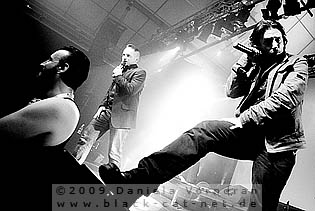 Is surely was a bit an unusual situation for the German trio when entering the stage. But despite some minor technical problems, their gig went very smooth. As intro, the band was fooling around with 'The Time of my Life' out of 'Dirty Dancing' Steve singing the male voice and Chris the "girl". Funny start of a mostly fast and quite hard set, probably to pay justice to the overall hard electronic music being heard though the whole evening. Besides big dance floor fillers like 'Technoman', 'Deutschmaschine', 'Panzermensch' or the very last track 'Metalhammer' you also got some cover versions like BILLY IDOL's 'Rebel Yell' as first song of the set or the DEPECHE MODE song 'Fools'. The Swedish audience just freaked totally out during the show and Steve did his best to push them even further. This was surely the right choice for the headliner of the evening according to the audience's reactions even though they were not playing as the last band now.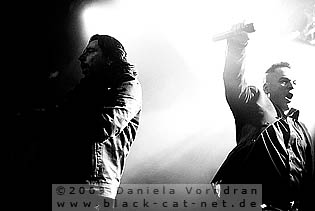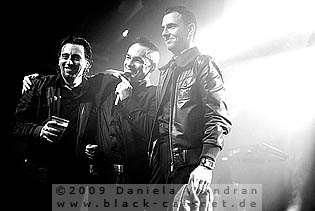 Setlist

01. Intro: Dirty Dancing - The Time of my Life
02. Rebel Yell (Billy Idol)
03. Get you Closer
04. Für
05. The Sun always shines on TV (A-HA)
06. Military Fashion Show
07. Fools (Depeche Mode)
08. Technoman
09. Die Mitte
10. Deutschmaschine
11. Steine sind Steine
12. Over There
13. Panzermensch
14. Take some more
15. Timekiller
---
16. Metalhammer
Rating

Music: 8
Performance: 9
Sound: 7
Light: 7
Total: 8 / 10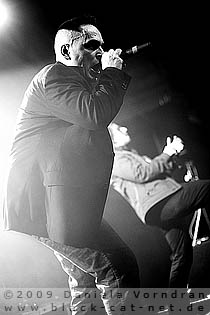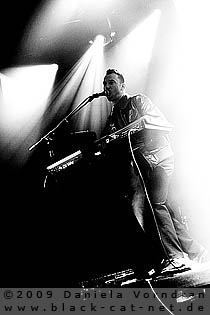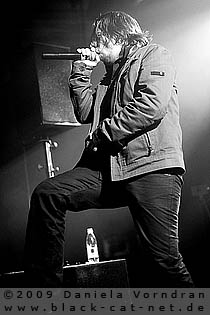 Suicide Commando

One of the veteran projects in the electronic music scene is SUICIDE COMMANDO! A lot of years have passed since Belgian native Johan van Roy founded this project as a mere studio project in 1986. Three years later, he released his first tape under that moniker and made an appearance on the vinyl compilation, 'Electronic'. Following years brought more self-released tapes and compilation appearances until in 1994 the first SUICIDE COMMANDO CD 'Critical Stage' got released on now defunct German label Off Beat followed by 'Stored Images' shortly thereafter in 1995.Those two included two of the project's biggest club hits 'Where do we go from here' and even more 'See you in Hell'. Only the start of a strong of other club hits that was top follow in the years to come as van Roy continuously unleashed new material on an ever growing fan base all over the world. In 2006 followed his still most recent album 'Bind, Torture, Kill' but word has it van Roy is about to release a new album this year.
http://www.suicdecommando.be/
/
http://www.myspace.com/suicidecommando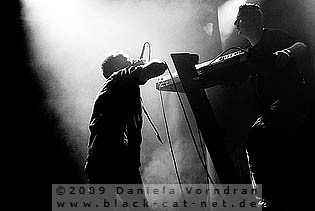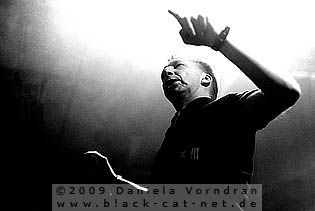 Music & Performance

Here we are now with the unlucky fellows of the evening. Having a crashed sound card on their (only) notebook, SUICIDE COMMANDO were not able to deliver their usual set now, and they had to do without their usual video projections as well. Luckily, there was a band called TAKKTOR, you remember, who saved the show at least. They had a laptop they could borrow to Johan van Roy and his band (consisting of Torben Schmidt on keys, Mario Vaerewijck on drums and Mr. NOISUF-X Jan L. also on keys) so they were able to transfer some of the planned songs, even though it was different versions than on the originally planned set. After AND ONE's performance, the stage was set up in a big hurry, because the remaining time for SUICIDE COMMANDO was melting down and when the band finally went on stage, they only had about 30 minutes left.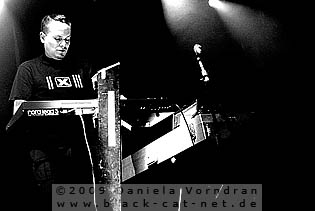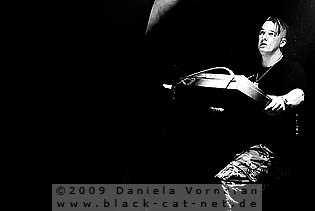 After Jan, Mario and Torben took their places, a very frustrated Johan van Roy stormed the stage just throwing the microphone stand away in his disappointment. And let me tell you… be aware photographers in the pit, an angry Johan has quite some power and heads are not the best thing to catch flying microphone stands… ;) The available time was now filled with some well-known hits like the opener 'Bind Torture Kill', 'Dein Herz, Meine Gier' or 'Raise your god'. The audience celebrated anyway, being at least happy that there was a SUICIDE COMMANDO show at all. The light show presented some green lasers in the middle which gave pretty cool effects. Even though the videos were missing and the sounds was - due to the circumstances - not optimal, the aggression of the band after the disaster made up for a quite good show anyway. Well, and I guess, there might be a band leader never doing without a prober backup in future anymore… ;)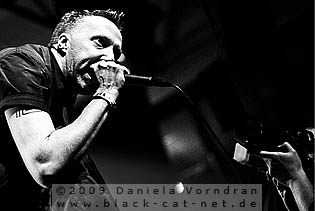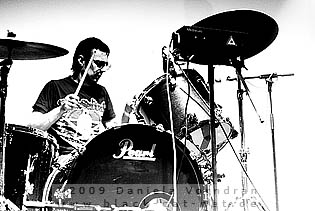 Setlist

01. Bind Torture Kill (original version)
02. Menschenfresser
03. Conspiracy with the devil
04. Dein Herz, Meine Gier
05. Die Motherfucker die
06. Raise your God
The rest of the set was supposed to be:
One nation under god
Hate me
Love breeds suicide
Cause of death: suicide (2009 re:count)
Hellraiser
Fuck you bitch
Rating

Music: 8
Performance: 8
Sound: 6
Light: 7
Total: 7.6 / 10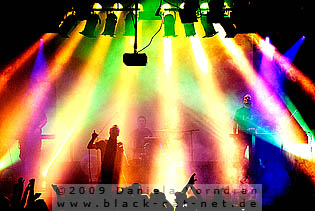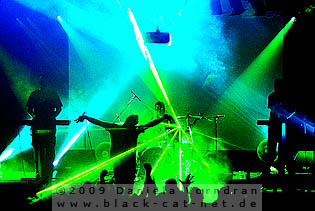 See also (all categories):