Trix Club, Antwerp, Belgium
20th and 21st December 2013
BIM Fest 2013 Day 1: No Sleep By The Machine, Implant, Lescure13, The Klinik, Arbeid Adelt! and Geistform

When the time has come to do the last preparations for Christmas, and the anticipation starts getting to unbearable due to the gifts that might be placed under the tree, the time had come for the yearly Belgian Independent Music Fest in Belgium. 2014 saw already the 12th edition of BIM Fest and once more, promoters assembled an outstanding line-up to bring up anticipation to the melting point. But there was a change compared to the previous years… the event moved from the bigger Trix XL to the smaller Trix Club. I liked that move since the club provided a cosier and more familiar atmosphere. Friday's highlights for many were for sure Belgian veterans ARBEID ADELT! and THE KLINIK. My little personal surprise was NO SLEEP BY THE MACHINE though.



No Sleep By The Machine

The band, short NSBTM, came to live in 2004 and was formed by TB and S.Nutzoid after meeting at a party in Swedish Stockholm. Both musicians realized having same interests and musical background and so, they soon found themselves recoding music together in their home studio. The first years saw the band testing themselves out, but finally in 2009, TB left the band he was singing in before to concentrate more into NSBTM and soon, the band was asked to perform at festivals and clubs. Some self-released CDRs followed and then, their first full album, 'Close', saw the light of day in 2010 via Sham Recordings, followed in 2012 by a limited double album, 'Quadrilateral', via Dödsdans Rekords. I knew the band from a few songs I head before, but I had never seen them live. And after a few minutes of their show one thing was for sure: they probably were the biggest surprise for me on that festival. And I mean it in a very positive way.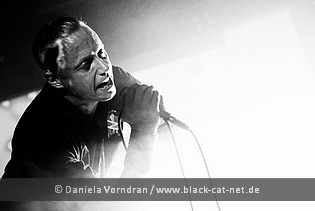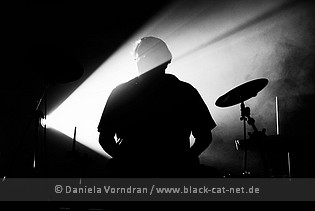 Anything was merging perfectly together, their music had an old-school dark electro touch in the means of SKINNY PUPPY or FRONT LINE ASSEMBLY and TB's voice sounded a little like Peter Spilles in the old PROJECT PITCHFORK times. There was furthermore a lot of energy on stage and at the end, the band was so thankful for the positive response. Very likeable! I need to see them again… at a longer show! // http://nosleepbythemachine.se / https://www.facebook.com/nosleepbythemachine // Setlist: 1. Intro+ you / 2. Humanity / 3. Last one / 4. Choice / 5. In it shelf / 6. Bequest / 7. Silent killing / 8. Waywarder / 9. Yellow Mica // Rating 8 / 10


Implant

IMPLANT, the project of Len Lemeire and Jan D'Hooghe, contributes to the huge Belgian electro scene since 1992 with eight albums, seven EPs and numerous remixes. In the past, the band has teamed up with several artists, i.e. ANNE CLARK. When FRONT 242's Jean-Luc de Meyer heard an IMPLANT track, he decided to contribute vocals for one track. But there was more contact to both IMPLANT guys… together with them, he founded 32CRASH, who played also at BIM 2014 the day after. Soon, IMPLANT built up a good live reputation with playing shows all over Europe and also in the US. The band always was innovative with moving the boundaries of electronic music by their diverse sound. They even added some acoustic guitar sounds into their mix of modern electronic, eighties melodies, industrial dance sounds enriched by the vocals of various guest musicians over the years.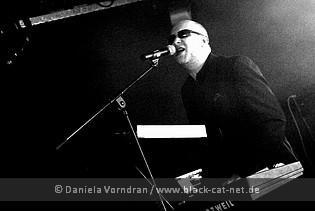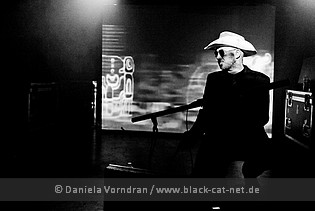 It was a while ago when I saw IMPLANT last time, but still I was looking forward the show since I had good memories. During their show, the band, as most of the bands at BIM supported by videos on a screen in the back, played a lot of new stuff which was well received by the audience. Definitely a good show! // https://www.facebook.com/Implantmusic / http://www.implant-music.be/ // Setlist: 1. El Pastor / 2. Nothing left to kill / 3. Violence / 4. Out with the old / 5. The City / 6. Scanned / 7. Drugs vs. Violence / 8. Jour Nucleaire / 9. CCCPCCTV // Rating: 7 / 10


Lescure13

When I head the band's name first, nothing sounded familiar to me. But soon I learned who are the two men behind this EBM project: it is Johan Van Roy (SUICIDE COMMANDO) and Stefan Bens (STIN SCATZOR) who originally founded LESCURE 13 back in 1989. Back then, the band quickly gained kind of cult status in the EBM scene, releasing a series of cassettes and one CD. Now, the band is back, though it was never officially disbanded, but was on hiatus for more than 15 years since both members were involved in their own bands who were successful. End of November 2013, LESCURE 13 released a new album, 'Too Much...Motherf***Ers', and this album is all an electro head can wish for: pure old-school EBM with raw edges and no compromises. And so was also the live show. Both protagonists shares all duties… might it be vocals, synths/ keyboards or the electronic drum set. If you know Johan and Stefan from their other bands you know that they know how to put up an energetic live show. And so was their appearance at BIM Fest 2014.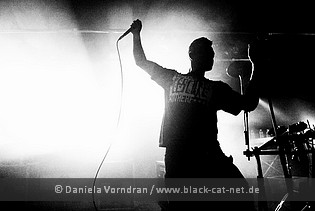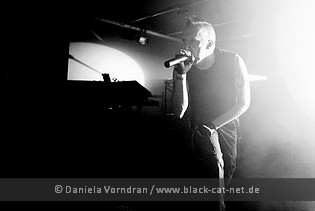 The vibe from the duo soon infected the audience, to whom they always had close contact. Even though the show was very routined, a little accident happened when Stefan fell over a speaker in front of stage. But both handled the situation very well. The audience really loved the show and danced hard to the beats. // https://www.facebook.com/lescure13/ // Setlist: 1. The Resurrection / 2. Who has the right / 3. Hass und Liebe / 4. Too much... / 5. Todbereit / 6. Secrets / 7. Body Heat / 8. More / 9. To the hilt / 10. People / 11. Total Chaos / 12. Screaming Hell / Rating: 7.5 / 10


The Klinik

I love THE KLINIK. I really do. And I am always happy when I can see a full show. Much too often it happens that I have to work somewhere else. The Belgium Electronic-Industrial band was originally formed around 1982 and it is considered as one of the most influential Belgian bands from that genre. Started in the early years as quartet, soon THE KLINIK was alive as the classical duo of Dirk Ivens and Marc Verhaeghen. After the debut album `Sabotage´ (1985), THE KLINIK released full-length milestones such as `Face to Face´ (1989) and `Time´ (1991) that established its reputation as a ground-breaking formation in the Electro / Industrial genre. Their live shows were also always kind of spectacular with both musicians performed with their heads wrapped in gauze, wearing long black leather coats. THE KLINIK members since 2009 are Dirk Ivens (voice/ lyrics), Marc Verhaeghen (music/ instruments) and Peter Mastbooms aka BORG (visuals and video images) backed up with Eric van Wonterghem for live-mixing. Because of health problems, Marc Verhaegen is unable to join the band live on stage these days and will be concentrating on creating new THE KLINIK music in his studio.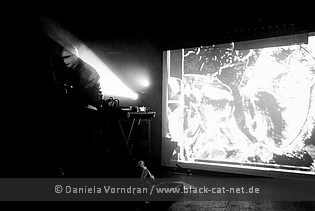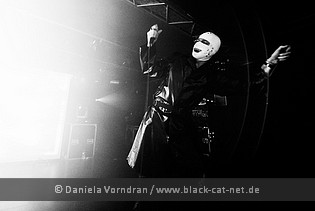 In spring 2013, there was a new album out, 'Eat Your Heart Out!' and of course we were served some songs out of it. When the band entered the stage, the venue was now really crowded and soon there was heavy dancing in the room. People were pushing, dancing, screaming and just turning the hall into a pogo pot. There was so much admiration for that band who once more put a brilliant, energetic show onto stage. With loud screams, people demanded an encore and THE KLINIK were presenting one more song with 'Go Back'. Once again this was a brilliant show, my highlight on that day! // http://www.theklinik.be / https://www.facebook.com/TheKlinikDiveSonarAbsoluteBodyControl // Setlist: 1. Cold as Ice, 2. Bite now Bite/ 3. Quiet in the Room / 4. Black Leather / 5. Hours & Hours / 6. In Your Room / 7. Pain and Pleasure/ 8. Obsession / 9. Talking to a Stranger / 10. Moving Hands / 11. Memories / Encore: 12. Go Back // Rating 9 / 10


Arbeid Adelt!

Wearing cult status in Belgium, ARBEID ADELT! were a band I had never heard of as German. The band, whose name literally means "Labour Ennobles" was formed in 1981 by the Marcel Vanthilt (Max Alexander) and Jan Van Roelen (David Salamon). Somehow, the band's output sounds like a musical experiment in a madhouse. Only a few hours after foundation, the band already recorded its first 7", 'Ik Sta Scherp' (I'm keen) / 'Schuld, Mij Treft Geen…' (Guilty, I'm not…). At their first gig, they were only playing those two songs. In 1982, a second 7" followed. Soon, the band also strengthened its line-up with Luc Van Acker (Revolting Cocks, etc.). Their first full album, 'Jonge Helden' (Young Heroes), was recorded in 1983. Then, due so several issues, the band disappeared from the scene, but returned again in early 90s to record their third full-length. But due to lacking success, the band disappeared again, always being remembered in Belgian club scene. Finally at BIM 2014, the band was back on stage to play songs from their whole back catalogue. You remember the madhouse theme? Yes, they turned also the Trix club into a madhouse.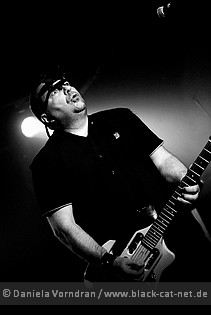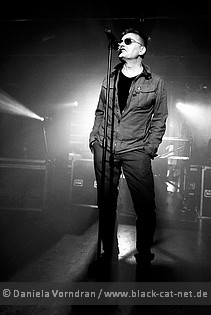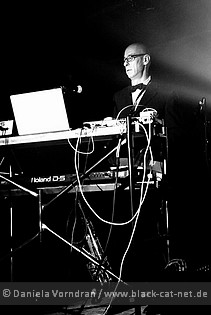 Not understanding any Flemish, I of course missed a lot of the stories and jokes, but I understood at least that they were great admirers of Frank Tovey's FAD GADGET and played a medley of his songs in Flemish. Hard to recognize the songs though. Even though the band has already a long history, they presented a fresh show with much power and craziness, joking and fooling around constantly. Sad I missed so much of the sharp lyrics and anecdotes due to the language, but the audience loved that show and musically and performance-wise, the band was really great! // http://www.myspace.com/arbeidadelt / https://www.facebook.com/pages/ARBEID-ADELT/52753674770 // Setlist: 1. Spreekspreek nu / 2. Congostroom / 3. Kortbericht / 4. Roodborstje / 5. Capita Selecta / 6. Demandieallesnoteerd /7. Hond / 8. Het amusementsbedrijf / 9. Provita / 10. Ik sta scherp / 11. Fad Gadget Medley / 12. Lekker Westers / 13. Spannend / 14. De Dag / 15. Death Disco / Encore: 16. Mind your own Bizz / 17. Dancer // Rating: 8 / 10


Geistform

When headliner ARBEID ADELT! had left the stage, many people decided to end their day. But there was still one late-night special to follow: GEISTFORM, the electronic music project of Spanish Rafael M. Espinosa which is influenced by minimal techno sounds and industrial music. There was not much on stage now, just a huge desk with all the technical equipment and in the back a screen to show videos accompanying the sounds. Espinosa presented powerful electronic rhythms, analogue sounds with distortions that were cold and minimalist, generated mostly from analogue sources and oscillators. The live shows was kind harsh, hypnotic and extremely danceable with a lot of new "songs" that are currently not even named yet! // https://www.facebook.com/Geistform / www.myspace.com/106778514 // Setlist: 1. n. n. (new or project status) / 2. Planck limit / 3. Iskra / 4. Radiacion / 5. Volt fields / 6. n. n. (new or project status) / 7. Atlas / 8. n. n. (new or project status) / 9. Antiharmonix / 10. n. n. (new or project status) / 11. CERN // Rating: 7 / 10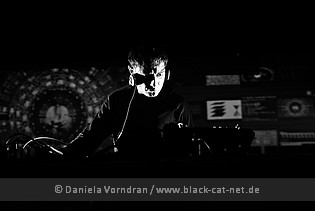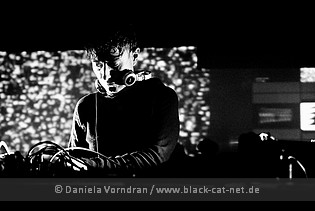 If you still had not enough after GEISTFORM, there was more time for you to dance during the after show party. And since the festival on the next day would not start before six, you had enough time to sleep afterwards… ;)

All pictures by Daniela Vorndran (http://www.vorndranphotography.com / http://www.black-cat-net.de/ / http://www.facebook.com/blackcatnet)