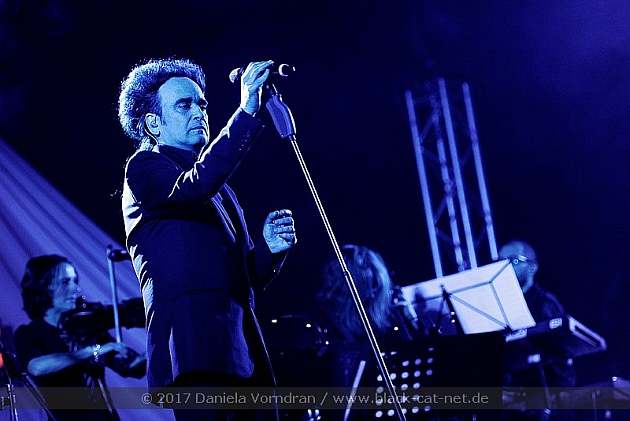 Musensaal, Mannheim, Germany
17th February 2018
Deine Lakaien - XXX. THE 30 YEARS RETROSPECTIVE

Because of their big success, DEINE LAKAIEN presents new dates of their incredible show "XXX. THE 30 YEARS RETROSPECTIVE" for 2018. After positive critics and great feedback for the "XXX. The 30 Years Retrospective" concerts 2017, Ernst Horn and Alexander Veljanov announce five other dates. At the beginning of 2018 because of their amazing success DEINE LAKAIEN will play an encore of their retrospective.
Obstinacy and experimentation of this band are really legendary ones: after the 30 years of their career, Ernst Horn and Alexander Veljanov created an equally emotional and unique concert concept: "XXX. The 30 Years Retrospective" is a collection of hand-picked concert halls, places with history, atmosphere and brilliant sound, and this concept combines a highly intimate retrospective of unforgettable memories of the most touching moments in their history with a fascinating view on the future of DEINE LAKAIEN.
"We have never before thought so long about program, processes and the most complex lighting and sound technology. Additionally to this the choice of halls of the highest category meant a risk to management and the concert agency, that this will be accepted with a lot of idealism. We were rewarded for the challenges of such a mammoth project! It was a great pleasure to see how successful the concerts were, and sometimes we felt like a dazzling children at the final bow. The tense stillness in the quiet passages, the raging between the encores had blown us air under the wings in the truest sense of the word."
Due to the huge demand Ernst Horn and Alexander Veljanov will continue their deliberately sensual and detailed choreographed jubilee retrospective in February and March 2018 and will show "XXX. The 30 Years Retrospective" in five other selected cities and concert halls. Booking for this very special and very personal musical journey, which will remain unique in this form, started already.
All Dates – "XXX. THE 30 YEARS RETROSPECTIVE" LIVE 2018

03.02.2018 Cologne, Philharmonie
15.02.2018 Hannover, Theater am Aegi
17.02.2018 Mannheim, Musensaal
24.03.2018 Dresden, Kulturpalast
25.03.2018 Nuremberg, Meistersingerhalle
Additional Concert Info

Doors: 18:00
Start: 19:00
Tickets are available from about 40 euros (pre-sale plus fees)
HERE
, via Ticketmaster and at https://batschkapp.tickets.de/de/events/9640-DEINE_LAKAIEN
Info: www.deine-lakaien.com / www.facebook.com/DeineLakaien