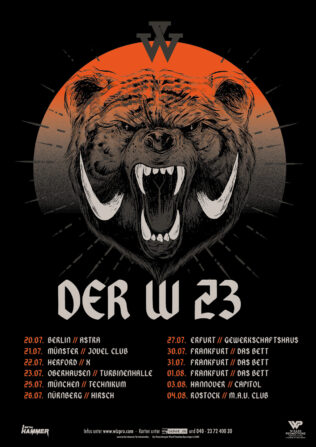 Stephan Weidner returned from the stadium to the country's clubs in 2022: With DER W, the bass player and lyricist for the mega-successful BÖHSE ONKELZ celebrates the close emotional alliance at close quarters. November 2022 took Weidner and his band through 13 clubs in Germany: sold-out shows, Rock'n'Roll melee, special encounters: the live return after six years of stage breaks that were far too long was a long, intense, sweaty feast.
The reactions of fans and musicians to the evenings together were so enthusiastic that there is no alternative to the decision: the journey will continue in 2023 with twelve club shows! "It's crazy to be able to watch 50,000 people going crazy in the huge stadium. But it's just as touching to be able to feel the emotions in the back row in a small, intimate setting," says Weidner. "We enjoy it very much and we want more of it."
That's why DER W made a conscious decision to keep the scope for the continuation of a special journey small. Rock'n'Roll you can touch, night after night. Those who attended the first part can look forward to the best experiences and new memories. And anyone who is experiencing DER W 2023 for the first time or for the first time in a long time should prepare for an energy that can only arise in a very special constellation. That is the claim and DER W is the goal! Here comes DER W '23!
German Tour Dates

20 Jul 2023 – Berlin, Astra
21 Jul 2023 – Münster, Jovel Club
22 Jul 2023 – Herford, X
23 Jul 2023 – Oberhausen, Turbinenhalle
25 Jul 2023 – Munich, Technikum
26 Jul 2023 – Nuremberg, Hirsch
27 Jul 2023 – Erfurt, Gewerkschaftshaus
30 Jul 2023 – Frankfurt, Das Bett
31 Jul 2023 – Frankfurt, Das Bett
01 Aug 2023 – Frankfurt, Das Bett
03 Aug 2023 – Hanover, Capitol
04 Aug 2023 – Rostock, M.A.U. Club
Tickets:
https://tidd.ly/3FrGpnl