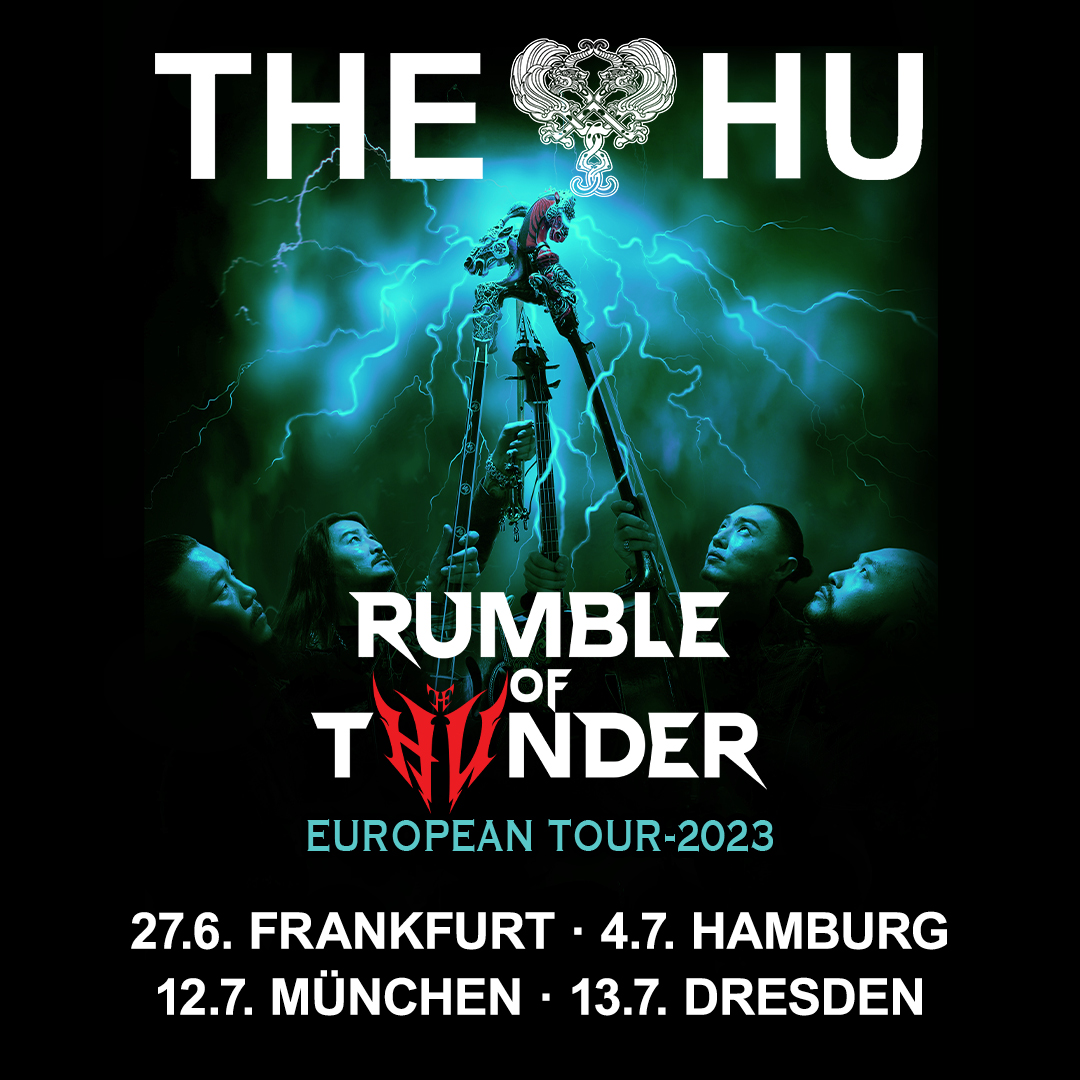 Alter Schlachthof, Dresden, Germany
13th July 2023
The Hu - "Rumble of Thunder Tour 2023"

Forget everything you think you know about Metal: THE HU turn the genre on its head with influences from Mongolian culture and traditional instruments. In the summer of 2023, the band will be coming to Frankfurt, Hamburg, Munich and Dresden for four club shows on their "Rumble Of Thunder Tour". Their "Hunnu Rock" was a sensation: THE HU showed that traditional instruments like the Mongolian horsehead fiddle, the Tsuur flute or the Tovshuur lute can sound damn heavy.
In 2018 the four musicians - all graduates of the Mongolian State Conservatory - published the songs 'Yuve Yuve Yu' and 'Wolf Totem' on YouTube. Within a very short time, the videos have millions of views and are conquering the music world from Ulaanbaatar. "Hunnu" is a term for the original tribe of the Mongols. A nomadic people whose history and customs are the main inspiration for THE HU's music. Culture and traditional values such as a spiritual connection to the earth, ecological sustainability and peacefulness are top priorities here. Sometimes it sounds meditative, sometimes warlike, but always very unique. In 2019 the band released their first album 'The Gereg' and traveled the world with their Folk Metal. The follow-up 'Rumble Of Thunder' appears three years later. Now grown to eight members, the band with the characteristic undertone singing is even heavier than before, while combining East Asian folklore with Western sounds.
With 'The Gereg', THE HU are the first Mongolian band to climb to the top of the US Billboard Charts. In 2021 they are chosen for the album 'The Metallica Blacklist' to cover the song 'Through The Never' in their very own way. In the meantime, the band has also worked with scene greats such as Jacoby Shaddix (PAPA ROACH), Lzzy Hale (HALESTORM) and William Duvall (ALICE IN CHAINS). They also enjoy the highest reputation outside of the Rock and Metal scene: They are UNESCO "Artists For Peace", cultural ambassadors of their homeland and have received the "Order of Genghis Khan", Mongolia's highest award. A show by THE HU is a cultural excursion and the best proof that music connects the most diverse people from all over the world. In the summer of 2023, you can experience this unique experience as part of four club shows on the "Rumble Of Thunder" tour in Germany.
Additional Concert Info

Doors: 19:00
Start: 20:00
Tickets: can be bought for 38.85 + charges (pre-sale) via
Eventim
Info: https://www.alter-schlachthof.de/konzerte/3256/The-HU
Band: https://www.facebook.com/thehuofficial / https://www.thehuofficial.com/
Facebook Event: https://www.facebook.com/events/3418836595061623
See also (all categories):