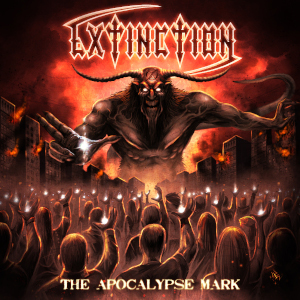 Artist: Extinction
Title: The Apocalypse Mark
Genre: Thrash Metal / Death Metal
Release Date: 18th October 2019
Label: Revalve Records
Review Flash

If you constantly read what I try to slice and dice into understandable essays, you know by now that I almost NEVER listen to and/or review Extreme Metal (Death / Black Metal so to say). Sometimes I make exceptions out of curiosity, boredom or because I said I would. All these reasons play into reviewing EXTINCTION but the best reason is: there is fucking Thrash Metal in it! EXTINCTION was formed in the year 1995, assembled in Apulia, Italy by Massimo Muci (vocals), Danilo Bonuso (guitar), Marco Campanati (guitar), Marco Vicenza (bass) and Alberto Scrivano (drums). In 96 they released a demo called 'Progress Regress', shortly after the band broke apart after vocalist Muci left the band.
Danilo reassembled EXTINCTION in 2014 with a completely new line-up, sadly after only one LP the new vocalist left the band so the line-up had to change again. After a few line-up changes the band recorded and released this big ball of hate named 'The Apocalypse Mark'. Aside from the hellish growls of Filippo Collaro the sound of EXTINCTION is rather Thrash Metal influenced and even quite melodic at that. The riffs of the two six-string stormtroopers Bonuso and Edifizi are rough and efficiently ripping off heads left and right. Catolla on bass and Diego Sorg Krig on drums are the rhythmic guideposts and do a hell of a job directing and regulating speed-wise.
Conclusion: If you dig a mix of METALLICA; SEPULTURA and MORBID ANGEL, you are in for a good time!
Rating: 7 / 10