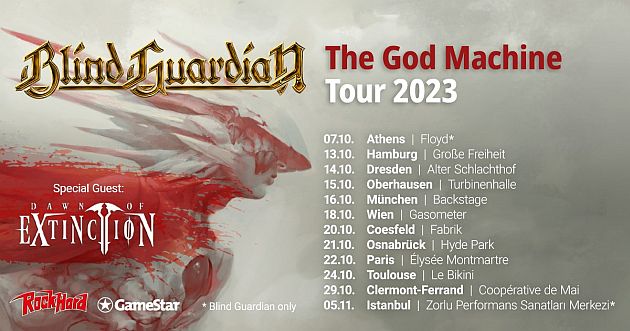 Alter Schlachthof, Dresden, Germany
14th October 2023
Blind Guardian - "The God Machine Tour 2023" - Special Guest: Dawn Of Extinction

In 1992, BLIND GUARDIAN released the reference work of German Speed Metal with 'Somewhere Far Beyond'. 30 years later they cannot turn back the iron wheel of time; their most recent heroic journey, 'The God Machine', shows how to playfully awaken the fury and power of youth to magical new life.
'The God Machine' is the album with which BLIND GUARDIAN open their very personal Pandora's box and face their past. As if they'd paid a long-overdue visit to the many highlights of their 35-year career and drawn inspiration from the ghosts of their own past. Singer Hansi Kürsch puts it in a nutshell: "We picked up a lot from our own history to herald a new era in the glorious history of the band on this foundation." This new age is beginning right now... Seven years after 'Beyond The Red Mirror' and almost three years after the mammoth orchestral work 'Blind Guardian Twilight Orchestra: Legacy of the Dark Lands', Hansi Kürsch (vocals), André Olbrich (lead guitar, acoustic guitar, rhythm guitar), Marcus Siepen (rhythm guitar and acoustic guitar) and Frederik Ehmke (drums) are on their personal Götterdämmerung.
But like the phoenix, one cycle must be completed before a new one can begin. "After 'Beyond The Red Mirror' and 'Legacy Of The Dark Lands' we knew that we couldn't increase the orchestral side of BLIND GUARDIAN any further," says Kürsch about the twelve months of recording between March 2020 and March 2021. The new directive was: "Less orchestration, more impact." Of course, they still exist, the orchestral elements and powerful choirs. In 2022, however, they will be much more selective and therefore much more concentrated and resonant.
Additional Concert Info

Doors: 19:00
Start: 20:00
Tickets: can be bought for 58.50 + charges (pre-sale) via
Eventim
Info: https://www.alter-schlachthof.de/konzerte/3121/BLIND-GUARDIAN
Bands: https://www.blind-guardian.com / https://www.facebook.com/dawnof.extinction
Facebook Event: https://www.facebook.com/events/1316377342497631
See also (all categories):