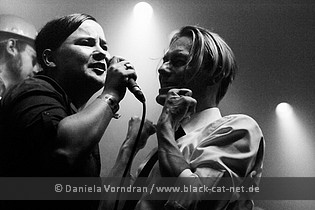 Kulturfabrik, Krefeld, Germany
11th December 2011
Covenant, Decoded Feedback & Patenbrigade: Wolff

In the course of the 'Modern Ruin' tour, COVENANT came to Germany for a few more shows, which were also the final leg of the tour. COVENANT already played a couple of fantastic gigs here early spring and also a breathtaking festival appearance at the Amphi in Cologne. RoD attended the final show in Krefeld, which just like the German gigs this spring had DECODED FEEDBACK and PATENBRIGADE: WOLFF as special guests again. Maybe it would have been even more interesting if COVENANT brought some other support bands for their second German leg of the tour. At least in theory, but the three bands did not just deliver a reprise of what they had to offer in April. And as Krefeld was the final gig of the 'Modern Ruin' tour, there was something special ahead, anyway.



Patenbrigade: Wolff

The East-German PATENBRIGADE:WOLFF is the project of Lance Murdock and former DUST OF BASEMENT member Sven Wolff plus a number guest musicians. "Pop music for plumbers" is the self-ironic and self-proclaimed category of PATENBRIGADE: WOLFF's sound. The duo does have a strong affection for building sites and machines, and with machines (synths, to be more precise) they create their mostly instrumental music which combines vintage electronics and a very modern and dancy approach. Since their album 'Baustoff' (2009), PATENBRIGADE: WOLFF have gone a much more melodic route and also invited a number of guest vocalist to spice up their sound, which has from Pop to Techno to EBM a lot of flavours to it. This is also proved by their latest release, 'Schallplattenunterhalter', which was quite a success. http://www.patenbrigade.com / http://www.myspace.com/patenbrigadewolff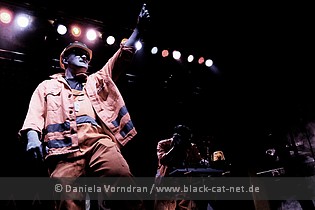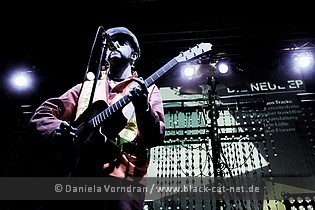 Music & Performance
When PATENBRIGADE: WOLFF performed as COVENANT's support act in spring, they had a smaller line-up and their performance was rather like a DJ set with guest vocals. This time, things were completely different and everything was simply bigger and better. This started with the stage design which looked like a construction site with lots of panels and signs and - of course - the band members dressed as building worker. The line-up was also bigger and, last but not least to female guest singer Antje Diekmann, also better. She lend her charming voice to songs like 'Kraftfeld' or 'Mauerradio' and all in all her presence was a nice contrast to the proletarian looks of her male fellows. While the reaction to PATENBRIGADE: WOLFF seemed a little lacklustre back in April, the audience's feedback was much more positive this time!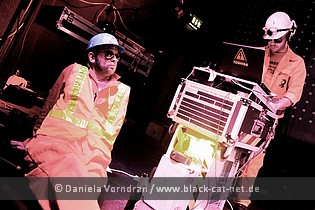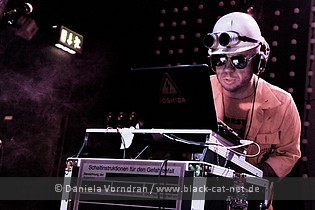 PATENBRIGADE: WOLFF's performance and set was a completely different beast this time, and the crowd even demanded an encore so that PATENBRIGADE: WOLFF's gig ended after fair 45 minutes with a lot of applause from the audience.

Setlist
01. Die Ungenauigkeit
02. Stalinallee
03. Feind hört mit!
04. Kraftfeld
05. Fehler 404
06. Unfall ohne Folgen
07. Maurerradio
08. Voyage
09. Gefahrstoffe
10. Führer WC
11. Bier!
12. SPU
13. Demokratischer Sektor

Rating
Music: 7
Performance: 8
Sound: 7
Light: 7
Total: 7.3 / 10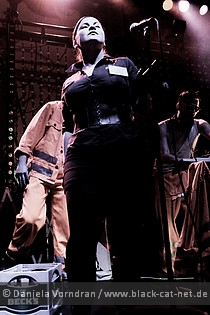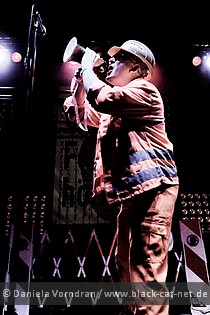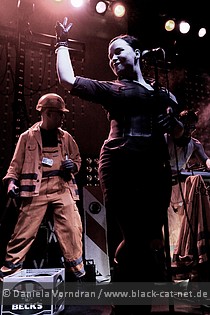 Decoded Feedback

The Italian-Canadian duo DECODED FEEDBACK is Marco Biagiotti (vocals, sequences, guitars) and Yone Dudas (keyboards). Starting in 1993, DECODED FEEDBACK came to life when Marco and Yone met at an Industrial club night in Budapest while both were travelling through Europe. They discovered that they had a very strong musical connection so that the two, who both played in other bands in their respective home countries before, decided to start a mutual project. The first self-titled demo tape got a raving review from Belgium's leading Alternative Music magazine Side-Line, which resulted in a first record deal with Hard Records Europe and the official debut album 'Overdosing', which was released in late 1996. Since then, DECODED FEEDBACK has produced nine albums and a couple of singles and EPs. Currently, the band is signed to Dependent Records in Germany and Metropolis Records in the US, where they released their latest album 'Aftermath' last year. www.decodedfeedback.com / www.myspace.com/decodedfeedback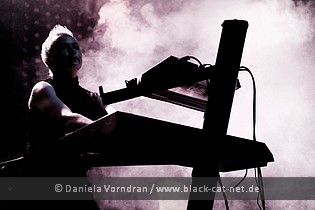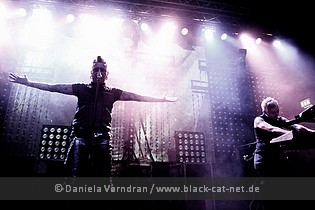 Music & Performance
The stage looked significantly emptier after the fully-fledged construction site design of PATENBRIGADE: WOLFF's show. With DECODED FEEDBACK, it was just a keyboard rack, a microphone and Yone and Marco on stage, supported by video projections. Their music is much less minimal than that, with epic Dark Electro hymns such as 'Phoenix' or 'Monument'. From full frontal sonic assaults to beautiful dark hymns, DECODED FEEDBACK has a rather broad range of styles and their stuff is carefully arranged with a lot of love for details. But how such an impressive electronic sound translates in a live situation is often a different story. After the visual overkill of the first band of the night DECODED FEEDBACK's show and energy did not translate as well as PATENBRIGADE: WOLFF's efforts. So the response from the fans was a little cooler, albeit still positive as no-one can deny the quality of DECODED FEEDBACK's Electro sound. The venue got quite well-filled during their gig with more and more COVENANT fans arriving at the Kulturfabrik but DECODED FEEDBACK could not connect to all of the crowd. A pity, as their music is simply excellent and the show closer 'Reflect in Silence' was the highlight of DECODED FEEDBACK's gig and could ignite a few more sparks among the listeners.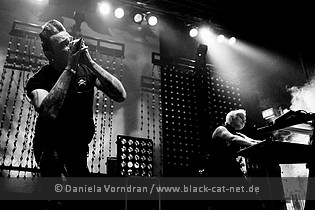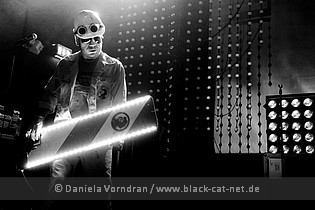 Unfortunately there was no encore, and it is interesting that DECODED FEEDBACK's show was shorter than scheduled. Unlike PATENBRIGADE: WOLFF, Marco and Yone's performance was not on par with their April gig, when they came to Germany with COVENANT for the first time. Having said that, it was still an okay gig and I can only recommend any Electro/EBM lover to get DECODED FEEDBACK's fine albums!

Setlist
01. Monument
02. Bio-Vital
03. Death Control
04. Silent Killer
05. Phoenix
06. Night Terror
07. Reflect In Silence

Rating
Music: 8
Performance: 6.5
Sound: 7
Light: 7
Total: 7 / 10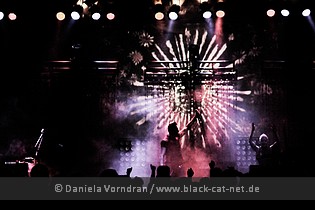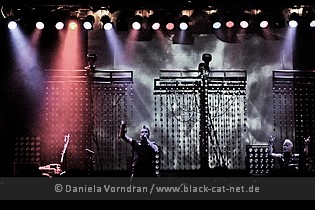 Covenant

Since 1986, Swedish band COVENANT explore the possibilities of synthesized music, and since the late 1990s and with albums like 'Sequencer', 'Europa' or 'United States Of Mind' they are surely one of the figureheads of what was once called Future Pop for lack of a better term. COVENANT simply call it "Pop music with an edge", and their latest album 'Modern Ruin' proves that there are quite a few edges to COVENANT's futuristic, sometimes dystopian Electro sound. 'Modern Ruin' was also the first album which involved German synth wizard Daniel Myer (HAUJOBB, ARCHITECT et al) in the studio, after Myer replaced founding member Clas Nachmanson for the live shows in 2007. In the middle of 2010 another founding member of COVENANT, Joakim Montelius, decided to stop touring for personal reasons and become a studio-only member of COVENANT, and since then he's replaced by Daniel Jonasson of Swedish synth band DUPONT for COVENANT's live appearances. Our Electro-heroes COVENANT are in 2011 Eskil Simonsson, Joakim Montelius (studio only), Daniel Jonasson (live only), and Daniel Myer. http://www.covenant.se / http://www.myspace.com/covenant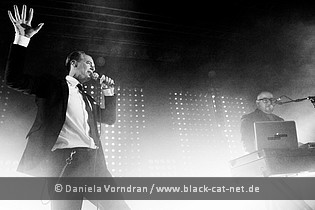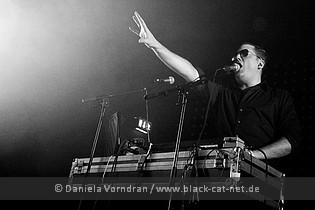 Music & Performance
COVENANT is a band who tends to play a different set each night to make every show unique, and even when they perform the same songs they always tweak and change them to make things more interesting for the fans and last but not least to themselves. Enough reasons to go and see COVENANT once more, and a lot of fans thought the same apparently, despite the busy schedule everyone has before Christmas and with lots of other concert and a few X-mas festivals ahead. And the Kulturfabrik in Krefeld is a historic place in COVENANT's career as they played their first gig in Germany at this very club in 1996! By the way as a support band for FRONT LINE ASSEMBLY and instead of wearing suits being bizarrely wrapped in black plastic. Those were the days! But to the recent show… COVENANT's love for intros has grown so much recently that they actually played two intros in Krefeld! Seems weird when written on paper but it sounded actually quite good and gave Jonasson and Myer an opportunity to jam and play around a little with sounds - something Daniel Myer in particular seems to enjoy a lot. A dark brooding instrumental called 'Coil' merged into the title track of the last album, 'Modern Ruin, with a few extra bits and pieces thrown in, for example a sample from the very early COVENANT song 'Shelter' from their debut album. With the song 'Monochrome', singer Eskil Simonsson entered the stage to a roaring applause and things were speeding up from now on. The sound at the Kulturfabrik was perhaps not optimal but at least at COVENANT's show on a higher volume than during the support bands' performances.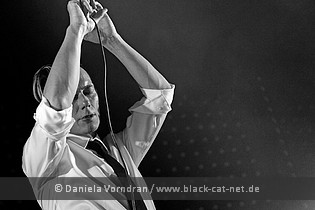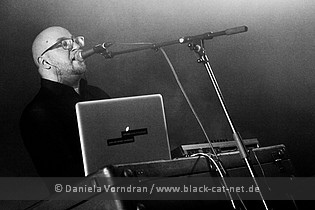 With 'Bullet' another song from the 2002 album 'Northern Light' followed, and surely one of the most popular COVENANT tracks. Eskil Simonsson was quite active and talkative on stage but at the same time very focussed and delivered a very good vocal performance throughout the entire show. Of course COVENANT also wanted to present a few songs from their latest album, so the catchy 'Judge Of My Domain' and the thumping 'Dynamo Clock' followed. The audience was a bit of a "Sunday night crowd", if you know what I mean, but everyone was in good spirits and enthusiastic. Even though I saw wilder crowds at COVENANT concerts over all the years but as I said, it was a Sunday night and actually already quite late. Anyway, new versions of '20Hz' and 'No Man's Land' made people dance a little heavier, and I for one really enjoyed the new version of the latter. 'No Man's Land' was never among my favourites, to be honest, but I loved the improved / remixed version COVENANT performed in Krefeld. Perhaps I never enjoyed the songs as much before as at this particular show! Another highlight followed when the band slowed the pace down a bit for the haunting 'Kairos' and the stunningly beautiful 'The Beauty & The Grace' - these two songs are the perfect package for me personally, in my book they just belong together and are among the band's finest moments ever. The roaring applause that followed this double proved that many fans share my view here.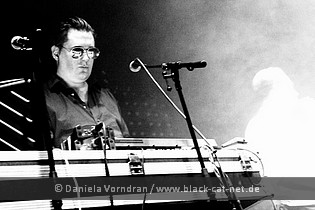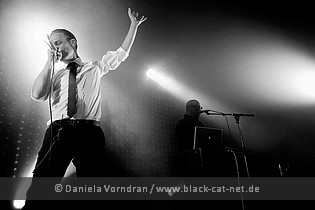 COVENANT's main set was about 70 minutes long, completed by crowd pleasers like an extra-long 'Stalker' and of course 'Call The Ships To Port', but also filled with a few extras. First and foremost there was a new song called 'The Passion Game', a typical COVENANT club stomper with a great beat and a pretty catchy chorus, which perhaps deserves a more detailed treatment as it almost got lost a little in all the stomping beats. Another surprise was 'Wir Sind Die Nacht', a track the band produced for the soundtrack of the German movie of the same name. An instrumental Techno track which Jonasson and Myer performed alone on stage, and quite a nice surprise as I didn't really expect COVENANT to perform this one live. But that's the great thing about COVENANT live, they never hesitate to go the extra mile to change things and surprise us. And while this approach has the inherent risk to fail, COVENANT wins more often than not and it is one key point why their live shows are still more interesting to watch (and hear!) than most other Electro bands. Another change comes when Daniel Myer grabs the microphone to do the lead vocals of 'Lightbringer', the last album's lead single. It's one of the poppiest tunes COVENANT ever made, and since its release, 'Lightbringer' has become one of the band's live highlights. 'Dead Stars' is another one of them, and the renewed version did the trick to cause a fire of enthusiasm. Eskil also did not forget to add something for us train-spotters and die-hards by throwing in a few lines from the 1998 song 'Riot' - he knows how make COVENANT nerds smile!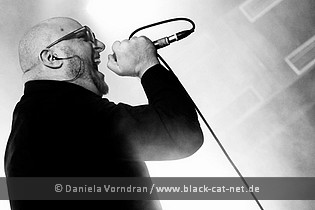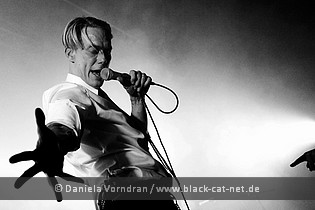 COVENANT are always very "encore-friendly", and after five extra songs, including the obligatory 'Der Leiermann', they even had something special in store. It was the closing gig of the entire tour after all, so DECODED FEEDBACK and PATENBRIGADE:WOLFF (still in the building worker outfits and perhaps a little more drunk than during their own gig) joined Simonsson, Jonasson and Myer on stage to perform a wild version of 'One World One Sky'. Pure chaos, and technically speaking not the best performance of the song ever. But hey, it was pure fun and a thrilling surprise! So the 'Modern Ruin' ended here, and it ended on a very happy and enthusiastic note. But we won't have to wait too long for more COVENANT live, and the German fans will be happy that COVENANT is already booked as the very special guests for AND ONE's "Cover For The Masses Show" in early 2012!

Setlist
01. Coil Intro
02. Modern Ruin/Shelter Intro
03. Monochrome (longer)
04. Bullet
05. Judge Of My Domain
06. Dynamo Clock
07. 20Hz (PGR)
08. No Man's Land
09. Kairos
10. The Beauty And The Grace
11. I Am
12. The Men (extended)
13. Ritual Noise
14. Wir Sind Die Nacht (Hamburg Edit)
– Improv –
15. Stalker
16. The Passion Game
17. Theremin
18. Call The Ships To Port
---
19. Happy Man
20. Lightbringer
21. Dead Stars
---
22. Der Leiermann
23. We Stand Alone
---
24. One World One Sky

Rating
Music: 9
Performance: 9
Sound: 8
Light: 7
Total: 8.5 / 10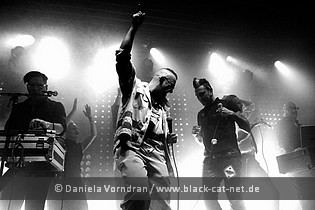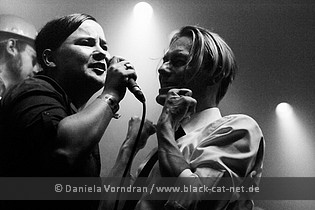 All pictures by Daniela Vorndran (http://www.vorndranphotography.com / http://www.black-cat-net.de/ / http://www.myspace.com/vorndranphotography / http://www.facebook.com/blackcatnet)