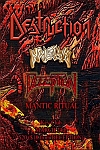 Hollywood, CA, USA
24th March 2009
Thrash Until Your Bleeding: Mantic Ritual, Destruction


DESTRUCTION the known trio of Germany that has been thrashing the thrash metal scene since the 80's tearing up the music business far and wide getting their torture and claiming their domain to call their own. The band is currently in celebration of being together for 25 years and counting and is spreading the chaos that is their music out in the U.S. of A!



"This is my first concert!" I hear a fan cry out as the clock struck 11:30PM the cold chilly nightfall of March 24th in the holy famous Key Club on the beloved Sunset Strip. Tonight was a night that made this chill even better because three legends were about to rush the stage and unleash upon their fellow fans a unique and special message only we could be able to create. The creation of DESTRUCTION! These three German thrash metal legends having started blasting hits in the 80's forward were on their current North American tour with a few special add-on's in between. One was the celebration of being together and rocking out the tunes for 25 long lasting years, while the other was a winner of this VIP All Access Contest they had running on their website but that contest wasn't all it was told to be. The winner of the VIP Contest as indeed yours truly who is writing to you this tall tale of mass destruction. The VIP package included backstage to meet the band and everything but last night at the Key Club no one knew what I was talking about and it sadden me like a thousand knifes stabbing you all at once.
Destruction

German thrash veterans of the thrash metal world have unleashed upon the masses a handful of LP's and EP's and DVD that captures this high intensity of mayhem in pure high flying action. DESTRUCTION is indeed the masters of torment and cause chaos everywhere they roam. Be sure not to miss out on these army actors because once you get hit you won't be able to resist their temptations.
Music & Performance

Now that the blood has driven from my skin and onto the sweat and vomit floor of the drunken fans who awaited their idols appearance the act known only as DESTRUCTION had blasted out a hour and a half long set list the front man of the massive group Marcel Schirmer A.K.A. "Schmier" (bass, vocals) well as his loyal backup Mike Sifringer (guitar) and Marc Reign (drums) brought on this pure chaos since the very beginning and this mighty trio is well known all around the world for their creative and catchy thrash throwing lyrics and rip tearing guitar solos that bash your head right against the wall. During their set list "Schmier" announced the final of the several specials as mentioned beforehand, saying briefly "Los Angeles tonight is a special night because we are recording tonight's performance for our next live CD!"

The fans in the crowd thrashed about cheering and screaming until their lungs and throats were clearly sore and bleeding. After that was said and done, the band broke out into many classic hits; 'Soul Collection', 'Metal Discharge', 'Thrash Till Death', 'Nailed To The Cross', and 'Mad Butcher' among other tunes they are well known to dish out; that included hits off their latest 'D.E.V.O.L.U.T.I.O.N.' This set up included three introductions via the 18-tracks played fully through getting everyone in the small packed venue rocking from every angle possible. But DESTRUCTION weren't the only destructors of the night before these metallers jammed the stage other metallers came out and threw together some bashes you could only imagine.
Setlist

01. Intro 1:
02. Soul Collection
03. Bestial Invasion
04. D.E.V.O.L.U.T.I.O.N.
05. Eternal Ban
06. Drum Solo: Life with Sense
07. Urge the Greed
08. Metal Discharge
09. Death Trap
10. Intro 2:
11. Thrash Till Death
12. Mass/Anti/Release Medley
13. Drum Solo: Tormentor
14. Damned/Cracked/Reject
15. Invincible Form
16. Butcher Strikes Back
17. Intro 3:
18. Curse the Gods
19. Nailed To The Cross
20. Mad Butcher
21. Intro 4:
22. Total Disaster
Rating

Music: 10
Performance: 10
Sound: 9
Light: 9
Total: 9.7 / 10
Mantic Ritual

Known to all as Meltdown changed their name to MANTIC RITUAL a more suitable name to the band's liking which has lead them to unleashing their debut album and being on the current North American tour with a trip of legends. MANTIC RITUAL has come to us to spread their own crafted chaos only they can call their own and allow anyone and everyone to bear witness to it to go completely insane!

Music & Performance

Opening up the night was a local Los Angeles act known as TAKING BACK who played a non-stop death metal force of 20 minutes which lead straight into the next act called DECEPTION, and NIGHT TERROR were among the "local" acts breaking the ice while the up and coming pros took over midway through around 8:45PM MANTIC RITUAL broke the silence and dread that was the first trip of acts getting everyone shouting and dancing to the beat of their music to their cover tone of VENOM's 'Black Metal' among some of their newer material off their latest album 'Executioner' which included 'One By One', 'Murdered to Death', 'Panic' and 'Next Attack' which got people up in the air in an instant hopping onto the stage and right back off getting thrown or taking their leap of death into the crowd surfing the waves to the music. Next came second to the headlining act KRISIUN putting together a raving 40 minute set of mass torment and torture as fans chanted and shouted until they fell to the floor in sweat or got tossed around like a hot potato in the pit everyone enjoyed the mass ripping the first set of openers and then of the second round-up of acts to follow. Over all German thrash metal veterans DESTRUCTION proved to all that they are legends and can domain their name forever and always letting those 25 long years last for at least another billion!
Rating

Music: 9
Performance: 9
Sound: 9
Light: 9
Total: 9 / 10

All pictures by Natalie Perez
{jos_sb_discuss:17}

See also (all categories):