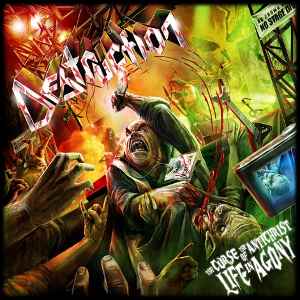 Title: The Curse of the Antichrist: Live In Agony
Artist: Destruction

Genre: Thrash Metal
Release Date: 25 September 2009
Label: AFM Records
Album Review

Germany has been known to deliver when it comes to the wide world of metal music but in this day in age, a particular genre of metal has been resurrected - thrash metal has devastated across the globe taking it down with just one description, DESTRUCTION. Don't let the term fool you because this little phase belongs to Germany's finest thrashers to date, DESTRUCTION who have been going strong for 27 long years and now the time has come for these thrash masters to overrule the globe all over again.
'The Curse of The Antichrist: Live In Agony' is the band's third album to date and like we always say "third time's a charm" and indeed that saying comes in very handy when this album comes thundering through delivering 98 minutes of absolute destruction and chaos only a true head banger can endure. Going through a total of 22 song revision you'll hear enough of the band's classic material as well as their newer material to even it all out from anthems such as 'Curse the Gods', 'Nailed to the Cross' and 'Thrash till Death' along with tunes taken off their tenth LP 'D.E.V.O.L.U.T.I.O.N.'.
Still creating that unique but classy DESTRUCTION essence that vocalist Schmier is well known to create. The audience heard throughout the listening of the album puts on a modern perspective with participation, screaming and shouting with every given chance thrown at them adding absolute flare and energy. DESTRUCTION has yet to disappoint with their music making process, taking their creations to a whole new level of generations to experience. Thrash and metal fans alike will not resist this head banger's dream come true.
Tracklist

Disc I
01. The Butcher Strikes Back
02. Curse the Gods
03. Mad Butcher
04. The Alliance of Hellhoundz
05. D.E.V.O.L.U.T.I.O.N.
06. Eternal Ban
07. Urge the Greed of Gain
08. Thrash till Death
09. Metal Discharge
Disc II
01. The Damned
02. Cracked Brain
03. Soulcollector
04. Death Trap
05. Unconscious Ruins
06. Life without Sense
07. The 7 Deadly Sins
08. The Antichrist
09. Thrash till Death
10. Reject Emotions
11. Total Disaster
12. Bestial Invasion
Line-up

Schmier - Bass, Vocals
Mike - Guitar
Marc - Drums
Website

http://www.destruction.de/
/
http://www.myspace.com/officialdestruction
Cover Picture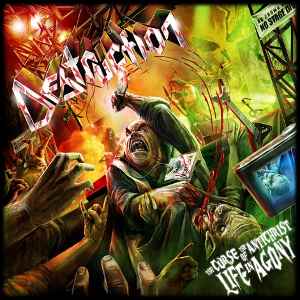 Rating

Music: 9
Sound: 9
Extras: -
Total: 9 / 10
{jos_sb_discuss:19}
See also (all categories):