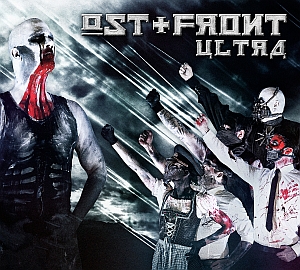 Artist: Ost+Front
Title: Ultra
Genre: Industrial / Metal / Gothic
Release Date: 22nd January 2016
Label: Out Of Line
Album Review

Sometimes it happens that the success of the other person or group of persons disturbs you so much that you can't sleep at night, thinking you could do the same, or even better! I bet this idea came to gazillion of German musicians after RAMMSTEIN broke through. What morons those RAMMSTEIN are! There were dozens of bands doing the same stuff long before, there were bands which did even better. And how many more bands appeared afterwards, doing the same thing or even better. And it is kind of funny that after all these years this idea is still in the air and in the records.
OST+FRONT's 'Ultra' is an amazing and strong piece of music. It is actually surprisingly good for this kind of music. On the one hand there are recognizable influences of the German scene: from NDH to folk rock. Somehow "gothic" includes this whole range today. On the other hand 'Ultra' is such a thing-in-itself and OST+FRONT is so dedicated to their music that it is quite easy to leave all the associations aside. OST+FRONT is the band for those who love hard music, dance metal, tough melodies, brutal themes as well as for those who believe that industrial was an invention of MARILYN MANSON or RAMMSTEIN (don't be embarrassed if you recognized yourself in the last one). On 'Ultra' you'll find choirs and orchestra variations, good old folk metal and industrial metal, and of course German lyrics. There is one song which you'll love from the first accord – 'Fiesta de sexo' featuring Erk Aicrag (HOCICO, RABIA SORDA). And now it is the moment when you can say that OST+FRONT did it definitely better than RAMMSTEIN! 'Te quiero puta' is a pussy version of 'Fiesta de sexo'.
The last paragraph of this review should be and will be for Out of Line. Those of you who still believe that labels are the greatest evil of the music industry probably missing what efforts this one is making. Aside the annual massive festivals and enormous number of releases, this label involves musicians from different bands into each other's production. Working together and discovering the greatest things of each other they are not only complement each other's projects but also charging their own solos.
Tracklist
CD 1
01. Sternenkinder
02. Bruderherz
03. Fiesta de sexo (mit Erk Aicrag)
04. Afrika
05. Moldau
06. Krüppel
07. Suizid (mit b.Deutung)
08. Fick Dich
09. Volksmusik
10. Blitzkrieg
11. Nein
12. Klassenkampf
13. Siebenbaum
CD 2
01. Triebwerk
02. Wasser Marsch
03. MNSTR
04. Sternenkinder (Orchesterversion)
05. Klassenkampf (Instrumental)









Line-up

Herrmann Ostfront – Vocals
Siegfried Helm – Guitar
Wilhelm Rotlauf – Bass
Eva Edelweiß – Keys & Drums
Otto Schmalzmann – Guitar
Fritz Knacker – Drums
Website

http://www.ostfront.tv
/
https://www.facebook.com/ostfrontberlin
Cover Picture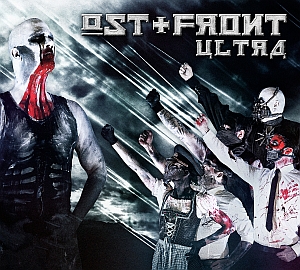 Rating

Music: 7
Sound: 9
Total: 8 / 10