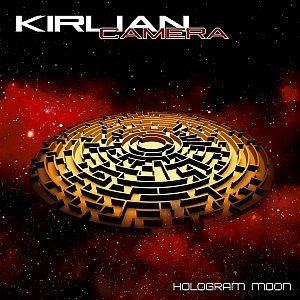 Artist: Kirlian Camera
Title: Hologram Moon
Genre: Dark Electronica
Release Date: 26th January 2018
Label: Dependent Records
Album Review

KIRLIAN CAMERA's somewhat turbulent career seems to have settled nicely into a period of relatively happy middle-age. The experimental early years and unstable line-ups have been replaced by a graceful maturity, and main-stays Elena Alice Fossi and founder Angelo Bergamini have increased the band's presence in clubs, festivals and dance floors across Europe. The new album, 'Hologram Moon', continues in the darkly melodic vein of 2013's 'Black Summer Choirs', and despite a rather ropey concept running throughout (the moon just ain't what it seems, conspiracy theorists) it's a fairly solid piece of work.
The obvious starting point has to be 'Sky Collapse', the hugely successful collaboration with Eskil Simonsson, singer with COVENANT. Indeed it follows very much that band's danceable electronic blueprint, but what makes it something special is the merging of voices here, a killer chorus, and an icy chill and grandeur. They must have had fun, since Eskil pops up again on 'Polar IHS', a pretty, soaring pop song with a simple but haunting piano gently holding everything together. There's much emphasis on the vocals on this album, and an added warmth to Elena's voice that keeps relatively lightweight tracks such as 'Lost Islands' happily afloat, and there are still enough curiosities – see the samples on linking instrumental 'Helium 3', and sci-fi bleeping on 'Equation 01'– to stamp out any temptation to be too formulaic. In fact, there's a surprising amount of variety here. 'Kryostar' will see Goth boots stomping through the dry ice, 'The Storm' slow and balladry but too sleepy to be terribly interesting, and 'I Don't Sing' proving there is indeed a sense of humour in the KIRLIAN CAMERA camp – tunelessly vocalised by Angelo, it couldn't have a more apt title.
And just as it all feels like it's getting a bit too warm and comfortable ('Eyes Of The Moon' for example could do with a bit more oomph and a bit less cheese), there's the edgy 'Haunted River' powering itself along magnificently, and the whispered beauty of closing track 'Traveller's Testament' to soothe us away into the ether. KIRLIAN CAMERA's music will always polarise opinion – which surely is a good thing in any art form – and this album is unlikely to change that. Their dark, danceable pop and concept electronica continues to develop, and 'Hologram Moon' is a worthy addition to their recent canon.
Tracklist

01. Holograms
02. Sky Collapse feat. Eskil Simonsson
03. Lost Islands
04. Polar HIS
05. Helium 3
06. Kryostar
07. I Don't Sing
08. The Storm
09. Eyes Of The Moon
10. Equation 01
11. Haunted River
12. Traveller's Testament
Line-up

Elena Alice Fossi
Angelo Bergamini
Website

http://www.kirliancamera.com / https://www.facebook.com/kirliancamera.official
Cover Picture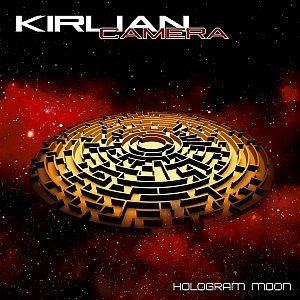 Rating

Music: 8
Sound: 8
Total: 8 / 10
See also (all categories):