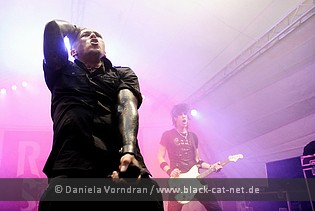 Interview with
Erk Aicrag from Rabia Sorda

The end of the year is the best time for seeing the results of the year and make new plans. And we are really happy that we got a chance to speak about all that with Erk Aicrag from RABIA SORDA.
Reflections of Darkness [RoD]
: Do you think RABIA SORDA is developing well enough? Did you expect it to be so successful?
Erk
:
When we started with HOCICO we had to prove everyone… well, not prove but we had to show it to everybody. When I started with RABIA SORDA people said: "Ok, it's a project of the singer of HOCICO, it's Erk Aicrag, we know him from HOCICO, this will be easy!". But I showed them it wasn't. I was trying to do something different. That pissed some people off and made others happy. At the end I say: Just follow your heart! Don't expect people to like it. I never want to please anybody else but me. That way I feel more honest. Not that HOCICO isn't honest music. It exists already in its own universe. And RABIA SORDA is still open to whatever. It gives me more freedom. At the moment I like it to be more aggressive, with more guitars. I don't know what's next. Yes, I'm having fun and that's the most important thing. I'm sure and I hope that some people following this project are having fun, too by listening to our new stuff.
RoD
: You have recently released a new EP called 'Animales Salvajes' which is 'Wild Animals' in English. Is there a deeper meaning?
Erk
:
I've always felt that RABIA SORDA is a wild animal in many aspects. Especially when it comes to the writing of music. What can you expect? Will it be more 80s or more rock,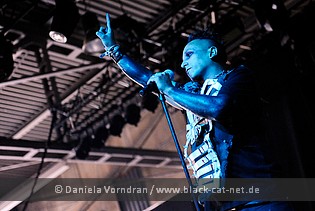 metal, pop or whatever? And when we go onstage I want to feel me and the band going wild. That's what I want to experience when I'm onstage. You could also go deeper in a more poetic way and say I want to feel the wild animal that lives inside me and I can transform into it at any time I want. You can read and speak some Spanish, so maybe you have read the lyrics of 'Animales Salvajes'. That's how I see the concept of RABIA SORDA.
RoD
: The idea for the new video to the song 'Obey Me', where did it come from?
Erk
:
It's about criticizing politics in a very sarcastic way. Especially politics in Mexico. There's a clear reference to the ruling Mexican party PRI. You can put the "P" also at the end and get RIP. But it doesn't only apply to Mexico. Well, I mean in Germany and Europe politicians tend to be more thoughtful about their actions. Also the Uruguayan president is just great but for the rest of Central and South America you can sit down and cry all day when you hear about politics there. And Mexico is a very bad case. We could just sit down here for hours. I just put in my two cents by being sarcastic about the whole situation.
RoD
: As you are quite a critical person yourself, have you ever thought of becoming a politician?
Erk
:
No, no. I mean what I think about politicians is that if you show interest in being a politician there's something wrong with you (laughs). You know Stefan Nielson from SPETSNAZ. He's involved in politics and he doesn't get any money from that. And I like that. That's how politicians should be. Not getting money, just helping. But most of them pretend helping and just take the money. There's something wrong with those people. Well again, in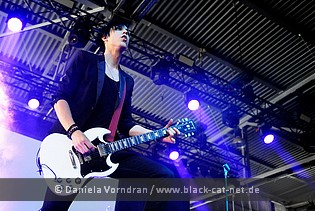 Europe there are people doing their jobs. Here we have a solid society. People can do what they want to do. In Central and South America people know what they can't do. That creates lots of frustration. And even if you want to be a good guy in Central America it will probably cost your life. I still respect people who want to change something. For example the Uruguayan president Mujica, I respect him a lot. He brings lots of changes in mentality. People think: " Hey, we can do it! We can create a better world for the people!" But no, not for me. I'm better in shouting and writing music, I hope (laughs).
RoD
: Imagine you can be invisible for one day. What would you do? What places would you go?
Erk
:
*long silence* Nice questions! (laughs). There are lots of things but I guess I would show up at the work places of the politicians in Mexico and steal all the criminal data from them to publish it. Yes, I would do that.
RoD
: Can you tell your fans something about your plans for 2015 (gigs, releases)?
Erk
:
Some shows are already confirmed. At the moment I'm involved in a movie project to write music for. I don't know if I'm allowed to say the title now but it's a movie coming out in 2016. They are filming in 2015. It's a big project. I'm looking forward to it. I'm almost ready with the songs and I can't wait to show those guys my songs in January. It's going to be interesting. I just try to give my best, I don't want to push myself too much. Just keep it open, keep on writing.
RoD
: One more personal question: You are really busy with two successful bands. How do you manage to stay sane and keep your inner balance?
Erk
:
That's actually a good question because sometimes I look at myself and say: " Fuck man, after the next tour I'll find myself alone, no friends, no family!" It's not always about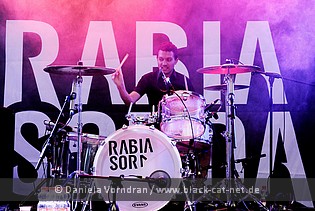 doing what you want to do if you have people you care about and you can't always find compromises especially with your family. So the answer is that I don't know. But somehow, by loving the people around me I find a way to manage a family life, my music projects, writing... It somehow works in a very chaotic way but it works. And I don't know how. But I'm very thankful for this life. It keeps it interesting to walk the edge and something saves me from falling somehow.
RoD
: In 2015 you will play at the Dark Munich Festival, what are you expecting from that show? Will you prepare some surprises for your show?
Erk
:
We are excited to play at the DMF for the second time, we will prepare a bunch of new songs for the show and you can be sure the whole room will go wild with us!
RoD
: And in the end a few words to our readers.
Erk
:
Hope to see you on tour, hope to see you at the shows! There'll be lots of stuff coming from us. We can't wait to play our new songs onstage. We are already planning everything to perform 'Animales Salvajes' live! There will be interesting shows and hopefully we are doing a tour through Europe in September. We'll see, we'll see...
Dark Munich Festival (30th April to 3rd May 2015):
http://d-m-f.me/
Written by Britta Pirkko, Daria Tessa & Ira Wonderwood (Ukrainian Gothic Portal). The Russian version of the article is available
HERE
!