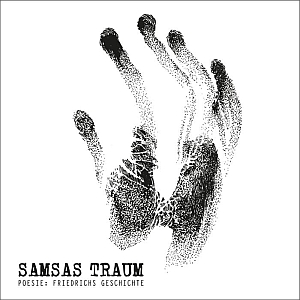 Artist: Samsas Traum
Title: Poesie: Friedrichs Geschichte
Genre: Symphonic Rock/ Metal/ Dark Metal/ Rock
Release Date: 2nd Oktober 2015
Label: Trisol Music Group (Soulfood)
Album Review

The project SAMSAS TRAUM was founded in 1996 by Alexander Kaschte. Eponym for the project's name was the story 'Metamorphosis' of Franz Kafka. The music can be attached to the Dark Metal/ Symphonic Metal/ Rock genre but you can also find singer - songwriter elements. The German language lyrics are very poetical with lots of metaphors. Most albums are concept albums with a great influence of symphonic elements and as you can find much pathos in the composition, you are often reminded of a Rock/ Metal Opera. For some albums a lot of renowned musicians and singer had their guest appearance, as there are: Susanne Stitz and Torsten Schneyer (ADVERSUS), Alexander Frank Spreng (ASP), Chris Pohl and Constance Rudert (BLUTENGEL), Max Testory and Elisabeth Kranich (CHAMBER), Johannes Berthold (ILLUMINATE), Dirk Riegert (JANUS), Martin Schindler (MANTUS), Susanne Stierle (OPHELIA'S DREAM), Celine C. Angel (SANGUIS ET CINIS), Stefan Kroll (STAUB), Michaela Pöppel (Musikschule). Including this album 11 studio albums, 8 compilation albums, 7 singles/ EPs and 2 Box sets were launched.
Much to the surprise of the fan base mastermind Alexander Kaschte announced his new musical artwork to be a Trip-Hop album and that this concept album will be about a, with autism handicapped, boy called Friedrich, who loves to write poems, killed in the concentration camp Hadamar of Nazi Germany. Well, actually I couldn't find any elements of Trip Hop on this album but the stylistic device of the Sprechgesang in a Hip Hop manner. And somehow this surely fits as usually Hip Hop have social critically lyric contents. While SAMSAS TRAUM often created dark fairy tale albums with a lot of metaphorical lyrics, it here relates on real events, happening during our darkest history of Nazi Germany.
The opener is an instrumental classical intro with elements of Rock to create a certain tension to what will follow. The following song 'Sauber' (clean) captures the motif of the album - the division of people in unworthy and worthy living - and the plan to eliminate those who are judged to be unworthy. The next one describes the cynical attitude perfectly by using a children song with the refrain 'Backe backe Kuchen, der Hitler wird dich suchen' (Patty cake, patty cake, Hitler will hunt you). Up to here the dominant musical style is Classical Rock/ Metal. But with the next two songs there is an abrupt change in style. With the change to more Synth Pop/ Synth Rock sound an easiness is created that stands in a complete opposition to the lyrical content. Here the stories of Friedrich and some other victims are told on their way to the concentration camp Hadamar.
With the 7th song the sound changes once again into the Classic Rock genre with a change of perspective as Friedrich is addressed to in a scornful way. For 'Gorgass' we have another change of perspective as one of the Nazi perpetrator have his say in a retrospective (Nuremberg trials?), starting with the usual excuses that he only obeyed the orders but his real attitude is revealed by his spiteful laughter at the end of the song. The following song shows perfectly that in such a system people became numbers - being degraded to countable objects. Once again there is a change in style from ostentatious Opera like genre to the Synth Rock genre with the half-heartedly regret of the people who were involved in this abominable crime or those who let it happen. The album ends with the afterword of the murdered Friedrich, a resigned résumé of a victim.
I have to say I'm quite ambivalent about this album. Somehow it came to my mind if it is needed to create such an album with this topic nowadays. Do we need this kind of educational advertising as my generation learnt (repeatedly) at school about the atrocities of the Nazi regime? But then regarding the actual situation with all the refugees coming to Europe hoping for a safe place, the increasing outpour of hate all over the social websites on the other hand, that lacks the tiniest bit of empathy for the victims of war and persecution, with even the abominable shouts for burning and reopening the concentration camps, as well as the despicable deeds that already happened, this might be more up to date than ever. Nevertheless I couldn't rate the album higher as the abrupt changing of styles were too disturbing for my taste. You can download single songs of this album but as this is a concept album it doesn't make any sense. So I would advise you to buy the complete download if you prefer that to the physical release.
The album is available as standard version, limited version, download version but you can also only download each song of this album.
Tracklist

01. Er Ist Der Tod (Instrumental)
02. Sauber
03. Und Ich Schrieb Gedichte
04. Der Mönchberg (Heinrichs Gedicht)
05. Wir Fahren In Den Himmel (Und Ich Kotze Angst)
06. Fingerkränze
07. Richard, Warum Zitterst Du
08. Im Keller Wohnt Der Krieg
09. Gorgass
10. Leiche 10 000
11. Es Tut Uns Leid
12. Was Weisst Du Schon Von Mir (Mein Name Ist Friedrich)
Line-up

Alexander Kaschte – vocals, arrangements, composing
Michael Beck – drums
Jochen Interthal – guitar
Website

http://www.alexanderkaschte.com
/
https://www.facebook.com/samsastraum.offiziell
Cover Picture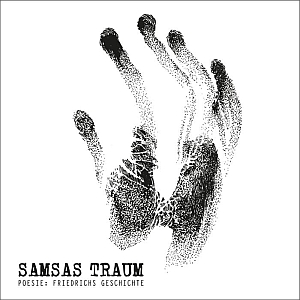 Rating

Music: 7
Sound: 9
Total: 8 / 10
See also (all categories):