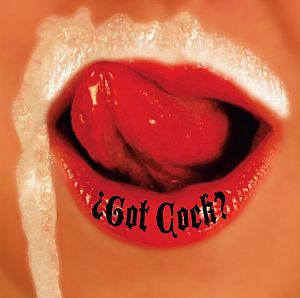 Artist: Revolting Cocks

Title: Got Cock?
Genre: Electro / Rock / Industrial / Alternative
Release Date: 9th April 2010
Label: 13th Planet Records/ Soulfood Music
Album Review

Oh, the REVOLTING COCKS are back again with their ninth album, aptly titled 'Got Cock?'. And that what it is all about - dick-waggling, cock-wetting fun. FUN spelt large, as always with this Al Jourgenson headed conglomerate of humour-orientated, industrial-rock-star-spangled side project thingamajig. Although, seeing its album number 9 and remembering that good 'ol Al has given up Ministry as his fave enemy No. 1 George "Dubya" Bush isn't in power no more, it can hardly be called a side project anymore. It's more of a main project nowadays, with a high fluctuation rate of guest musicians.
Anyway, back to the music. Basically put, REVCO (as they are commonly abbreviated) play what could be described as a typically US electro / industrial sound, with added guitars - at least sometimes. Dig out a few older Waxtrax samplers, listen to them, you'll get the idea. One of the main points of criticism I've always had with that kind of sound is that it sounds thin, trebly and lacks the oomph of European bands - Ministry sound ten tons more brutal, but then the comparison between Ministry and REVCO is a bit unfair, as they are two different entities, despite featuring Al Jourgenson. However, in contrast to sex-obsessed European bands, such as the dismal UMBRA ET IMAGO, REVCO can actually write good songs which are tongue in cheek, through and through and are exactly the opposition of being entirely embarrassing shit.
So how is the newest slab of silver from them there REVCO? Well, to be honest, not really all too spiffing. Actually, one of the best tracks in the ears of this reviewer is 'Me So Horny', a cover version of 2 LIVE CREW's seminal Miami bass stomper which made kids and adolescents grin with glee back in the early 1990ies whilst their parents became red with rage due to the explicit lyrics and made Tipper Gore fear the downfall of Western civilisation. Yet the same can be said of REVCO, who have always thoroughly enjoyed explicit lyrics, making the band the average rivet head's white boy version of 2 LIVE CREW. Alas, 2 LIVE CREW's original offering made fans wetty-wetty because it had bass, whereas REVCO's industrial-electro-rock version lacks it, thus making the average European consumer less horny on the dance floor. The second version of the track, i.e. the remix, has a bit more thump and can be considered to be the better version.
And no, there unfortunately is no dance floor stomping romp in the league of 'Fire Engine' on this one. Opener 'Trojan Horse' is at least a good attempt at a pop-rocky fuck-hymn, playing on 80ies-style cheese ball hair rock riffs. Yet it has to be noted the "Trojan Whores / Horse" word-game territory was already covered by the Swedes from CAT RAPES DOG way back in 1993, on their rabidly raving 'Moosehair Underwear' album. And unfortunately again, that album is far superior to REVCO's latest offering, despite the fact it is 17 years old. Wow, how time flies by. 'Filthy Senoritas' is a fine song, though, rather catchy, harping on a rather 80ies darkwave, Goth rock vibe and melody, reminding of the odd and old Yank Goth rock / death rock band. And it does have a bit of a thump to it, certainly one for the dance floor, not only for dirty women.
'Bitch Addictive' is another nice track, also playing high in the catchy ratings, as well as 'Air Traffic Control' and 'Poke-A-Hot-Ass', something everyone enjoys doing (with or without a strap-on dildo), so it also gets a thumb up from me. Sad to say, the other songs are more or less fillers, i.e. tracks like 'Fuck Monkey', 'Juice' and so on. A not-so-great album from REVCO, but it does have its moments. Certainly worth the money for the band's fans, everyone else should take a listen first. One thing das strike me though - why the butt-fuck don't we get to hear this band in German clubs more often?
Tracklist

01. Trojan Horse
02. Filthy Senoritas
03. Dykes
04. Juice
05. Piss Army
06. Fuck Money
07. Bitch Addictive
08. Air Traffic Control
09. Poke-A-Hot-Ass
10. Me So Horny
11. Me So Horny (Remix)
Line-up

Al Jourgensen - keyboards, programming, background vocals, production
Josh Bradford - vocals
Sin Quirin - guitars, bass, keyboards
Clayton Worbeck - programming, audio remix (11)
Sammy DAmbruoso - drum programming
Isa Martinez - background vocals
Mark Thwaite - guitar (2)
Website
http://www.thirteenthplanet.com/revoltingcocks/
Cover Picture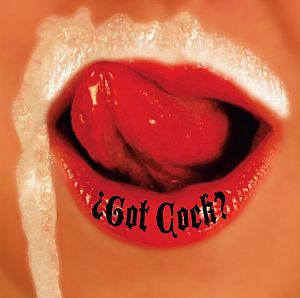 Rating

Music: 7
Sound: 6
Extras: -
Total: 6.5 / 10
{jos_sb_discuss:19}
See also (all categories):