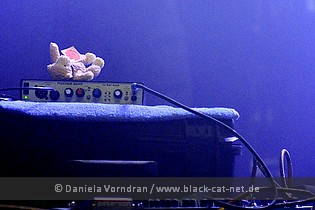 Matrix, Bochum, Germany
19th May 2011
Tarja, Leaves' Eyes, Markize

That Finnish TARJA TURUNEN is after her split from NIGHTWISH still very popular was proven by the fact that the Bochum show of her current "What lies beneath Tour" was completely sold-out. Opening for TARJA were Liv Kristine with her band LEAVES' EYES and French band MARKIZE. The venue was totally packed, it was hot, people were sweating. Standing in the photo pit you could hear that we got a very international audience with people speaking not only German but also English, Dutch and Finnish. Seemed this would become a hot and exciting night…



Markize

French-Russian Alternative / Goth Metal band MARKIZE, founded in 2003, combines rock with pop, electro and metal guitar riffs, mixing in classical and ethereal elements. The first demo CD 'Poussières de vie' was released in 2004 while it took three more years until 2007 when the debut album 'Transparence' saw the light of day. Several live shows and even TV appearances followed. The follow-up album is expected for summer 2011. MARKIZE is Alina Dunaevskaya (Vocals / Lyrics / Keyboards), Franck Chentrier (Guitars), David Verbecq (Drums) and Julien De Feyssal (Bass guitar). http://www.markize.com / http://www.myspace.com/markize / https://www.facebook.com/markizeofficial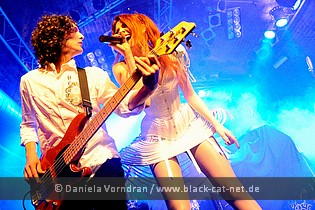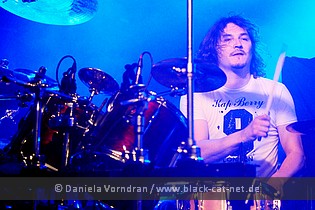 Music & Performance
MARKIZE entered the stage short before eight having a small set of six songs to offer. Before the set even started, you were visually overwhelmed by singer Alina wearing a gorgeous extravagant white dress adorned with gauze, just the shoes she was wearing alongside seemed a bit frumpy for my taste. Anyway, we are talking not about fashion here but about the music. And the songs offered did not really convince me and they did not convince the main part of the audience either judging the reluctant response the band got. It was just offered female fronted metal heart a thousand times before. Second last song was a cover of LADY GAGA's 'Bad Romance'. I really wonder why anyone nowadays needs to cover this song, especially when the cover has nothing to offer to set apart from the original. Besides that, during the show I had the impression that Alina did not sing all parts live. Last song 'Mon Ange' was quite powerful anyway and so the band got quite some applause when leaving the stage.

Setlist
01. Intro
02. Mechanical Hearts
03. A New Era
04. My Chains
05. Miroir
06. Romance is Running Out (Bad Romance - Cover LADY GAGA)
07. Mon Ange

Rating
Music: 5
Performance: 7
Sound: 7
Light: 7
Total: 6.2 / 10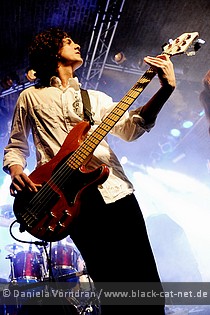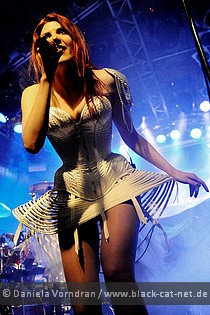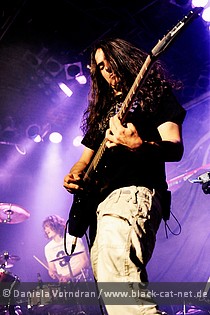 Leaves' Eyes

After her split with THEATRE OF TRAGEDY, Norwegian vocalist Liv Kristine formed her new band LEAVES' EYES together with member of ATROCITY and her husband Alexander Krull. To date, the band has released several studio albums, singles, EPs, and one live album and DVD. The latest album 'Meredead' was released in April 2011 in three different editions. Before LEAVES' EYES will go on headliner tour in autumn, the band opens up for TARJA right now in spring 2011. The current band line-up consists of Liv Kristine (Vocals), Alexander Krull (Vocals), Thorsten Bauer (Guitars, Bass), Sander van der Meer (Guitars) and Roland Navratil (Drums). http://www.leaveseyes.de / http://www.myspace.com/leaveseyespage / http://www.facebook.com/leaveseyesofficial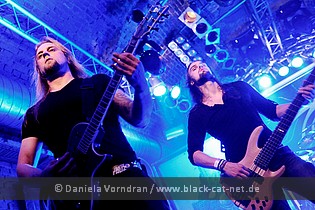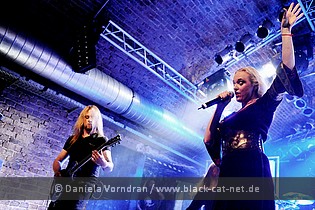 Music & Performance
Right from the start when the band entered the stage, there was much more response from the audience towards Liv and her band mates. The set opened with the first song out off the latest album 'Meredead', 'Spirits' Masquerade', followed by 'Velvet Heart' out off the same album offering a quite Nordic feel. Anyway, Liv herself looked like she came right from a Viking palace wearing a wonderful dark velvet dress with golden laces and a corded wide leather belt. When the third song 'Take the devil in me' faded, her husband Alex Krull entered the stage, welcoming the audience. But what was that? The microphone did not work and he screamed into the audience "Can you hear me?". Of course the answer was "no" followed by screams "turn it on, turn it on". But the technics failed and so, Liv first sung 'Etain' on her own before the problem was finally solved and Alex joined her on stage for 'My Destiny' offering a wonderful alternation of Liv's clear angelic voice and Alex' deep dark growls.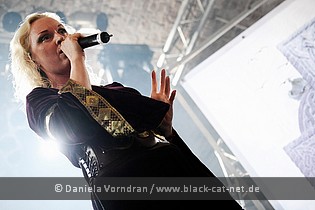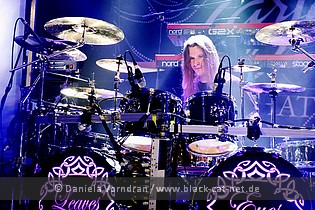 With 'Melusine' and 'Elegy', two more older well-known songs followed before it was time for Alex to do another "speech". He asked around if people know football player earning millions a year and if they are injured, they call in sick for several month. Well, he explained, that the band and Liv don't earn millions, but her wife stands on stage even though she is forbidden to tour because of a ligament rupture but she's standing on stage anyway… in very high heels I might add, but they looked wonderful, and as Liv said, you just have to wear SUCH shoes! With the following song, LEAVES' EYES were going 'To France' offering a wonderful version of MIKE OLDFIELD's song. For the last song, 'Froya's Theme', Alex joined in again leading the set to an end. Alongside 'Mot Fjerne Land', the band said goodbye to the audience who bet farewell with huge applause. Surely, TARJA chose the right support with LEAVES' EYES.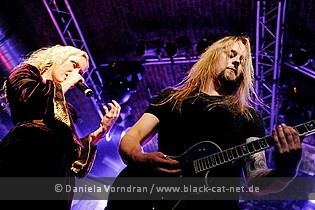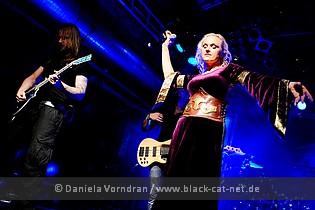 Setlist
01. Spirits' Masquerade
02. Velvet Heart
03. Take the Devil in me
04. Etain
05. My Destiny
06. Melusine
07. Elegy
09. To France (Cover MIKE OLDFIELD)
09. Froya's Theme
10. Mot Fjerne Land (Outro)

Rating
Music: 8
Performance: 8
Sound: 7
Light: 8
Total: 7.8 / 10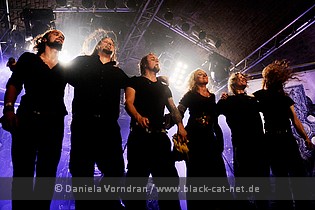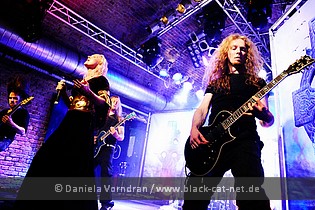 Tarja

TARJA TURUNEN is a Finnish singer-songwriter and composer, full operatic lyric soprano. Her work includes three solo albums, and an 11 song EP. She is best known as an original member and the former lead vocalist of Finnish symphonic metal band NIGHTWISH where she left the band in October 2005. After the release of  her first independent album, a Christmas project called 'Henkäys Ikuisuudesta' in 2006, 'My Winter Storm', an album with various styles, including alternative rock and symphonic metal, followed in 2007. It sold over 650,000 copies worldwide and was promoted by a big tour, the "Storm World Tour", between 2007 and 2009. TARJA's third album, 'What Lies Beneath', was released in September 2010. After supporting ALICE COOPER on his latest tour, she presents her recent album now on an headliner tour. TARJA's live band consists of Tarja Turunen (Vocals), Mike Terrana (Drums), Christian Kretschmar (Keyboards), Kevin Chown (Bass), Julian Barrett (Guitar) and Max Lilja (Cello). http://www.tarjaturunen.com/ / http://www.myspace.com/tarjaofficial / http://www.facebook.com/tarjaofficial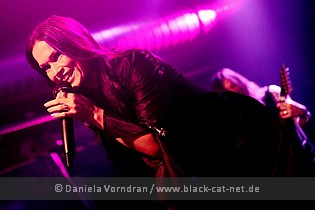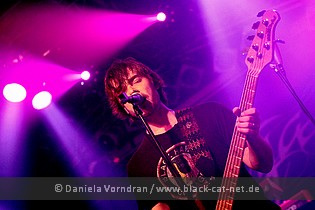 Music & Performance
It tool nearly 45 minutes until the stage was prepared for the evening's headliner. During the rebuilding break, security was finally handing out water to the heated people. Was desperately needed and highly welcomed! People were eagerly awaiting TARJA, finally starting to scream her name and when Christian entered the stage to prepare his keyboard, he was welcomed with loud screams too. Finally, lights went down and the intro 'Anterroom of Death' sounded through the hall while Tarja's band appeared on stage. Different to the last tour, where Doug Wimbish played the bass, we got now Kevin Chown. With the first sounds of 'My Little Phoenix', also the lady of the evening entered the stage wearing tight leather pants with a long black dress/coat. With a lot of fun and joy in playing, the band presented the first songs before Tarja left the stage after 'I Feel Immortal' to change clothes. For 'Dark Star' (where Kevin delivered additional vocals) she returned still with the tight pants but combined with a short amazing black dress. She really looked gorgeous and adorable!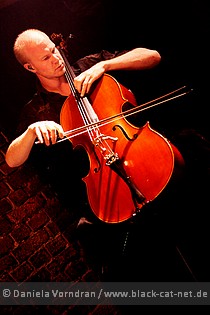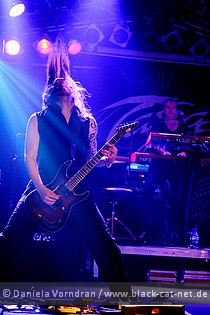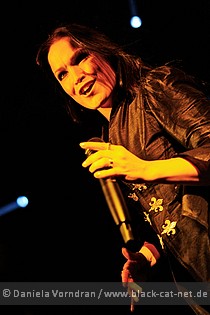 It was getting hotter and hotter in the hall and even though Tarja already had two ventilators standing in front of her, a third one was placed before 'I Walk Alone', surely one of her biggest solo hits, started. When following 'Falling Awake' from the 'What lies beneath' album ended, Tarja left the stage again… of course to change clothes… and made room for an extensive drum solo by Mr. Terrana culminating in the overture of 'Wilhelm Tell' by Gioachino Rossini presented in high speed what made the sweat dropping down his body. Then the rest of the band joined in to extend the solo to a full-band solo showing that Tarja got some really talented musicians joining her on stage. For 'Little Lies', the diva returned in a black and white leather skirt and a really sexy top. Following 'Underneath' started with perfectly played piano sounds where finally max with his cello joined in. In the course of the song, the music expanded until a full-band song perfected with Tarja's voice.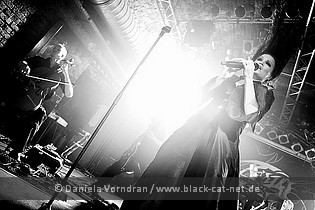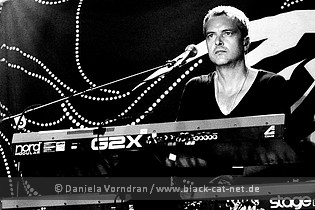 Due to her past with NIGHTWISH, it was for sure that also songs of that band would be played and with 'The Siren', the first one of the evening sounded through the air causing ecstatic audience reactions with jumping, screaming and clapping. After such a rocking song it was time for some calmer moments with a little acoustic part where the stage was rearranged. Before the acoustic part started with 'Higher than Hope', I recognised that Kevin was missing even though there was a chair for him. The answer followed immediately when Tarja told us that Kevin is feeling really bad and she hopes that he would join in again… what he finally did with the second acoustic song, 'We are'. During the few acoustic songs, Christian was perfectly playing a stage piano first before he left this place for Tarja when he than changed for a second cello. The main set ended with 'Ciarán's Well' and rocking Metal song 'In for a Kill' from the current album. When the band said goodbye, loud screams for encore and especially for the probably best known NIGHTWISH song 'Wishmaster' sounded through the tube and finally after three more songs, this wish was fulfilled, leaving the audience very satisfied after an exciting concert.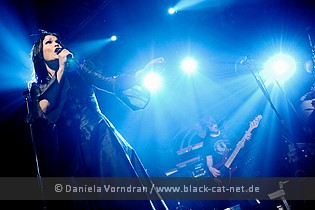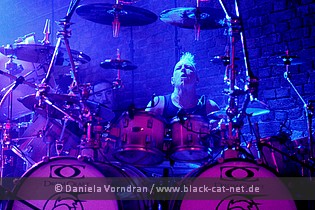 Setlist
01. Intro (Anterroom of Death)
02. My Little Phoenix
03. I Feel Immortal
04. Dark Star
05. I Walk Alone
06. Falling Awake
--- Drum Solo / Band Solo ---
07. Little Lies
08. Underneath
09. The Siren (Nightwish)
10. Higher Than Hope (Nightwish - acoustic)
11. We Are (Acoustic)
12. Minor Heaven (Acoustic)
13. The Archive of Lost Dreams (Acoustic)
14. Ciarán's Well
15. In for a Kill
---
16. Where Were You Last Night
17. Die Alive
18. Until My Last Breath
---
19. Wishmaster (Nightwish)

Rating
Music: 9
Performance: 9
Sound: 8
Light: 9
Total: 8.8 / 10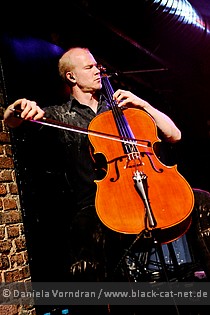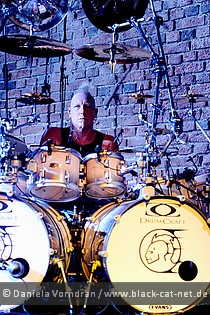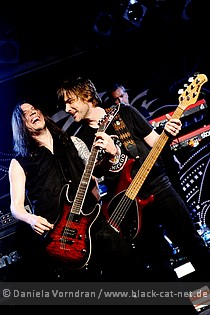 All pictures by Daniela Vorndran (http://www.vorndranphotography.com / http://www.black-cat-net.de/ / www.myspace.com/vorndranphotography / www.facebook.com/blackcatnet)



See also (all categories):