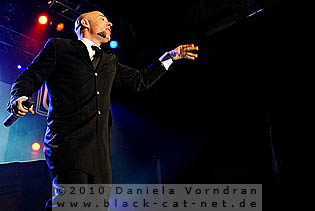 Palladium, Cologne, Germany
17th April 2010
Unheilig, Diary of Dreams, Zeromancer
Currently ongoing "Große Freiheit" tour in support of the eponymous, highly successful album of UNHEILIG breaks all records with nearly all dates being sold-out already - including Cologne! So the queue in front of the Palladium easily excelled all assumptions regarding its length. That would become a cosy little concert.
Zeromancer
Rising from the ashes of their previous bands, Kim Ljung and Erik Ljunggren gave birth to ZEROMANCER in 1999 to create something that should be much more different. First time was spent with the composition of new songs. Soon the line-up was completed with a drummer, singer and guitarist and the search for a producer could start. Not as easy as you might think it is, but in the end they found the right one with James Saez and soon the debut 'Clone your Lover' was finished. In the following time they grew to a regarded live act with festival gigs at the M'era Luna as well as small club tours. After the less successful album 'Eurotrash', ZEROMANCER tried out a different path on their third album 'Zzyzx', playing with a more catchy approach. With their fourth album 'Sinners International' released in February 2009, they're going back to their dark industrial rock roots and currently they are back in support of their latest album 'Death of Romance'. ZEROMANCER is Alex Møklebust (vocals), Kim Ljung (bass, vocals), Noralf Ronthi (drums), Lorry Kristiansen (synths) and Dan Heide (guitar).
http://www.zeromancer.com
/
http://www.myspace.com/zeromancerzentral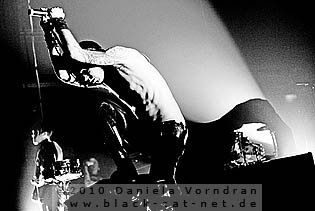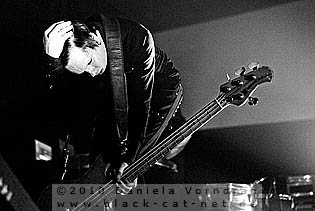 Music & Performance

If there's any band out there able to get even the most resistant crowd to move it's definitely ZEROMANCER from Norway, and they would be doing very well at the Palladium as well. When they entered the stage at 7:15 PM they met already with a very well-filled Palladium with many people all in wait for UNHEILIG. But also many others had come and mixed with the mainstream crowd. Those would be starting the fire when ZEROMANCER took off with the vibrant opener 'V' from their new album 'The Death of Romance' with Alex storming back and forth as usual and Kim supporting him with unbridled passion and encouragement. Next up were 'Doppelganger I Love You' and 'Clone Your Lover', guarantors for creating good mood and they didn't miss their effect in Cologne either. ZEROMANCER were celebrated by the crowd. If there were any UNHEILIG fans amongst them as well I can't say.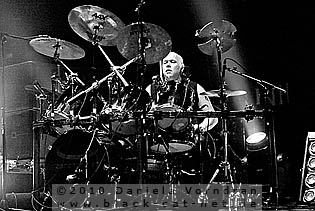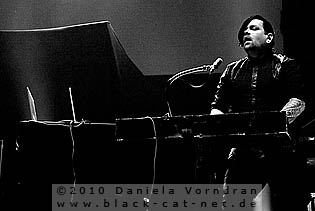 'Ammonite' had the band pouring water on some extra drums and adding a nice visual spectacle when banging on them. The set closed with the all-time favourite 'Doctor Online' and left a loudly cheering crowd.
Setlist

01. V
02. Doppelganger, I Love You
03. Clone Your Lover
04. Need You Like A Drug
05. Ammonite
06. The Hate Alphabet
07. It Sounds Like Love (But It Looks Like Sex)
08. Doctor Online
Rating

Music: 9
Performance: 9
Sound: 8
Light: 7
Total: 8.6 / 10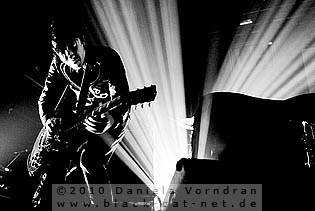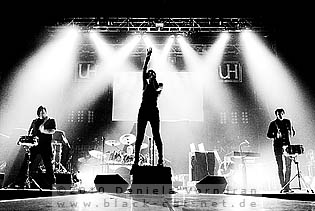 Diary of Dreams

Since 1989, DIARY OF DREAMS enchants a still growing fan base all over the world with beautiful and at times fragile tunes. Already 1.5 years after 'Nekrolog 43', the latest album '(if)' was released on 13th March 2009. In October 2009, the 'King of Nowhere' MCD including a brand new video clip has been released. Today, the band was supporting UNHEILIG on their "Große Freiheit" tour. DIARY OF DREAMS is Adrian Hates (vocals, guitar), Gaun:A (guitar), D.N.S. (drums), Leandra / Ophelia Dax (keyboards) and Flex (bass).
http://www.diaryofdreams.de
/
http://www.myspace.com/diaryofdreams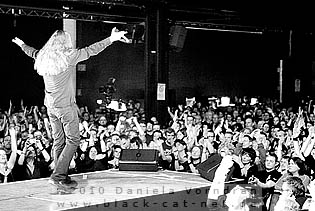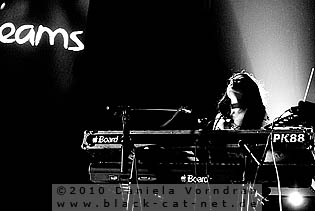 Music & Performance

It was the second time I saw DIARY OF DREAMS with their newly enhanced line-up who soon took the stage in dark blue lights to a new intro before 'The Wedding' got the set rolling and Adrian quickly using the catwalk for his advantage. The beats came crashing down and riffs cut through the thick air in the venue and at least I could see a few people dance where I was standing. Wasn't that easy seeing anything yesterday, since too many people in front of me were much taller and blocked my sight which made some acrobatic movements necessary in the tight environment. 'The Plague' gave more reason to dance, but upcoming 'She And Her Darkness' cooled things down firmly, introduced by gentle piano and even in the further course not significantly roughening down-tempo rhythms. All the attention was resting on Adrian now, emotionally performing that song.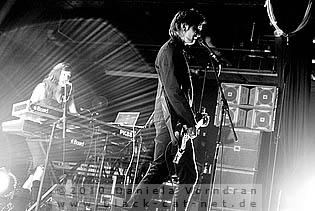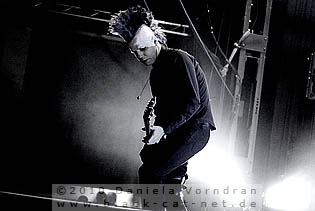 A song I didn't have on the radar this far for a live performance due to its very personal and heavy nature was 'Requiem 4.21'. I figured once that if I ever get to hear this one live I'd most likely leave the room because it still stirs up too many feelings inside me. But I had no chance to leave and so I endured it and my gaze soon drifted off and I was lost in memories. 'Traumtänzer' lifted off that weight again and as this one's always been a crowd pleaser, I was looking forward to getting a real good mood changer here. Even if I wasn't in the centre of action the mood swept over to me when the crowd was singing together with Adrian the chorus. Always a goose bump moment and the backing vocals were a perfect fit. Prior to doing the last song, Adrian said they wanted to do it together with ZEROMANCER which raised wide excitement.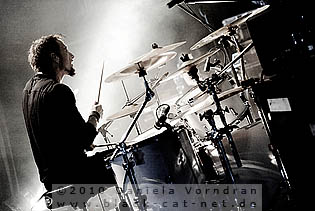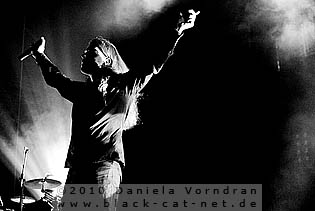 'Kindrom' was to be that song and it became one hell of a performance with Alex and Adrian riling up the crowd for one last time, and the other ZEROMANCER guys contributing additional drums or guitar. Wow! What a closer!
Setlist
01. The Wedding
02. The Plague
03. She and her Darkness
04. King of Nowhere
05. Requiem 4.21
06. Traumtänzer
07. The Curse
08. Kindrom
Rating

Music: 8
Performance: 9
Sound: 8
Light: 8
Total: 8.3 / 10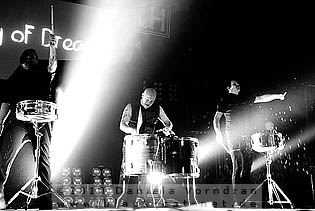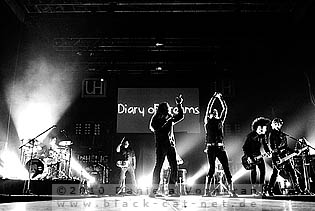 Unheilig


When the project UNHEILIG started over 10 years ago, no one would've guessed in which way it would be turning out in the end. One of the first rack to appear 'Sage Ja' already caused a stir within the dark music scene and following albums such as 'Phosphor', 'Das 2.Gebot' or 'Zelluloid' would make sure the popularity of the project around the mastermind and main protagonist Der Graf was bursting into popularity. The number of fans he won over became endless, just like the queues at one of the famous autograph sessions at festivals. Meanwhile, UNHEILIG has released the newest album 'Große Freiheit' which has broke all records and is the most successful release for UNHEILIG this far, gaining them high chart positions. A new single with the title 'Für Immer' is announced for a release at the end of May.
http://www.unheilig.com
/
http://www.myspace.com/unheilig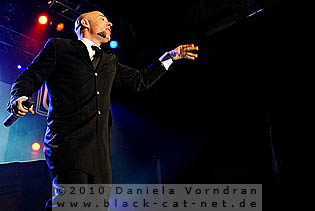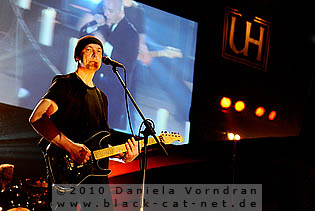 Music & Performance

Now it was getting even more packed than before (Yes that was possible), for all people got in position to for a good view on stage when their main reason to come here would be appearing on stage. But first of all we were given some old fashioned German tunes, meant to sing along and then came the moments were the room got dark, a video showing Der Graf on a lonely beach was shown to the intro 'Das Meer' which rang the bells for 'In Seenot' and the main protagonist coming like a flash into the centre of the crowd's attention racing like a dervish over the stage and making the crowd crack up completely. Following up came 'Schenk Mir Ein Wunder' and had the crowd singing along instantly, not as hard as it sounds, considering the important lines were shown on a giant screen hung up in the back. The other musicians Licky, Henning and Potti made up pale appearances, facing the extensive and expansive performance of Der Graf. I had the feeling of watching a one man show with musical backup as an alibi. Sorry if that's offending anyone but that's just the impression I had.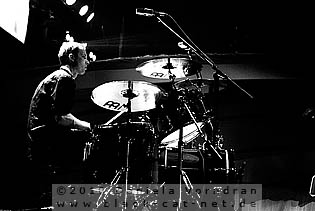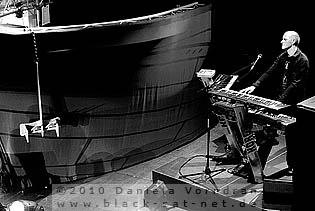 Continuing the show were 'Feuerengel', 'Abwärts', and 'Halt Mich', most of the stuff rhythmically driving and having many around me dance. A little speech came up next and Der Graf explained the meaning of 'An Deiner Seite' for himself. Perfect to establish an emotional connection! Well, it worked perfectly as I could see and hear. 'Freiheit', as expected, was a crowd pleaser par excellence and everyone kept singing loudly in turns with Der Graf. After a steady up and down of slower and faster tracks, in the last half mostly faster stuff, 'Für Immer' ended the set with joyful sing-a-longs and while I hoped for an untimely end my hopes were shattered on the floor with everyone calling the band back for an encore. It contained 'Lampenfieber' and the current hit single 'Geboren um zu Leben' for which the band employed a children's choir - admittedly not a bad idea. The crowd didn't have enough after all and still demanded more, so they got something with 'Ich Gehöre Mir' and the crowning ballad 'Mein Stern' seeing mister UNHEILIG waving a giant flag to bid his fans farewell.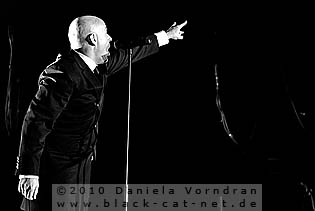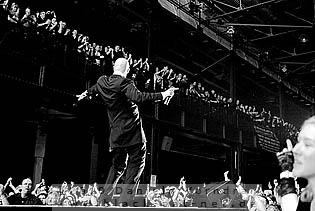 You could read on people's faces they were deeply impressed and moved by the show when leaving. I was hardly impressed though and still can't understand the current hype around UNHEILIG while others still have to struggle for attention, deserving it much more in my opinion.
Setlist

01. Das Meer
02. Seenot
03. Schenk mir ein Wunder
04. Unter deiner Flagge
05. Feuerengel
06. Abwärts
07. Halt mich
08. An deiner Seite
09. Freiheit
10. Astronaut
11. Große Freiheit
12. Kleine Puppe
13. Unter Feuer
14. Maschine
15. Für immer
---
16. Lampenfieber
17. Geboren um zu leben
18. Ich gehöre mir
19. Mein Stern
Rating

Music: 2
Performance: 6
Sound: 8
Light: 7
Total: 4.9 / 10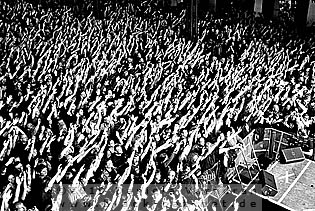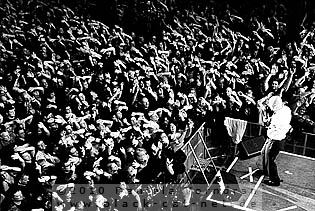 All pictures by Daniela Vorndran (
http://www.vorndranphotography.com/
/
http://www.black-cat-net.de/
/
www.myspace.com/vorndranphotography
)
{jos_sb_discuss:17}