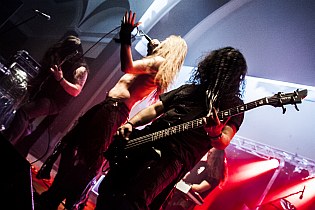 Leipzig, Germany
25th-28th May 2012
21. Wave-Gotik-Treffen Day 4: Coronatus, Darkestrah, Arkona, Týr, Finntroll

The last day of WGT came pretty fast. While at Agra, the last day offered the harder electro acts, the Parkbühne i.e. offered a day full of Wave music and the Werk II had lot of Horror Punk for you. We instead opted for the Felsenkeller, where the day offered five Metal bands…



Coronatus (Felsenkeller)

CORONATUS is the synonym for double female fronted, symphonic metal from Germany. In 2007 'Lux Noctis' and 2008 'Porta Obscura' were released on Massacre Records. Both albums were recorded and mixed at Klangschmiede Studio E by Markus Stock and mastered at the Finnvox Studios in Helsinki by Mika Jussila. CORONATUS' lyrics range thematically between as many directions as linguistically, but are rooted primarily in the legends, stories and myths being told all over the world. Their latest record 'Terra Incognita' has been released on Nov 18, 2011. http://coronatus.de / http://www.myspace.com/coronatus / http://www.facebook.com/CoronatusOfficial

Music & Performance
Although the band and the labels are heavily promoting the fact that with CORONATUS we have a double female fronted group, it somehow passed me by, so that was the first surprise that day. Since it was my first time on that site, the second one was the sound turning out much better than I was expecting according to the heavy complaints about the FELSENKELLER location in that regard, which I found on the WGT boards. That would be the case not until later that day, actually CORONATUS had to struggle a bit.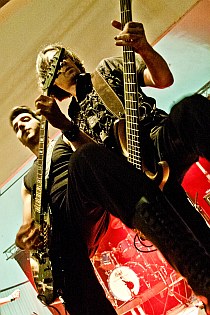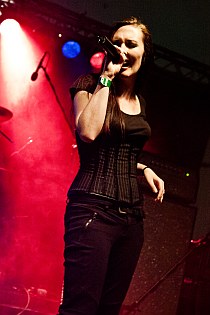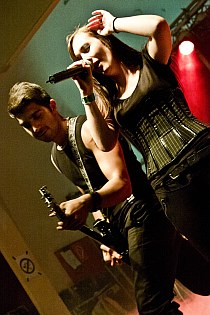 While in the front of house the microphones dynamically moved along the bottom line but the rest of the mixed came through very tight and forceful (especially for a single guitar), in the kind-of-gallery in the back the ladies were audible but the bass drum rumbled over the soundscape with little to no kick. Anyhow the music itself, which for me is good without doubts but lacks that certain something, made the same impression on me as on record to be honest. There are some very well written pieces performed that afternoon and the band apparently brought along a lot of fans according to the band's shirts sold and worn by the people in the audience, so maybe I was not in the mood. The so-so impression was supported by the good but not flawless vocal performance, especially the parts where chanting met some very restrained notes but I don't want to be nit-picky on that. The band had a lot of fun and was very sympathetic. They apparently were glad to see that the people also were having fun, asking why they are not outside enjoying the nice weather. The answer is: inside some nice music was playing and that is reason enough.

Setlist
01. Geisterkirche
02. Tantalos
03. Screams of the Butterbrot
04. Fernes Land
05. Silberwicht
06. Exitus
07. Dead mans tail
08. Wasser
09. Mein Chärz
10. Wolfstanz

Rating
Music: 7
Performance: 7
Sound: 6
Light: 5
Total: 6.3 / 10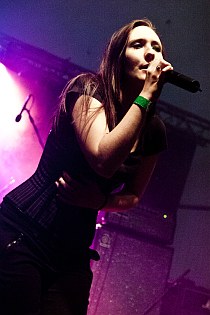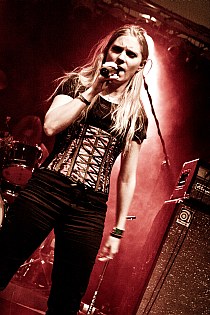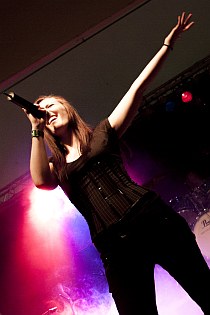 Darkestrah (Felsenkeller)

DARKESTRAH formed in mid-1999 by Asbath in Kyrgyzstan. In February 2003 the debut album 'Sary Oy' was recorded, which gained a wide response worldwide through NCR in 2004. DARKESTRAH are Kriegtalith (vocals), Resurgemus (guitars/synths) Asbathdrums/percussion) and Sharthar (keys/cello). Their latest record "Khagan" (EP) has been released September 24th, 2011. http://www.darkestrah.vze.com / http://myspace.com/officialdarkestrah

Music & Performance
Another surprise for me was that the band I was looking forward to the most that day turned out to be the one I liked the least. DARKESTRAH were off to a bad start from the beginning. The first song opened with little to no audible bass and guitar. Vocal performances with only drums and synthesizers may work but as little the chance is in the first place, here it didn't. In addition to that the band brought some very evil attitude along, with all the stuff from the 101 to black metal dress code including corpse-paint and chains what also didn't work to their advantage. Vocalist Kriegtalith screaming and acting her evilest performance while the music was kind-of failing in the meantime had something mildly funny to it.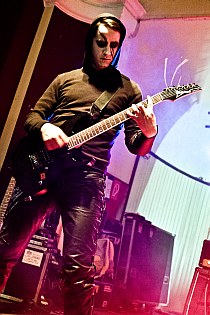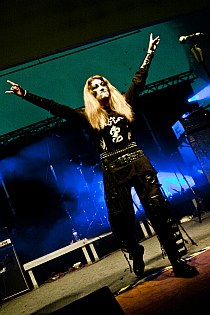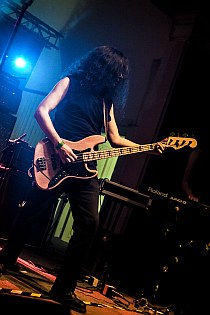 An awkward five-minute pause followed in which the issues were fixed and the show continued. The second set piece had some audible guitars, but with a lot of gain, which hardly brightened the impression. But it is black metal and there isn't supposed to be anything bright to the music, so I decided to deal with it - even the barely audible bass and keyboard which for some probably songwriting-relevant reason was operated only half the time. The first two third of the gig dragged on. The setlist in my opinion could have been better. There was a lot of indefinable strumming going on paired with an un-thrilling drum performance. From time to time I even had the impression the keyboards and the guitars weren't in the same song but that could be my senses playing tricks on me. The light operator obviously found the performance as dull as me, since the spots were changing in auto mode, while he was surfing the web. There were some enjoyable moments but there were rare, in good parts due to the bad sound. As much as I like DARKESTRAH on CD, as much do I hope they are not always like this when they perform live.

Rating
Music: 7
Performance: 7
Sound: 3.5
Light: 5
Total: 5.6 / 10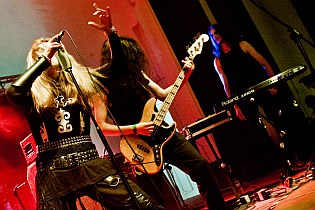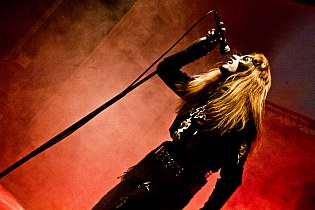 Arkona (Felsenkeller)

ARKONA (Аркона) is a Russian pagan metal band. Their lyrics are heavily influenced by Russian folklore and Slavic mythology, and their music incorporates several traditional Russian musical instruments. The name of the band "Arkona" refers to the last pagan Slavic city-castle. Their singer, also historian and songwriter, Maria "Masha" Arkhipova, is one of relatively few successful female vocalists to sing in a death growl style. The band was founded in February 2002 by Masha and Alexander Korolyov. In the end of 2002 they recorded demo album 'Rus' and have started give concerts. They have performed together with such famous Russian folk metal bands like Butterfly Temple, Pagan Reign, Svarga, Rossomahaar. Then the band had a pause because of lack of musicians. In 2008, ARKONA signed to the Austrian label Napalm Records and re-published the studio album Ot Serdtsa K Nebu which had already been released by Soundage Productions in 2007. Till today, ARKONA released 6 full-length albums as well as a live CD. Their latest output 'Слово' has been released August 26th, 2011. http://www.arkona-russia.com/en / http://www.myspace.com/arkonarussia / http://www.facebook.com/arkonarussia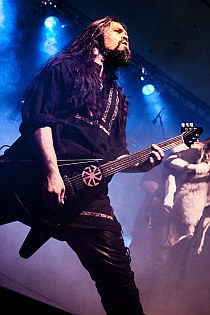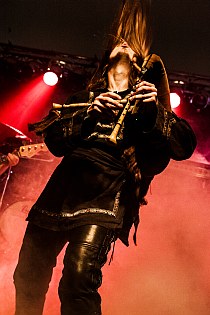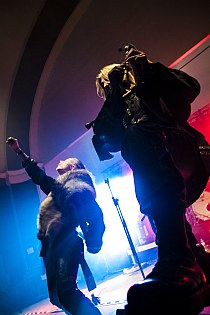 Music & Performance
The day turned out to be full of surprises: The band that followed I was looking forward the least but they turned out to be best that last day of the WGT. Since I witnessed ARKONA perform at the Ragnarök Festival several years ago, I tried to avoid them since. That time I found their whole performance, music, show and attitude very unnerving. Those aspects haven't changed much over the years I guess, at least not from the side of the band, beside the obligatory growth of experience, but I found myself enjoying that very same band a lot this year, although I still don't know a word of Russian. I'm not that familiar with their back catalogue to say which of the songs were new and which were classics but what I can say is that the selection of songs was great; every chosen track did work. With mostly up-tempo tracks the audience was brought to a boil but also the quieter ones worked very, very well. I have to acknowledge that ARKONA know to write their songs to be thrilling, thought-out and never boring. There was a fast change of instruments going on but the sound was on their side in general. I often heard flutes to be barely audible or unnervingly loud but here the mix was spot on. Masha swirled across the stage, as energetic as she popped something, still looking as if she did not had a good hair wash in months and acting totally like a guy who has a bottle of vodka for breakfast – but that probably makes her that sympathetic. Beyond the smoke that crawled from the stage people were clapping, jumping and even singing along and apparently having such a good time as I had.

Rating
Music: 9
Performance: 9
Sound: 9
Light: 7.5
Total: 8.6 / 10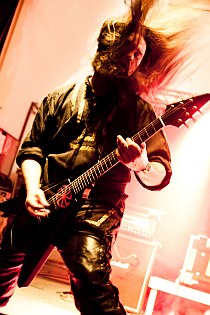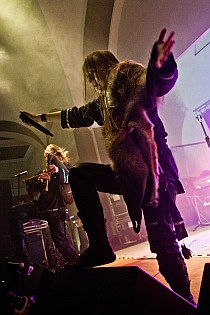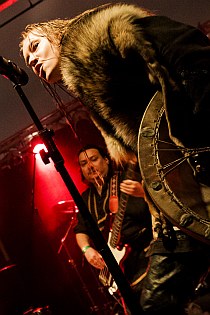 Týr (Felsenkeller)

TÝR were founded in the year of 1998 by guitarist Heri and Kári in Kopenhagen, Denkmark. Inspired by traditional Faroeian and classical music but also by bands like Black Sabbath and Dream Theater, TÝR play Progressive/Folk Metal. Their lyrics often are influenced by ballads and mythology of the member's home country. Since 2002 the band has a fixed line-up consisting of Heri Joensen (guitar, vocals) Kári Streymoy (drums) Gunnar H. Thomsen (bass) and Terji Skibenæs (guitar). Until today they have released 6 full-length records. TÝR's latest release, 'The Lay of Thrym', has been released May 27th, 2011. http://www.tyr.fo / http://www.myspace.com/tyr1 / http://www.facebook.com/tyrband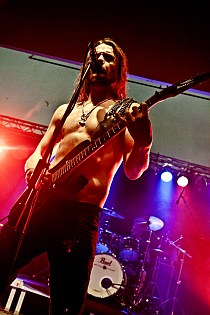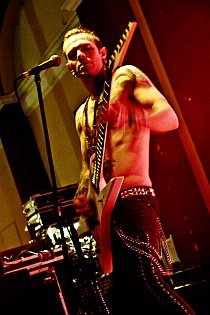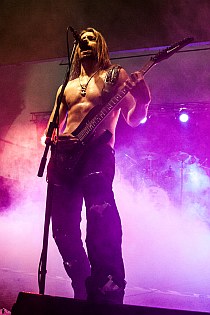 Music & Performance
As with ARKONA, TÝR and I also have a difficult relationship. A few years ago there was a time there was barely a festival that didn't had TÝR on the billing and I watched them perform a little too often in a short period of time. Back in that time the pacing of TYR's music was of slower pacing than the stuff they are writing today, not to say lengthy – so I avoided them for some time too. To make things short: they didn't leave the impact AKONA did but I found new respect for the music they make, which is really great stuff. By now TÝR found the fine line between complex and expansive song structures and head-nodding sweeping parts. Apparently that occurred to them to since the setlist almost exclusively consisted of songs from the last two records, which more often put the pedal to the metal than previous releases. And these songs were played flawlessly. TÝR are and have always been an extraordinary live band which is able to deliver the songs as great and tight as they are played on CD.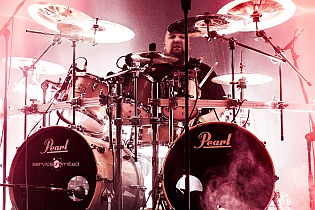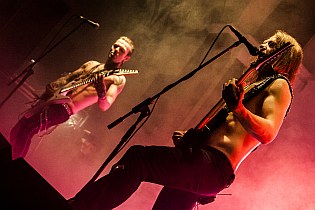 Live you also get the extra of watching them perform with pride and attitude, as they are coming right out of battle to sing us from their heroic deeds, what goes well with the dignity the songs emit themselves. Unfortunately there were less people there to witness than in ARKONA's audience, so a lot of them surely missed out to experience some great progressive metal with extraordinary instrumental and vocal performances. However it was very sad that none of their classics were performed like "Hail to the hammer" the people were certainly waiting for.

Setlist
01. Flames of the free
02. Shadow of the swastika
03. Hall of freedom
04. Sinklars visa
05. Northern gate
06. Trondur i götu
07. Take your tyrant
08. Evening star
09. Hold the heathen hammer high
10. By the sword in my hand
11. The lay of thyrm

Rating
Music: 9
Performance: 9
Sound: 9
Light: 7.5
Total: 8.6 / 10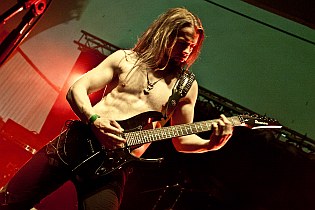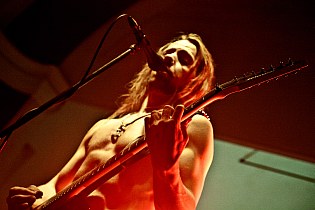 Finntroll (Felsenkeller)

FINNTROLL is a folk metal band hailing from Finland, combining various elements from extreme metal with Humppaa, a Finnish traditional music. Their lyrics are mostly in Swedish. Over the years, six studio albums have been released, such as 'Midnattens widunder' (1999), 'Nattfödd' (2004) or the latest output, 'Nifelvind' (2010). FINNTROLL is Mathias "Vreth" Lillmåns (vocals), Samuli "Skrymer" Ponsimaa (guitar), Sami "Tundra" Uusitalo (bass), Samu "Beast Dominator" Ruotsalainen (drums), Henri "Trollhorn" Sorvali (keyboards) and Aleksi "Virta" Virta (live keyboards). The band will enter Sonic Pump Studios in November 2012 to record their 6th full length album. http://www.finntroll.net / http://www.myspace.com/officialfinntroll / http://www.facebook.com/officialfinntroll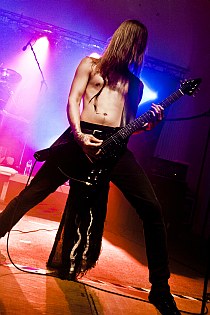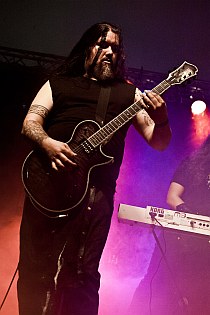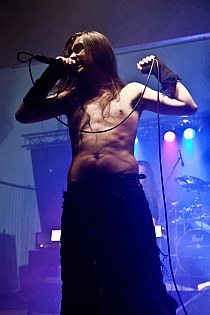 Music & Performance
To the performance of FINNTROLL I was definitely looking forward to since I haven't seen them for 7 years. That is quite a time and some things have changed line-up and music-wise. Vocalist Vreth and keyboarder Virta are established band members and their last record 'Nifelvind' definitely showed a trend to more black metal oriented song writing. That showed also live since the keyboards were more withdrawn then I would have expected since that is the instrument which made the band and its sound famous. FINNTROLL showed a straightaway metal performance with crisp guitars and a lot of energy. On the stage little was going on. A lot of fog came crawling in and the band itself was mildly trolling with loincloth over their regular one and thick black bars over their faces and bodies. Being good songwriters the songs they played worked well on their own but Vreth kept animating the hell out of the audience. Of course some classics were incorporated into the set like 'Midnattens widunder' or 'Rivfader'. During the latter the audience was asked to split in the middle and everyone knew what should follow but some of them did not know how a wall of death works. They started running during the introduction part so that a chaotic mess (even more chaotic than how it would be if it worked) was the consequence.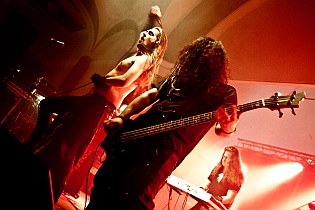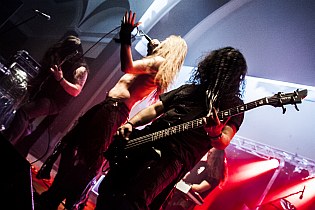 Being a defier of any moshing and pit actions I found that genuinely funny. But the vocalist was is doubts in the first place since he asked the audience after watching "4 days of gothic bands, how many people actually know how to make a moshpit". However the concert was enjoyable, the people were having a great time and FINNTROLL proved that they were a worth headliner of that last day of this year's WGT.

Setlist
01. Manniskopesten
02. Nedgång
03. Nattfödd
04. Kummitus
05. Sång
06. Slaget vid blodsälv
07. Grottans Barn
08. Midnattens widunder
09. Rivfader
10. Solsagan

Rating
Music: 9
Performance: 9
Sound: 9
Light: 7.5
Total: 8.6 / 10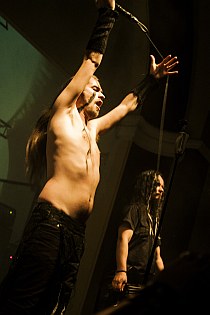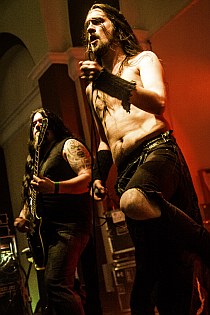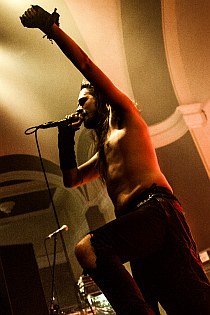 Pictures by Florian Schürmann