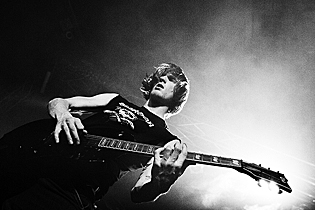 LKA Longhorn, Stuttgart, Germany
27th October 2006
10 Years metal.de Anniversary Festival: Equilibrium, Neaera, Disillusion, Undertow, Criminal


In the course of the last decade quite a few music webzines have been brought into being and are competing with the print magazines with quickly available and broad information. Concerning the Metal genre, the webpage
metal.de
has been one of the first online magazines, and this October it could celebrate its 10th anniversary. On this occasion, the metal.de crew had invited to a special concert event taking place in the LKA Longhorn Stuttgart and featuring special guests like the exceptional Metal band DISILLUSION, the Metal-core band NEAERA and the Melodic Black Metal group EQUILIBRIUM. The first three hundred visitors could expect to get a present, and you could meet some of the musicians at their merchandising stands. The also very attractive admission charge allured quite a lot of people to the venue this evening.
www.lka-longhorn.de
CRIMINAL


The Chilean Metal band CRIMINAL exists for quite a while now, and about ten years ago they were really successful in their home country. The group has been established in the beginning of the nineties by Anton Reisenegger (vocals/guitars). Their self-released debut album "Victimized" was very successful and they got a contract with BMG. The following years were filled with touring with numerous well-known Metal acts, the release of two more full-length albums and a label change to Metal Blade. In 2002 Anton and Rodrigo decided to move to Europe, as they do not see a bright future in South America. Their latest release, entitled "Sicario", appeared in 2005. In Germany they aren't that reputed, but this may change in the future. CRIMINAL are Anton Reisenegger (vocals/guitars), Rodrigo Contreras (lead guitar), Juan FCO Cueto (bass) and Zac O'Neil (drums).
http://www.criminal1.com/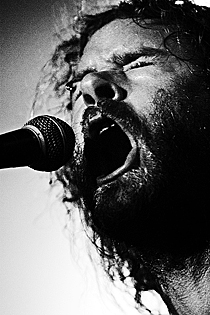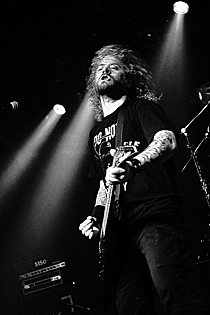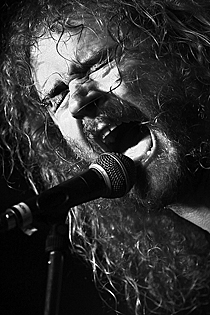 Music

The four guys from Chile play Thrash Metal with tendencies towards Grind-core; in their early days they were often compared to SEPULTURA, not only because of their origin. This evening they had a rather bad sound in the Longhorn, and so their songs were kind of unspectacular during the biggest part of their set. Only from time to time some guitar solo or melody did catch my ear.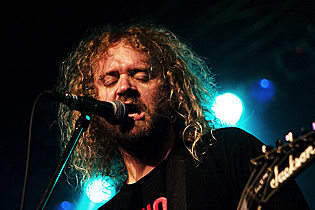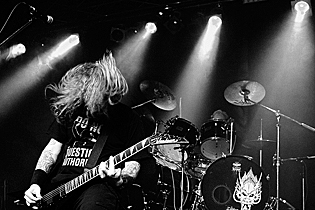 Performance

CRIMINAL were the evening's first act, but nevertheless quite a lot of people had already gathered in front of the Longhorn stage. Apart from the bad sound, the band delivered an experienced performance with no real highlights.
Rating

Music: 6
Performance: 6
Sound: 3
Light: 6
Total: 5.6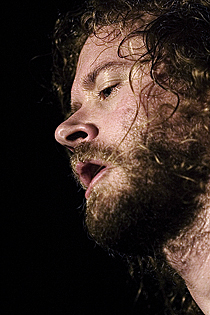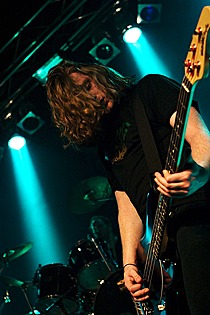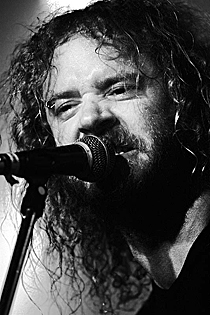 UNDERTOW


The last time I saw, or should I say heard UNDERTOW was at the Summer Breeze Open Air in Dinkelsbühl. Once again they impressed me with the energy their music is able to bring about. The band has been started in 1993, and one year later they released a first demo. In 2002 their first full-length album "Unit E" appeared. With a lot of live performances they managed to gather quite a few fans around them. Their latest release is the album "Milgram" (2006). UNDERTOW are Joachim 'Joschi' Baschin (vocals, guitars), Thomas Jentsch (bass) and Rainer Pflanz (drums).
http://www.undertow.de


Music

This evening their sound was not the best, but nevertheless their music knows how to entertain and they were able to put the audience into good humor. I especially liked Joachim's voice. Down-to-earth, honest and full of power – the guys from Ellwangen play Metal with clear Doom influences and rather melodic vocals; they have often been compared to CROWBAR. But to really impress, they would have needed a better sound this evening.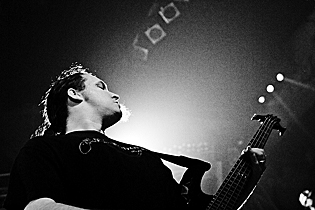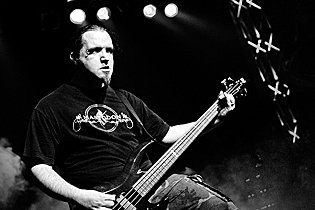 Performance

What can I say about their performance? It was a typical one for a Metal band. Vocalist Joachim stood behind his microphone most of the time, singing and shouting with great devotion. Bassist Thomas frolicked indefatigably over the stage floor and drummer Rainer could be hardly seen behind his drum kit with the scanty light in the venue, but instead he was very well audible.
Rating

Music: 7
Performance: 6
Sound: 4
Light: 7
Total: 6.3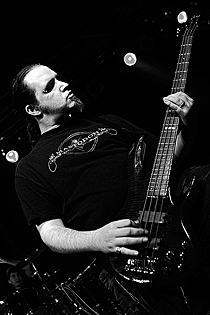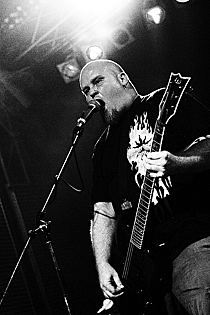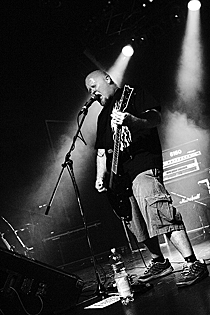 DISILLUSION


DISILLUSION have recently released their second studio album with the memorable title "Gloria" (Metal Blade), and the music press overturns with praise. Cross-border, innovative, ingenious are only a few attributes they are given. Their story begins in 1994, when the band from Leipzig tried to mix up a sound similar to PANTERA and MACHINE HEAD with more melodic and melancholic parts. Seven changeful years later they released the widely noticed demo "Three Neuron Kings"; together with the 2002 EP "The Porter" which earned them a contract with Metal Blade. Their first full-length studio album "Back to Times of Splendor", a very complex creation, appeared one and a half years later. One can be curious what to expect from this band in the future.
http://www.disillusion.de
Music

When a newcomer band gets such good critics in the music press, it can happen that people go to their concerts and get a little disappointed. I had never seen them live before and was very curious about how they would bring their album stuff on stage. Knowing their debut "Back to Times of Splendor", and not having any other information about the band, one may be a little irritated seeing only three guys on stage, besides drummer Jens Maluschka there were vocalist Vurtox (Andy Schmidt) and Rajk Barthel, both with guitars. So where's the bass player? Or the keyboards? As the band handles it in most of their concerts nowadays, also this evening the additional instruments came from tape. To the present day they could not really complete their line-up, and so they try to make the best out of it. DISILLUSION's sound is quite inconvenient and diversified, their music can hardly be labeled, it is something between Thrash, Progressive, Industrial and Black Metal; they are just mixing up different genres they like to a self-contained composition. This night they did not have the best sound conditions, but nevertheless I found their set very impressive and they did not disappoint me, on the contrary, I got even more curious about them. But I talked to some people during the concert and afterwards, and most of them were not satisfied, especially with the band's sound - which surely was different from the one on the albums.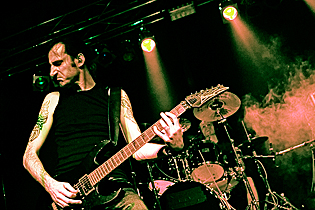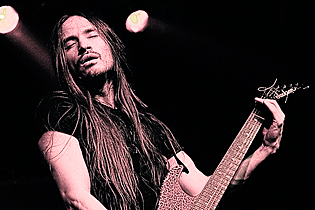 Performance

From time to time during their set I somehow got the impression of the band being a little lost on the stage. No posing or show, just these three guys making their music, laying their heart into it. What more can you expect?
Rating

Music: 8
Performance: 8
Sound: 7
Light: 7
Total: 7.7
NEAERA


I now don't know why, but the opinion I had about NEAERA before this concert night was not the best. So I didn't expect very much of their performance. But I completely mistook. The band from Münster has been started in 2003, in the beginning named THE NINTH GATE. Two years later they released their first long-player "The Rising Tide of Oblivion". Their latest sign of life is the album "Let the Tempest Come", which appeared this year. NEAERA are Benjamin Hilleke (vocals), Stefan Keller (guitars), Tobias Buck (guitars), Benjamin Donath (bass) and Sebastian Heldt (drums).
http://www.neaera.com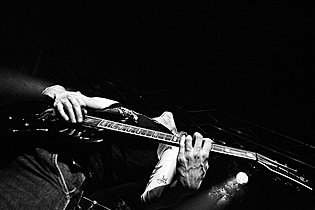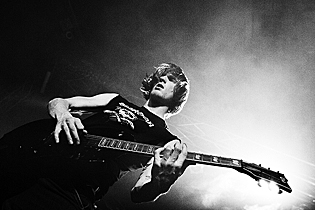 Music

NEAERA unleashed a furious thunderstorm over the audience. Luckily the sound was much better now, and loud as hell. You just had no chance of escaping this. The German band played Metal-core with strong Death Metal elements. Fast drums, inspiring guitar play by Stefan and Tobias and Benjamin's very deep Death Metal growls taking turns with clear vocals and aggressive shouts - for me this band was the evening's highlight, not only because of their fantastic sound.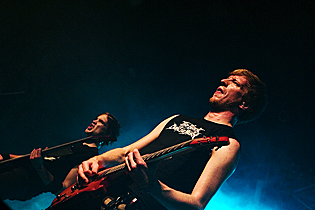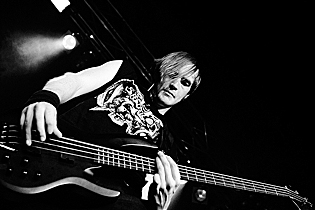 Performance

The five guys' stage performance absolutely fitted their music. You could see they were laying their heart and soul into it, especially vocalist Benjamin jumping around, banging; and from time to time looking for direct contact with his fans he was climbing down from the stage and continued to sing right next to them. The crowd itself was wildly celebrating them and there were lots of crowd surfers.
Rating

Music: 9
Performance: 8
Sound: 8
Light: 7
Total: 8.3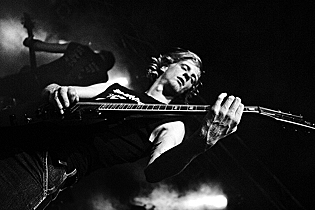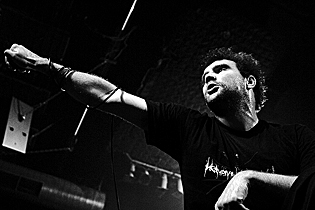 Unfortunately I had to leave the venue way too early, so I completely missed the main act EQUILIBRIUM. They have become quite famous during the last years, and I would have liked to see their show. The German Melodic Black Metal band exists since 2001; after their first studio album "Turis Fratyr" they changed their label from Black Attakk to Nuclear Blast. They are currently working on a new output entitled "Sagas".
{jos_sb_discuss:18}