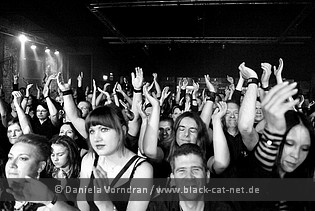 Werk 2 Halle D, Leipzig, Germany
4th October 2014
Darkflower Live Night: Beyond Obsession, Eisfabrik, T.O.Y., Melotron, Diorama

Just like the Darkflower as an alternative club itself, the Darkflower Live Night has become a well-known thing not only in Leipzig. Having open air version of this mini-festival in July at Parkbühne Leipzig, this time Werk 2 was chosen as the concert location with BEYOND OBSESSION, EISFABRIK, T.O.Y., MELOTRON and DIORAMA entertaining the audience with synth pop sounds at the 7th Darkflower Live Night.
Beyond Obsession [Susann]

BEYOND OBSESSION was founded in June 2012. In October, the band released their first single 'On My Way'. The second single 'Tokio Underground' followed in March 2013. Finally, the CD 'Listen, Learn and Speak' was released on September 21st, 2013. From the very beginning, it was intended to perform the songs live. So BEYOND OBSESSION started several club gigs and festival appearances and also supported PSYCHE and lately CAMOUFLAGE during their open air shows in May 2014. The songs of the band cover a wide range of musical styles from ballads to up-tempo dance tracks. With influences from electronic music from the 80ies and today's scene, BEYOND OBSESSION have developed the sound of their youth further to the present day, thus creating their own musical world. Nils, responsible for songwriting, vocals, synth and guitars, is the musical head behind the project, while André and Sören add their parts on additional synth and drums.
https://www.facebook.com/beyondobsessionofficial
/
www.beyondobsession.de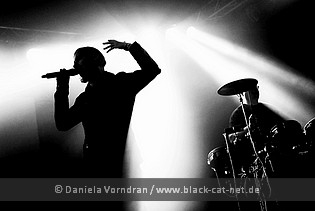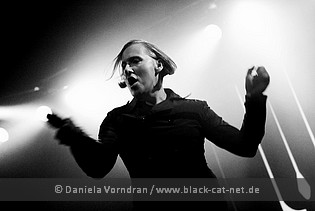 Music & Performance

As the first band of the evening BEYOND OBSESSION played in a rather clearly full hall. The stage setup consisted of a synthesizer with band banner and drums. In the video screen the band logo was shown. The first song 'Cold Side of the Bed' was a very danceable song, which invited me immediately to dance. Also at 'Nothing like that' it felt hard to stand still what some people in the audience managed, however, very well. With the SPARKS cover 'Never turn your back' it became a little more quietly on the stage. Nils voice was well suited to the song which is automatically called memories of Martin Gore (DEPECHE MODE), who covered that song as well. Now after the quieter number it became again faster on the stage. With 'On my Way' and the last song 'Tokio Underground', BEYOND OBSESSION said goodbye after six songs of the stage. I would have wished them that the audience would have gone along a little bit more, because the songs were good performed. I hope to be allowed to see them again.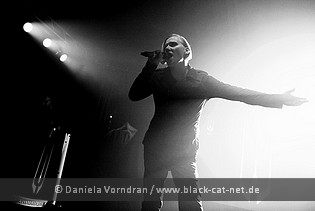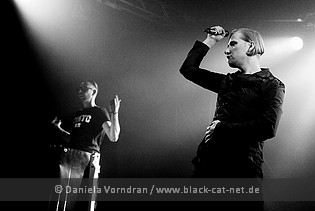 Setlist

01. Good Luck Boys (Intro)
02. Cold Side of Bed
03. Nothing like that
04. Free and Lost
05. Never turn your Back (Sparks Cover)
06. On my Way
07. Tokio Underground (Hartung & Schleinitz Remix)
Rating

Music: 7
Performance: 7
Sound: 8
Light: 7
Total: 7.25 / 10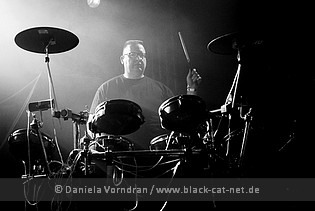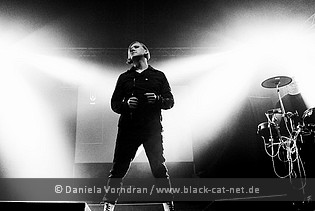 Eisfabrik [Fee]

The music project consists of Dr. Schnee, Der Frost and Celsius, all nicknames cause the band member want to hide their true identities as they're all member of other well-known bands. This little information makes the listener of their music maybe guess who the band members really are. The project chose its band name by the biggest industrial centre in Alaska and so the music got a concept: EISFABRIK was born. The band itself is shouting out the end of the ice age in the club scene with their tracks.
https://www.facebook.com/eisfabrikofficial
/
www.eismusik.de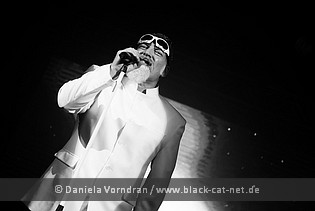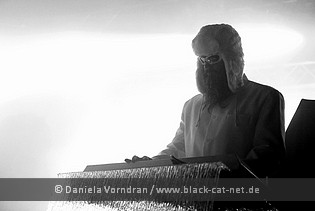 Music & Performance

When those three guys were entering the stage with their long beards, hats and the guys on the synthesizers wearing winter jackets, the audience was pretty amazed by the look. The synthesizers were decorated with ice-like elements. So the stage decorations were perfectly fitting to the bands clothes and both - stage decoration and the look of the band members- created a great bridge to the band's name. And also the background videos full of ice and snow did a great job. Just to mention, the performance at Darkflower Live Night was the first performance of the band ever. And it was great. I guess no one expected such a soft and electronic synth-pop sound. So the band definitely kept the promise of ending the ice age in the club scene somehow.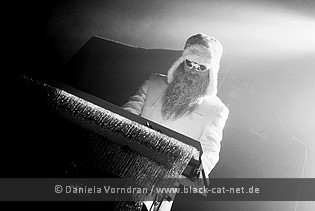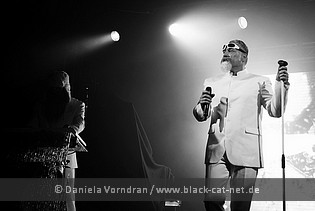 Setlist
01. Ice Crystal
02. Polar Night
03. Without You
04. Always Continue
05. Unreal
06. A Million Lights
07. Friends
Rating
Music: 7
Performance: 8
Sound: 8
Light: 8
Total: 7.75 / 10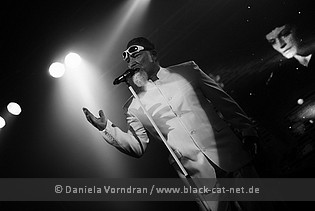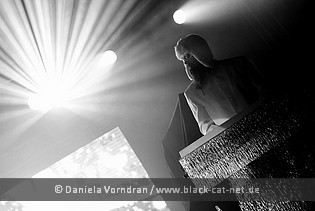 T.O.Y. [Susann]
T.O.Y. started in 1992 as EVIL'S TOY as the project of Volker Lutz and Thorsten Brenda and they released their debut album 'Human Refuse' in 1994. Their combination of distorted vocals and EBM rhythms with occasional touches of melody proved relatively successful, though their real breakthrough came two years later with their 'Organics' single, which received significant airplay on both sides of the Atlantic. The 'Illusion' album in 1997 was the last by this act that might accurately be defined as "Industrial". Even then, there were signs that the band's style was moving towards synth-pop, with the 'Angels Only!' album the following year moving away from distorted vocals. Soon after renaming themselves, the re-formed band released their first album, 'Space Radio', which defined a fresh and revitalized style. Their second album under the name, 'White Lights', was diverse and followed a similar line that was familiar to listeners of the previous album. In September 2014, Markus Helmert, who was playing keyboards and drums, had to quit the band due to health reasons. About the same time, Taranczewski re-joined the band as a keyboardist. Together the new / old line-up will finish the upcoming album 'Pain is Love' as well playing live gigs.
https://www.facebook.com/pages/TOY/261544184926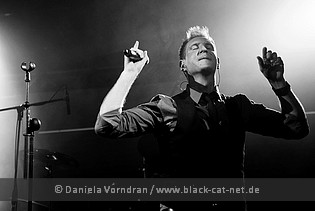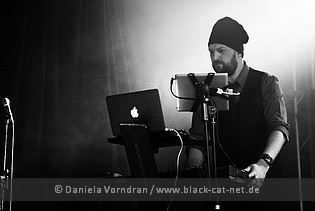 Music & Performance
As the third band of the evening T.O.Y. started with 'Welcome to Space Radio' in front of a dance enthusiastic audience, which celebrated from the first minute with. With 'I hear you calling' it went straight on. Also in this song you could dance and Volker's voice fits incredibly well to the songs, which thereby get its own character. 'Dream with me' and 'Do dreams bleed?' came along a little more quietly but anyway you could still dance to it. 'The final Night', a number of the soon appearing album, was well implemented and makes you curious about the new album. 'Virtual State' and 'Style' were well-known numbers which reminded of the times of EVIL'S TOY and were taken up by the audience enthusiastically. With 'True Lovers', the audience went off properly. No one could stand still anymore. You felt like you have to jump and you want to do this throughout the whole song. With 'May way to you', T.O.Y. offered a small foretaste of the new album again. T.O.Y. said goodbye to the fans with 'We are electric'. All in all it was a successful show which makes desire for more T.O.Y.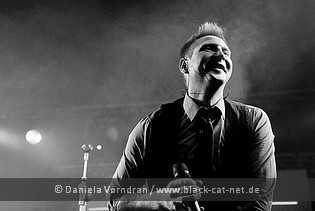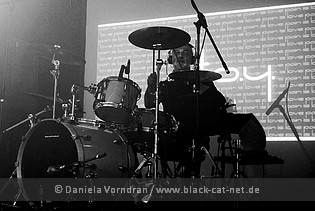 Setlist

01. Welcome to Space Radio
02. I hear you calling
03. Dream with me
04. Do dreams bleed?
05. The final night
06. Virtual State
07. Style
08. True Lovers
09. May way to you
10. We are electric
Rating

Music: 9
Performance: 8
Sound: 8
Light: 8
Total: 8.25 / 10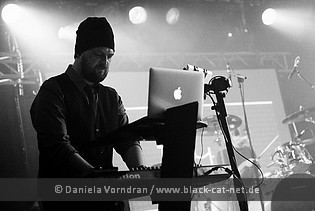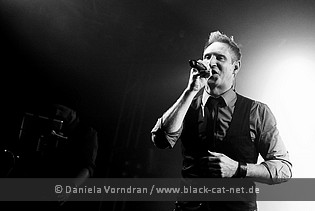 Melotron [Fee]

MELOTRON is a famous Synth Pop band from Germany which formed in 1996 and is known for their melodic and soft songs with German lyrics. Over the years they had released several albums. Currently they're touring with their album 'Werkschau'. MELOTRON is Andy Krüger (vocals, composition), Edgar Slatnow (keyboard, lyrics) and Kai 'Hilde' Hildebrand (keyboard, programming).
http://www.melotron.com/
/
https://www.facebook.com/Melotron.offiziell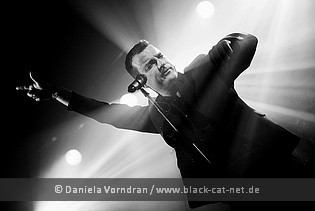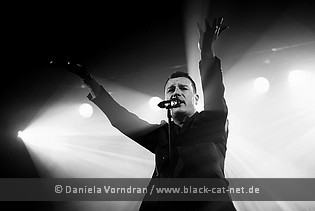 Music & Performance

As I know the band and their songs since years but never saw them playing live, I was waiting excited for the band to perform. On my wish list for this evening was only one song: 'Tanz mit dem Teufel'. This one is one of my personal favourites of the bands tracks and I really love it since I firstly discovered the band in 2006. And my wish was fulfilled. Andy Krüger was performing the songs to and audience which was hardly waiting for DIORAMA to perform, so only a little of the people were singing the tracks along. Not sure if they didn't like MELOTRON or if they were just too lazy to sing along. A few did definitely and had their fun and so did I. I was quite surprised that I could still remember nearly all the lyrics as I must admit that I hadn't listened to the bands songs since 2006 when I was driving with a friend of mine to several Depeche Mode stories. But I did which proofs that MELOTRON has really catchy songs you will never get out of your head again.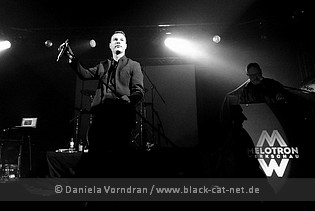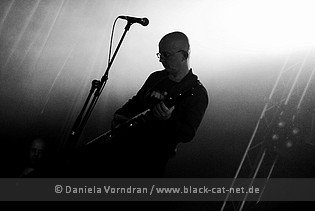 Setlist

01. Du bist es nicht wert
02. Love is Calling
03. Das Herz
04. Der Anfang
05. Maschinen aus Stahl
06. Kindertraum
07. Tanz mit dem Teufel
08. Menschenfresser (Rio Reiser cover)
09. Gib mir alles
10. Stuck in the Mirror
Rating

Music: 8
Performance: 8
Sound: 8
Light: 8
Total: 8 / 10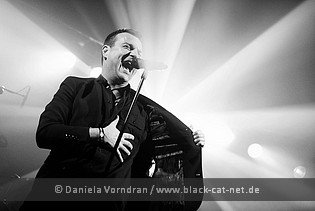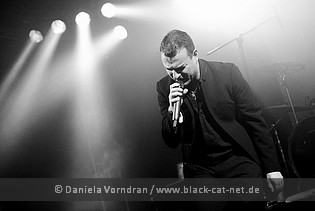 Diorama [Fee]

Founded by Torben Wendt between 1994 and 1996, DIORAMA has a huge fan base and a lot of them were desperately waiting for them to perform. Torben Wendt's long-time friend Felix Marc soon joined him as a co-producer and keyboard player. In 2007, the band released their fifth album 'A Different Life', preceded by the single 'Synthesize me', which still seems to be one of the audiences favourites tracks. Felix could not make it to perform at the Darkflower Live Night, so once more, Helge Wiegand replaced him.
http://www.diorama-music.com
/
http://de-de.facebook.com/pages/Diorama/20921056622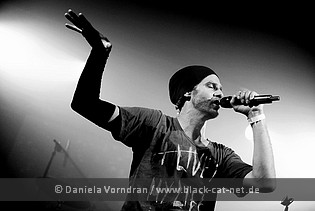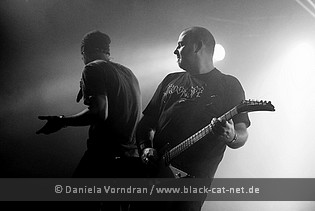 Music & Performance

Some people started singing along parts of 'Synthesize me' before the band even started to be on stage. A guy next to me looked really excited and the half-empty room started to get fuller and fuller. Seems like everyone was waiting for DIORAMA to perform and left the place at the bar or wherever they had been before to get inside and watch them. With their catchy sound and rousing lyrics, the band immediately had the audience on their side who celebrated the songs, danced and had a wonderful time with the band. It seemed like the audiences favourite tracks were 'Erase me' and 'Synthesize me' as nearly everyone was singing those songs along with the band. I must admit that if I had to choose some favourite songs of DIORAMA I would definitely choose those two songs too. The band ended the 7th Darkflower Live Night under a lot of applause and left people with a smile on their face.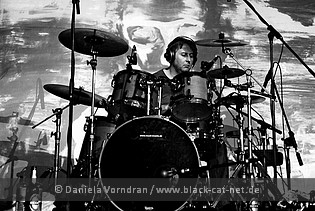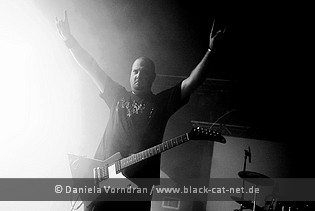 Setlist

01. Erase Me
02. Ignite
03. Record Deal
04. When we meet again in Hell
05. Champagne for all
06. Hope
07. The Scale
08. Friends we used to know
09. Synthesize Me
10. Why
11. Child of Entertainment
---
12. Il Bacio Della Realizzazione
13. Exit the Grey
Rating

Music: 10
Performance: 10
Sound: 8
Light: 8
Total: 9 / 10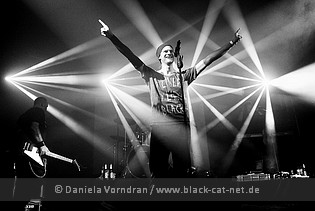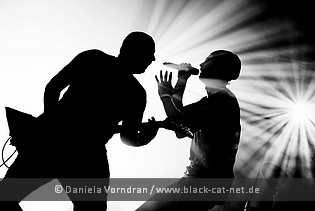 Written by Fee Wundersee [Fee] & Susann Lucas [Susann]
All pictures by Daniela Vorndran (
http://www.vorndranphotography.com
/
http://www.facebook.com/blackcatnet
)