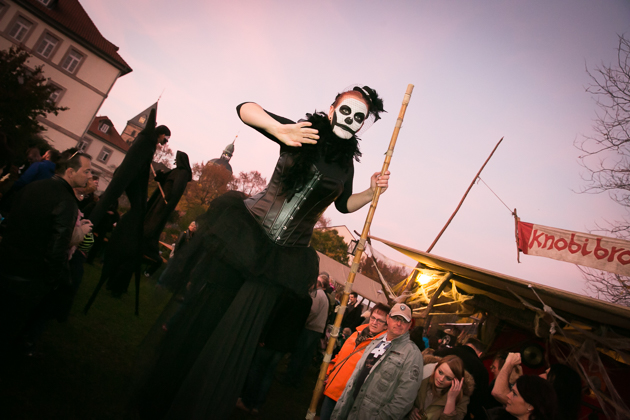 Various Locations, Hameln, Germany
30th and 31st October 2015
Autumn Moon festival Day 1: Serenity, Qntal, In Strict Confidence, Cultus Ferox, Megaherz, Omnia, Tying Tiffany, Monica Jeffries, Deine Lakaien

The premiere of the exceptional Autumn Moon Festival was a great success. The visitors were pleased and the spirit was joyous. Besides the band performances the audience praised the special atmosphere the most – many artists and a huge amount of programme items like theatre, readings, live painting, fire shows and dance performances at the three locations (Rattenfängerhalle, Sumpfblume and the ship Hameln) and the Mystic Halloween Market made the event something extraordinary. Especially on Saturday all venues were packed with people celebrating the festival and Halloween.
Serenity

Qntal

But let me start the report with Friday afternoon. After SERENITY, the opening act at Rattenfängerhalle, QNTAL enchanted the already quiet numerous guests with their mix of medieval melodies based on electronic synthesizer sounds. The stage appearance of the band was just adorable. Sigrid "Syrah" Hausen and Sarah "Mariko" Newman enlightened the hall with their performance, voices and fairylike dancing. Their band mates Michael Popp and Markus Köstner set the frame. Very down-to-earth and pleasant. 'Qntal VII', their actual album, stood in the centre of the 45 minutes set, but also classics like 'Palästinalied' (Syrah: "I could sing that song every day") were presented. After the quiet old song 'Ecce gratum' Syrah chattered a bit about the source of QNTAL (a dream-born name).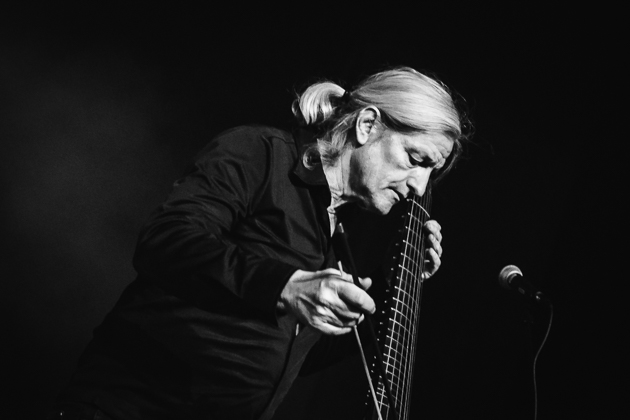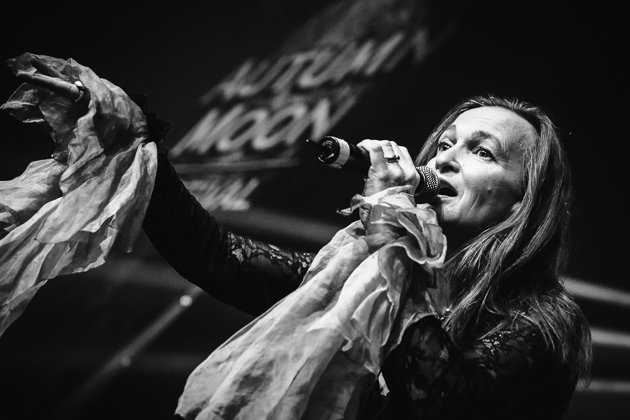 The idea behind the project is what could have happened when a medieval woman travels into modern times and meet up with modern electronic music. This QNTAL concert evolved perfectly in the dark hall, where lights and mist emphasized the atmosphere – a circumstance mostly missing at open air festivals. Therefore the final of the set came far too early with the song 'Schnee' by Marcus Heitz, the well-known author. //
www.qntal.de
/
https://www.facebook.com/qntalmusic
// Setlist: 1. Flaming Drake / 2. Tenacious love / 3. Palästinalied / 4. Blow Northeren Wynd / 5. Ecce gratum / 6. Frühlingslied / 7. Veni / 8. Schnee
The Rattenfängerhalle is used as a sports hall normally. It was arranged fancifully with a ship hosting technique and a bar in the centre, a pirate bar and a lounge corner. A quite special setting!
In Strict Confidence

Dennis Ostermann and his companions had sound problems during the first song. But when graceful Nina entered the stage with 'My Despair', things went better fortunately. She and Haydee, the lady on the guitar, were sexy as hell as always in their fetish outfits. And they enjoyed performing for the crowd all-time favourites like 'Promised Land', 'Kiss Your Shadow' or 'Seven Lives'. Mister Ostermann and his entourage obviously had fun onstage while their audience gave everything on the dance-floor offstage. Candy on top: there is hardly any band with such an amount of artistic videos. Therefore the screen at the background offered delightful footage for the eyes.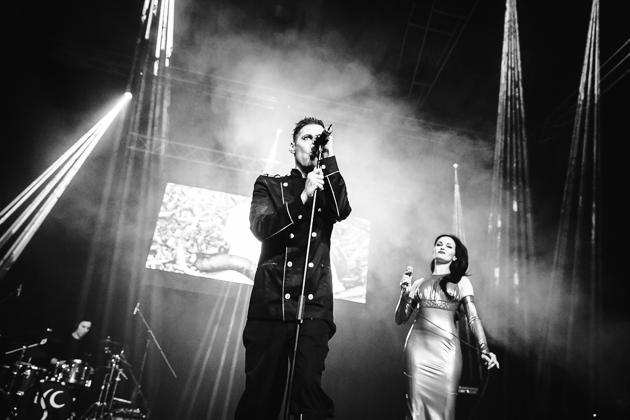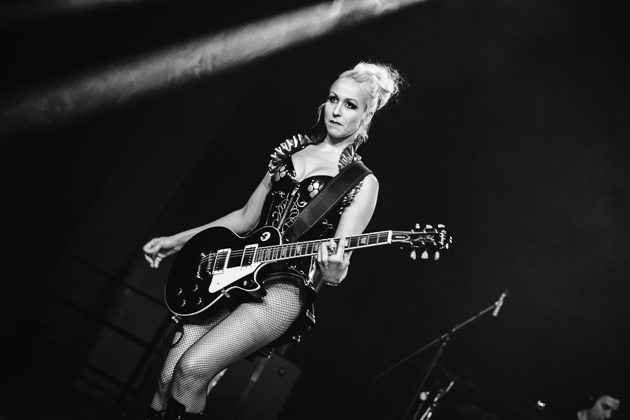 After the classic 'Engelsstaub' they finally played 'Zauberschloss', the song escorting the band throughout 15 years of band history. Dennis mentioned there has been no live show ever missing this hit. //
www.instrictconfidence.com
/
https://www.facebook.com/instrictconfidence
// Setlist: 1. My Despair / 2. Promised Land / 3. Kiss Your Shadow / 4. Seven Lives / 5. Forbidden Fruit / 6. Set Me Free / 7. Morpheus / 8. Engelsstaub / 9. Zauberschloss
Changeover to Sumpfblume, the institutional alternative club of Hameln passing the Mystic Halloween Market the first time – such a lot to discover there. A perfect place for spending more time to look around, shop and enjoy eating and drinking. I'll be back… but first CULTUS FEROX the Spree pirates from Berlin wanted to entertain their audience.
Cultus Ferox

Famous Bands like IN EXTREMO used to play at the "Sumpfe" when they began their career – a fine place to stay. During the intro one by one wild pirate entered the stage. Finally mastermind Brandan (Holy St. Brandanarius) appeared and screamed "Where are your hands?", maybe the question asked mostly during their show. They blew the crowd away with their medieval metal with nautical themes. In the beginning the people in front of stage were quite shy, but it took just a few songs to get up-warmed and well-mooded. "We are here to celebrate our new album 'Nette Jungs' (Nice Guys)", Brandan proclaimed. But the sound and texts are more naughty than nice just like their stage appearance.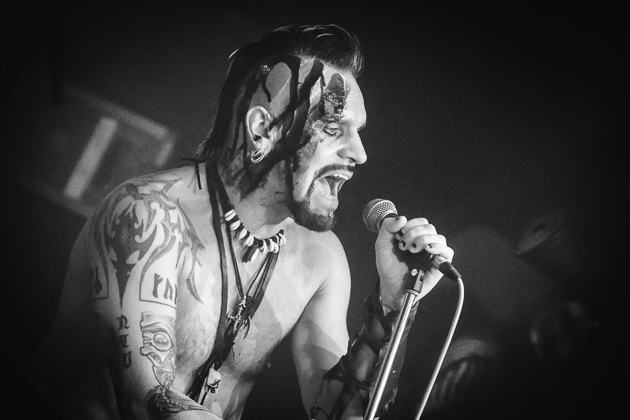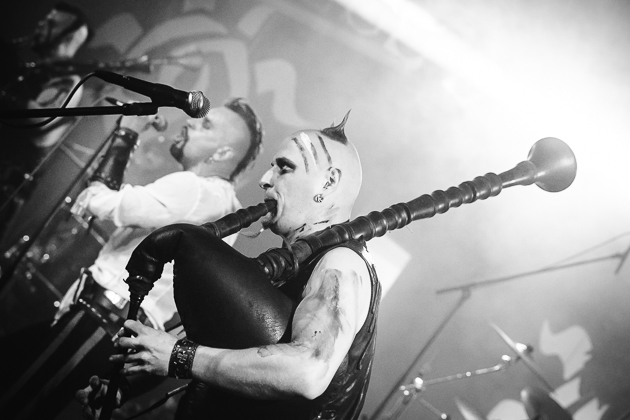 Wild, cheeky, loud. Sometimes bass and guitar were too dominant so the bagpipes and singing were drowned. Accordingly the acoustic songs delighted the audience a lot because the sound of the three bagpipes could evolve perfectly. What stays in my mind is this insane pirate with his tambourine cheering and animating the crowd. Oh my goodness. They know how to party. On Saturday there was another possibility to see CULTUS FEROX, but then with their acoustic medieval show performed on the market. //
www.cultusferox.com
/
https://www.facebook.com/cultusferox666
Megaherz

Welcome to 'Zombieland'! It stayed loud with these five guys with the painted faces. Forceful drums and hard guitar riffs blew the crowd in the Rattenfängerhalle away. The men on stage were extremely enthusiastic and in a good mood. They played classics like 'Blender', 'Roter Mond' and 'Schwarzer Engel' pleasing and entertaining the audience. Of course they did not miss the famous hit 'Miststück', which perfectly worked as a sing-a-long. Singer Lex also announced a big surprise to come out of the studio right before Christmas – you just have to follow on Facebook.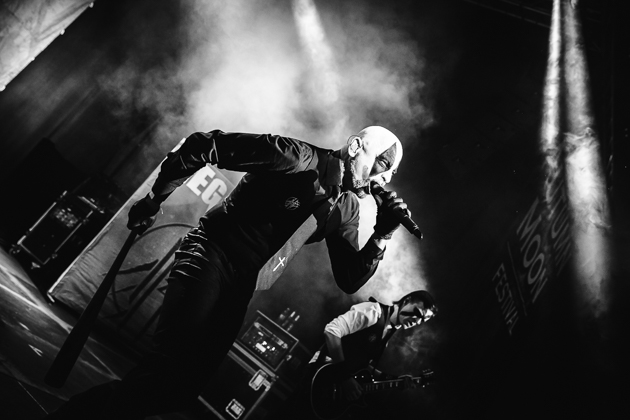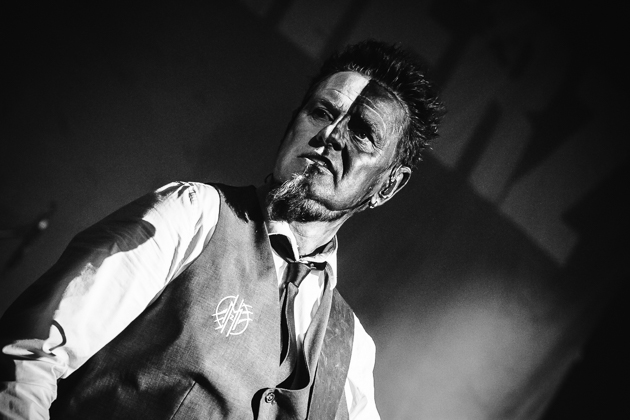 When you want to see MEGAHERZ live – they will go on "Zombieland Tour II" in January 2016 all over Germany. //
www.megaherz.de
/
https://www.facebook.com/OfficialMegaherz
// Setlist: 1. Zombieland / 2. Fanatisch / 3. Blender / 4. Mann im Mond / 5. 5. März / 6. Roter Mond / 7. Gegen den Wind / 8. Schwarzer Engel / 9. Jagdzeit / 10. Himmelsstürmer / 11. Für immer / 12. Miststück
Omnia

One of the most energetic shows of this festival was presented by OMNIA from the Netherlands. "This is Pagan Folk!" informed singer and head of the band Sic (Steve) those who had never met them before. The audience with lots of dread-heads amongst started dancing and cheering immediately – just like the bunch on stage. You feel like you were carried back to ancient times watching these strong and beautiful woman and men on stage and listening to their earthy songs like 'I don't Speak Human', 'Alive' or 'Earth Warrior', which opened the set. The band mates do not take themselves too seriously, so the interaction with the audience was quite amusing. Sic took away a glass of whiskey from a first row guy to announce 'Black House' and drank it off during the song as an example.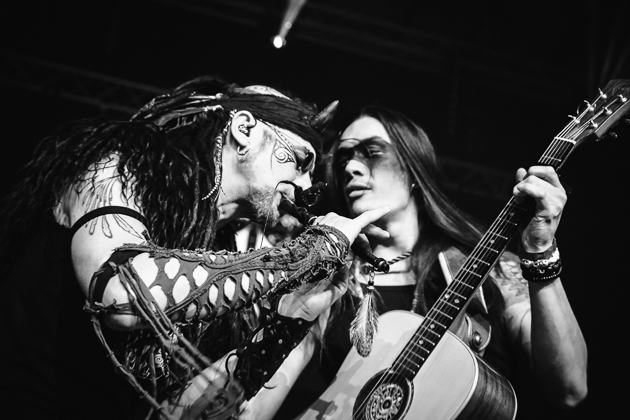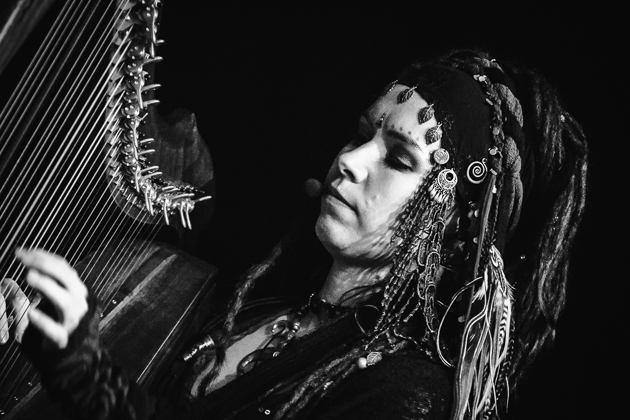 Besides their appearance like a wild bunch out of the woods wearing leather, furs, feathers and bones, the huge amount of instruments has to be mentioned. There were guitars, drums, a piano, a harp, flutes, a slideridoo, tromps… surely I miss something. A show of OMNIA will never bore you, even when you do not like the music, because there is so much to discover. Highlight of the show was imho the attendance by white fairy Beatrice juggling crystal balls on her body to the song "Toys in the Attic". This performance was fascinating and bewitching. A perfect match between minor arts and music. Just wonderful! //
www.worldofomnia.com
/
https://www.facebook.com/worldofomnia
Tying Tiffany

Changing over to Sumpfblume again for a short flying visit of the show of breath-taking TYING TIFFANY. The club was well filled when the girl from Italy presented her extraordinary electronic post-punk music. It was just her and her partner at the keys and guitar on stage, but the performance was full of energy and passion. TYING TIFFANY is an insider tip for dark souls from the underground loving intensive and disturbing electronic music. A must-see by next chance. //
www.tyingtiffany.com
/
https://www.facebook.com/tyingtiffanyofficial
Monica Jeffries

At the same time (unfortunately) another peculiar electro lady performed on the ship "Hameln". MONICA JEFFRIES, who supported a lot of tours throughout Germany in 2015, e.g. PROJECT PITCHFORK and DAF, did her very best to thrill her audience. There was no stage on the ship, so the shows had a special close-to-be-flair while artists and crowd shared the same floor. For dwarfs like this author quite challenging! Listening but not seeing anything inside the ship or watching through the windows from the outside with a bad sound? Decision for listening to this warm and passionate voice attended by electronic sounds was made and not regretted. People were delighted by the familiar atmosphere on the ship and the performance of Monica and Serena, the lady on guitar. Therefore the end of the set came far too early with 'Window Of Hope'. //
www.monicajeffries.com
/
https://www.facebook.com/MONICAJEFFRIESOFFICIAL
Deine Lakaien

Now it was time for the headliner of the first festival day: DEINE LAKAIEN. They started off with 'Color-Ize' and 'Reincarnation', two songs which immediately touch a grown up dark soul. Alexander Veljanov welcomed the audience with a wink to "a journey through 500 years of DEINE LAKAIEN". In fact they look back on 30 years of band history since Ernst Horn and Alexander Veljanov met in 1985. The outstanding singer was in a quite chatty mood which made the performance even more entertaining. They presented classics like 'Into My Arms' an 'Return' as well as new material like 'Nevermore' from the actual album 'Crystal Palace'.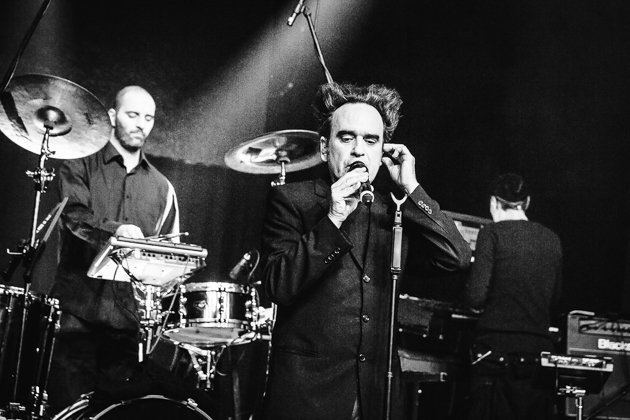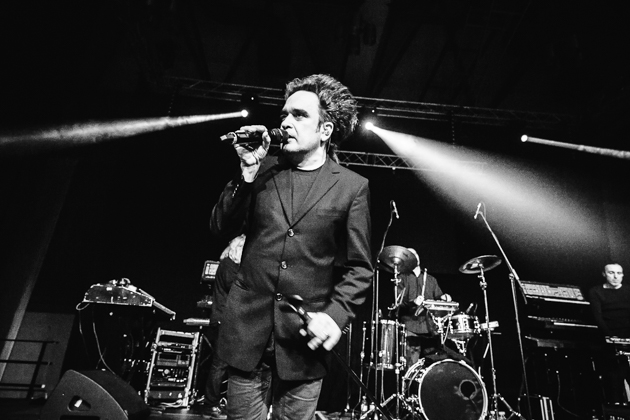 Ernst Horn extended himself on his fortress of pianos, keyboards and other equipment as usually which is just breath-taking. DEINE LAKAIEN convinced once more with a sophisticated performance. A worthy final for the first day of the Autumn Moon Festival. //
www.deine-lakaien.com
/
https://www.facebook.com/DeineLakaien
// Setlist: 1. Colour-Ize / 2. Reincarnation / 3. Into My Arms / 4. Fighting The Green / 5. Over And Done / 6. Where You Are / 7. Nevermore / 8. Gone / 9. Europe / 10. Return / 11. Overpayed / 12. The Ride / 13. Farewell / 14. Crystal Palace / 15. Forever And A Day / 16. Love Me To The End
All Pictures by Chris W. Braunschweiger (
https://www.facebook.com/ChrisWBraunschweigerPhotographie
)
See also (all categories):